Land Rover Range Rover (1994 - 2002)
Last updated 19 October 2017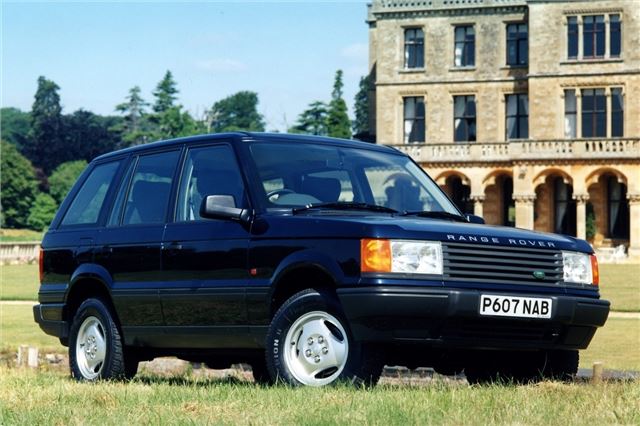 Buying Guide
Good
Undeniable road presence. 
Far less vague on the road than the old model.
Excellent off-road ability.
Low 3 out of 9 point death rate from accidents in this model.
Bad
Apalling catalogue of build problems.
BMW-powered diesel version is ridiculously slow on the road - especially in automatic form.
4.6HE drinks petrol. 4.0 V8 a bit less juicy.
4.6HE loses value fast.
Heavy duty new prices of £53,000 for the 4.6 Vogue, £57,500 for the 30th Anniversary (30 years ago a Range Rover was £2,000) and £64,495 for the Holland & Holland (no shotguns included).
S and T platers 19th from bottom in 2001 Top Gear / J.D. Power Customer Satisfaction Survey.
In June 2001 Land Rover was rated by Motor Warranty Direct as Britain's 2nd worst out of 22 marques for warranty claims  LandRover had joint highest average cost in warranty claims for cars up to 10 years old.
Land Rover 3rd least reliable of 31 makes of car in 2002 'Which?' reliability survey cars 2000 - 2002; least reliable of 32 makes built 1997 - 1999.
2nd bottom vehicle in Warranty Direct 2003 reliability index.
Land Rovers had third highest warranty repair costs in 2003 Warranty Direct Reliability index (index 167.53 v/s lowest 31.93).
Land Rover 4th bottom of Reliability Index for 2004 combining average cost of repair of £367.03 with highest 46.23 failures per 100 Warranty Direct policies.
1995-2002 Range Rover 7th equal least reliable car in 2007 Warranty Direct Reliability Survey with 48 faults per 100 cars.
Watch
Water ingress into ECU will stop the car. 

Complaints of collapsing rear air suspension on late examples. 

Avoid the 4.6. Reports both from Telegraph readers and from the trade of the over-bored 4.6 V8 engines developing porous bore liners, costing from £1,800 (trade price) to £3,600 (punter price) to put right. Further reports of camshaft failures on 4.0 litre V8s. Useful site for information about V8 and for replacements: www.v8engine.com 

Check for signs of severe usage. Tow hooks (what's it been towing?). Listen for transmission noise on manual versions. Make sure all gearbox functions work (manual and automatic). 
Look for oil leaks from axles, gearbox and transfer case. 

Look for dog damage to leather seats and trim. Scuff marks and trim damage from shooting trips. 

Check all electrics. 

Make sure wheels will come off as the alloy wheels have a habit of corroding to the hubs. 

If paying dealer prices, make sure it comes with a full service history. See 5/12/2000 Recall notice below. This has resulted in some cooling systems becoming over-pressurised resulting in total engine failure. Further problem on 4.6s of coolant loss through block porosity (see above), so check for lack of coolant.
Recalls
1995 (VIN LP311035 to LP312917): ABS braking hose may fail.
1998 V8: cooling system hoses found to be failing. 2000: June '94-August '98 build: automatic gearbox fluid can seep out and spill onto hot exhaust creating fire risk. V8 models built June '98-Sept '99 may lose power steering.
5/12/2000: 15,767 Range Rover V8s recalled because of possibility of premature failure of cooling system hoses and throttle body heater gasket. Expelled coolant allowed to remain on hot engine components could result in the evaporation of the water content and leave an artificially high concentration level of anti-freeze which is both corrosive and inflammable. Affected vehicles to be recalled to replace cooling system hoses and throttle body heater gasket.
TWO RECALLS 3/4/2001: Build 1/1/1998 to 31/12/2000, VINs XA410482 to 1A452817 and XA220000 to 1A299999: Recall 1 (automatics only): Water may migrate up gearbox breather pipe and corrode park lock mechanism leading it to fail to lock properly. Gearbox breather pipe to be re-routed and affected gearboxes to be repaired. Recall 2: High pressure hose of Active Cornering Enhancement system not fitted with anti vibtation attenuator may fracture. Where attenuator not fitted, hiogh pressure hoses to be replaced. May 2005: Official recall to check and replace plastic fuel tanks if necessary.
Back: Model Timeline
Buy a Land Rover Range Rover from £3,000
Compare classic car insurance quotes and buy online. A friendly service offering access to a range of policies and benefits.

Get a quote