Land Rover Freelander (1997 - 2006)
Last updated 30 May 2017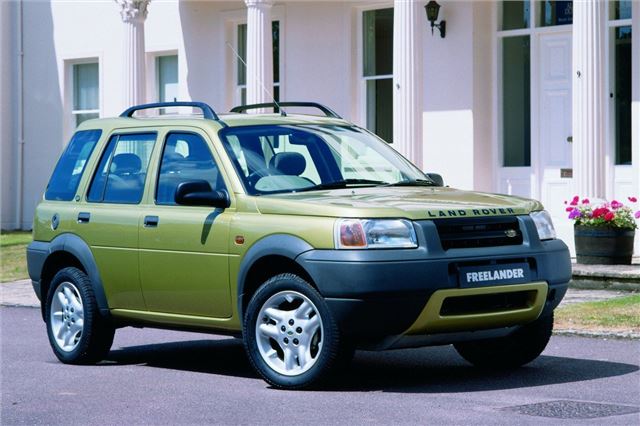 Buying Guide
Good
Good styling and comfortable.
TD4s are the best of the bunch.
Plenty of room for four or five passengers.
Useful underfloor lockable cubby-safe.
Hill descent control works well. 
Fairly damage-proof at the front because even the wings are plastic. 
Bad
Avoid early 1.8s
Based on much modified old Rover 200 floorpan. Nissan's X-Trail 2.2DI Sport 6-speed is better in every respect.
TD4s initially hard to get hold of due to supply problems with BMW engines. Initial promise of high quality build not met. 

Only three stars in 2003 NCAP crash test ratings. 

Became increasingly expensive with Freelander 50th 5-door diesel listed at £24,995. 

Original Rover engined DI model failed miserably in police use. More ponderous than Honda CRV, Toyota RAV-4 and X-Trail and more expensive than CRV. Not as economical as expected, but Rover diesel can average 35 mpg at a 70 mph cruise. 

Several recalls. Many owners taking a hit, getting out and getting into fault-free Honda CRVs, RAV-4s and X-Trails.
In June 2001 Land Rover was rated by Motor Warranty Direct as Britain's 2nd worst out of 22 marques for warranty claim.
2nd bottom of 100 models for reliability in Auto Express 2002 survey.
7th from Bottom in 144 car 2002 JD Power / What Car? Customer Satisfaction Survey of V and W reg cars.
LandRover had joint highest average cost in warranty claims for cars up to 10 years old in 2002 Warranty Direct index.
Joint third bottom in 2002 Which reliability survey of cars up to 2 years old; 106 cars surveyed.
S and T platers 16th from bottom in 2001 Top Gear / J.D. Power Customer Satisfaction Survey.
Land Rovers had third highest warranty repair costs in 2003 Warranty Direct Reliability index (index 167.53 v/s lowest 31.93). 1998-2002 petrol rated poor for breakdowns and problems, average for faults; 1998-2000 diesel rated average for breakdowns and faults, poor for problems; 2001-2003 petrol rated average for breakdowns and problems, poor for faults in 2003 Which survey.
8th from bottom out of 137 models in 2003 Top Gear survey.
Freelander 9th bottom model in 2004 JD Power Customer Satisfaction Survey.
Only 89% of cars up to 2 years old breakdown-free over previous 12 months in 2004 Which? survey, yet gasket problem was supposed to have been fixed from 2001 production.
Land Rover 4th bottom of Reliability Index for 2004 combining average cost of repair of £367.03 with highest 46.23 failures per 100 Warranty Direct policies.
Land Rover 3rd least reliable of 31 makes of car in 2002 'Which?' reliability survey cars 2000 - 2002; least reliable of 32 makes built 1997 - 1999.
Freelander 5th least reliable car in 2005 Warranty Direct Reliability Survey with 55 repair claims per 100 cars.
2000-2006 Freelander 7th equal least reliable car in 2007 Warranty Direct Reliability Survey with 48 faults per 100 cars.
Watch
Lots of niggly problems. 

Main failure on 1.8s is the engine through inlet manifold O ring gasket failure leading to loss of coolant and head gasket failure. By 1994 second failures of previously repaired 1.8s on 1997 - 2000 Freelanders due to bore liners dropping and a shortage of used replacement engines was putting a lot of them off the road.

New campaign website www.freelanderheadgasket.co.uk 

Also failures of hill descent control, driveshafts and gearboxes, transfer cases and blocked ventilation slots.

Low profile tyres fitted to 'Millennium' model Freelanders are't up to suburban kerb mounting, which is the main off road activity of these vehicles. 

1.8 K Series head gasket failures website link www.shame.4mg.com By July 2003 several reports of head gasket failure of the KV6. 

One report of failure of rear axle at 47k miles; another at 76k miles: apparently by no means unique. 

Several reports of Steptronic gearbox problems on the KV6. No brake pad wear warning system, so pads must be physically inspected. Loss of power of TS4 may be due to failure of mass airflow sensor which costs £250 to replace. 

Water level sensor kit available for the MGF and TF for £89.99 from MG Specialists such as Brown and Gammons (01462 490049) www.ukmgparts.com may also fit Freelander. 

Reports of failures of Jatco 'Steptronic' autoboxes after 45k miles and 3 years. Explanation of Freelander drivetrain problems and also an excellent service reconditioning Freelander JATCO automatic transmissions at www.ashcroft-transmissions.co.uk 

Following MG Rover's demise, may be problems over the supply of K series 1.8 and 2.5V6 petrol engines. 

In a Freelander the transmission incorporates an Intermediate Reduction Drive unit which provides the 4WD capability. The lubricant in this gets very hot and so is passed through a heat exchanger connected to the engine cooling system. This is fed by comparatively small bore coolant piping and is located lower and further back than the rest of the cooling system. If the engine coolant is drained for any reason (and of course the service advice for the all aluminium K series engines recommends draining and flushing the cooling system at least every 24,000 miles I believe) air locks can develop in this heat exchanger. This causes the engine (and the transmission) to overheat causing head gasket failure and probably other damage. The heat exchanger has separate bleed points to prevent air locks but these are apparently fiddly to get at (and not obvious from an under bonnet inspection) and thus this service item often does not get done. 

Reports of injector failures on TD4s not shared with Rover 75 CDT with the same engine, not BMW 3 Series with this engine. May be down to using low detergent diesel. 

If buying, look for signs of severe usage. Tow hooks (what's it been towing? Neither the 1.8 nor the original diesel is really powerful enough). Underside damage. Drivetrain leaks. Make sure everything works, especially the 'hill descent control', if fitted. Main problem area is drivetrain: gearbox, transfer box and rear diff. Reports of accelerator of 1.8 petrol models sticking and leading to accidents. Quite common for 1.8 to lose its coolant through inlet manifold gasket failure and small coolant capacity of engine leads to severe overheating. Reports of gearbox failures. Check clutch operation carefully as off road driving can lead them to fail in as little as 20,000 miles due to lack of a low range first gear. 

Severe shortage of spare parts for accident repairs in late 2002 to early 2003 led to many Freelanders off the road for months. AVOID EARLY 1.8s. Care needed not to overfill TD4 with engine lube oil (see how to read dipstick below). On TD4s over 100,000 miles injectors of the BMW engines are are prone to seizing into heads. 

JATCO advises owners not to carry out AUTOMATIC transmission fluid changes hemselves because it's difficult to ensure the correct amount is added (the gearbox needs to be run to a specific temperature - This requires diagnostic equipment) and probably they will use the wrong oil, e.g. Land Rover Discovery ATF is different from a Land Rover Freelander, and Jaguar X-Type (Jatco) uses different ATF to a Land Rover Freelander (Jatco). 

HOW TO READ THE DIPSTICK OF A TD4: 1. A false LOW reading seems to be obtained whenever the dipstick is left in place after running the car and returning home. Even reading the dipstick the morning after with the engine now completely cold, the first time the stick is extracted will give a false LOW. 2. On wiping and re-inserting immediately afterwards , a correct FULL reading will be obtained. 3. Also, If the dipstick is taken out and left on top of the engine whilst in the garage, then on reinserting a correct FULL reading will be obtained. Similarly ANY reading taken after first removing the dipstick and re-wiping will be CORRECT. 

An engineered solution to the coolant leak/head gasket problem is offered by Sterling Automotive. This involves a modified MLS (multi-layer shim) gasket, the more substantial lower oil rail (as fitted to Land Rover Freelanders) and a retro fit low coolant level warning system, with a 5 year guarantee which can be valid for up to 75,000 miles if this is reached before 5 years. In addition to this guarantee Sterling Automotive offers fixed price servicing as per the MG Rover recommendations throughout the period of cover as a reward for complying with the conditions of the guarantee and also a free 6 monthly oil and filter change between the annual services. Sterling Automotive is currently only able to offer this on MGF/TF, Rover 25/Streetwise/MG ZR, Rover Commerce/MG Express Vans and the Rover 45/MG ZS range where fitted with the four cylinder K series engine due to the fact it is only able to provide a retro fit low coolant level system for these models but is actively seeking a way of adding the Rover 75/MG ZT 1.8 and 1.8 Turbo models to the offer as soon as possible.

Faults with a 2.5 V6 ES auto purchased used between 2003 and 2008. 2005 - Sun roof failed to close. Dealer reported this was a common fault, removed operating unit. 2006 - Audio speaker ceased operation. April 2007 - Intake manifold cracked. August 2007 - Catalytic converter shattered. August 2007 - Automatic transmission failed. September 2007 - Viscous coupling failed. Dealer reported this was a common fault, coupling disconnected. 

One report of fire in wiring starting beneath the centre console, knocking out central locking and window electrics, trapping occupants unless a window was open or they they could break a window. Good idea to carry a glass hammer.
One reader strongly advises against the purchase of one of the later model TD4s from 05 on. It is his view that Land Rover had to alter what was a very good BMW TD4 engine to comply with EU4 emission regulations, and in my case this resulted in problems with the EGR system, oil leaks and blown Turbo seals.
19-1-2012: On TD4, damped 'dual mass' auxiliary belt crankshaft pulley can eventually fail.
3-12-2012: Seems that official replacement clutch cylinders for TD4s do not last very long, and cost £200 + fitting.
2-9-2014: Report of long term running of 2006 Freelander TD4 from new to 88,000 miles. Needed new battery, new intercooler hose, new alternator. Also new rusting sunroof frame. Things wear out. One key issue, the the fuel rail pressure sensor gave problems. Sudden cutting out and it also gave a strange tinny rattle. Had to replace the associated wiring loom as well. Stallin a common complaint but its easily fixed. There is a sensor under the break pedal that can give trouble as well.
11-5-2016: On 4WD Freelanders it is necessary to service the Haldex centre clutch, replacing service filter, cleaning fixed filter and refilling with clean oil wvery 3 years or 36k miles. Bell Engineering in Shropshire will do it for £130 + VAT. More at http://www.freel2.com 
Recalls
TSBs (Technical Service Bulletins) over some part-time four-wheel-drive clutch systems failing due to fluid leaks and replaced 'in service' by Land Rover dealers.
Official November 1998 recall (build dates June '97-June '98) to check welding on joints of rear suspension arms.
1999: official note to owners to reduce tyre pressures from 2.1 bar to 1.8 bar when not fully loaded, to increase tyre life. 22/10/2001: 68,838 Freelanders from 1/10/1997 launch to 28/2/2001 recalled to check and replace parking brake ratchet if necessary.
Further 12,286 built 1/8/2000 to 30/11/2000 recalled because wiring harness can chafe against fuse box putting out headlights, engine management, cooling fans, fuel pump, ignition circuit, a/c, abs and hdc.
Further 4,391 3-door Freelanders built 1/8/2000 to 31/2/2002 recalled to check latches of folding front seats and replace as necessary.
March 2002: Apparent recal of TD4 Steptronic automatics to correct fuel lifter pump/fuel pump relay fault. 5-11-2002 22,343 Freelanders from VIN 1A 576764 to 2A 397466 because pin 5 of diagnostic socket not fitted with ground. Pin to be fitted to position 5 and wired to earth.
Late 2004: apparent recall of Freelanders fitted with a faulty batch of Pirelli Scorpion tyres.
TSB issued 2006 to clean or replace the EGR valve of TD4s every 12,000 mils instead of every 48,000 miles because if it gums up oil will be forced under pressure out of the dipstick hole and engine could run oil dry leading to severe damage.
Back: Model Timeline