Land Rover Discovery (1989 - 1998)
Last updated 29 September 2016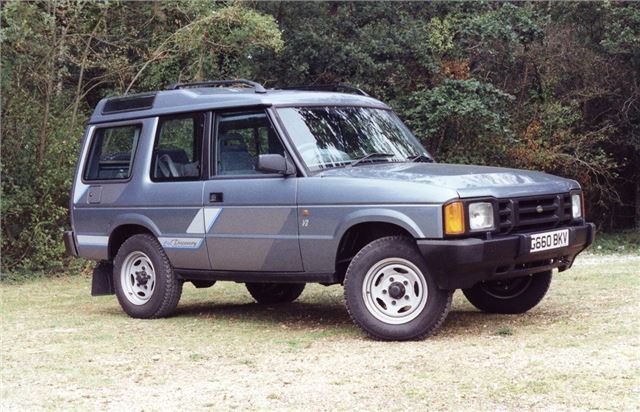 Buying Guide
Good
Excellent off-road.
Comfortable and spacious interior.
Diesels are surprisingly economical with 30mpg.
Can carry up to seven.
Extremely Low 1 out of 9 point death rate from accidents in this model.
Bad
Build problems went from bad to worse in the transition from 200 to 300 model. Very ponderous on the road due to high centre of gravity. Dangerous to carry anything on the roof. Generally poor build quality. Post-1993 '300 Series' manual gearbox has better change but suffers severe input shaft wear (can be alleviated by high-tech gearbox lubricants). 300 TDi engines also prone to timing belt failure after 40,000 miles. Kits are available to extend timing belt life, but fitting them is a long job. V8s guzzle fuel and can develop porous bore liners/blocks. 

Avoid the underpowered 2.0 litre 16v 'MPi' model. Lack of crumple zones mean it can be expensively damaged by hard impacts at speeds as low as 5 mph. 

Useful site for information about V8 and for replacements: www.v8engine.com 

Up to 1500 Discoverys put off the road in 2002 because an immobiliser part 'Spider Unit', Land Rover part No ARM 4889 become virtually impossible to obtain. Then there was a non availability of remote keyfobs for early 1990s Discoverys, but happily you can now get them from www.alarmremotes.co.uk at a tenth of the Land Rover Price. 

Land Rover had joint highest average cost in warranty claims for cars up to 10 years old in 2002 Warranty Direct index. Land Rovers had third highest warranty repair costs in 2003 Warranty Direct Reliability index (index 167.53 v/s lowest 31.93). 95-97 models poor for breakdowns and problems, average for faults in 2003 Which survey. Land Rover 4th bottom of Reliability Index for 2004 combining average cost of repair of £367.03 with highest 46.23 failures per 100 Warranty Direct policies. Link:- www.reliabilityindex.co.uk
Watch
Signs of severe usage. Tow hooks (what's it been towing? It's rated to 3.4 tons). Underbody 'off-roading' damage. 

Leaks from axles, transmission, transfer case. 

Worn suspension and steering bushes. Worn and noisy gearboxes (especially post-1993 '300 Series'). 

Rust where steel chassis touches alloy body panels. 

5-door models worth much more than 3-doors. If it's a TDi 300, has the timing belt modification been carried out? Check the trim carefully as dashboards of post-'94 models can warp. 6th from Bottom of 100 models for reliability in Auto Express 2002 survey. 

Water leaks onto fusebox, knocking out electrics. Suggested oil to help prevent problems with the notorious 300 manual gearbox is ATF fluid with Morris LODEXOL MTF APIGL4 fully synthetic transmission fluid in the transfer box.
28-12-2013: The rear of the chassis is a water trap and is not adequately rust-proofed inside so rots from the inside out. Vital to check this area before buying. The metal can be replaced by it's a big job involving the removal of many components including the fuel tank. Obviously, towing weakens this area further.
Recalls
1995 (VIN LJ163104 to LJ172980 and LJ501920 to LJ504252): check seatbelts. 1997 (April '95-July '96: 22,723 vehicles): possibility of failure of RHS front door latch.
1998: (build Jan '94-Mar '97): airbag may go off involuntarily.
1998 TSB dated 25/3/98 warned dealers of timing belt failure due to misalignment of belt and pulleys on 300TDi's up to VIN WA748935 and gave procedures for repair under warranty if warranty conditions apply.
3-4-2001: Build 1/1/1998 to 31/12/2000, VINs XA410482 to 1A452817 and XA220000 to 1A299999: 
Recall 1 (automatics only): Water may migrate up gearbox breather pipe and corrode park lock mechanism leading it to fail to lock properly. Gearbox breather pipe to be re-routed and affected gearboxes to be repaired. 
Recall 2: High pressure hose of Active Cornering Enhancement system not fitted with anti vibration attenuator may fracture. Where attenuator not fitted, high pressure hoses to be replaced. 

5-5-2005: Safety Recall R/2004/069: possibility of stress cracks in plastic fuel tank of V8 petol models, build dates 15-4-1993 to 7-9-1998.
Back: Model Timeline
Compare classic car insurance quotes and buy online. A friendly service offering access to a range of policies and benefits.

Get a quote