Lancia Delta Integrale (1987 - 1994)
Last updated 30 December 2014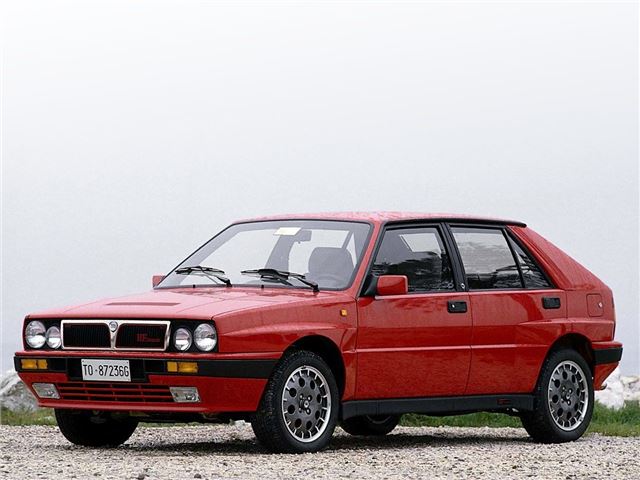 Buying Guide
Good
Integrale has sensational performance.
165bhp 8v HF from May '87 to Dec '87
185bhp 8v Integrale from Feb '88 to March '89
196bhp 16v from Sep '89 to Jan '92.
Special order only last of the line 210 bhp Evo 2 from Jan '92 is a collector's item and if kept immaculate will continue to gain in value.
Late models had swish leather and Alcantara interiors.
Now appearing in classic car auctions.
Bad
Integrale was left-hand-drive only.
May be an expensive performance car, but is still based on the Delta which itself is based on the Fiat Ritmo/Strada. So will rust.
Will have iffy electrics (dash, rear wash-wipe, heated rear screen, central locking. electric door mirrors).
Expensive to keep in good shape.
Be very wary of Integrales at Classic Car auctions.
Watch
First, decide if you want a competition car for rallies or track days, or a flash road car with air and leather.
A used competition car will have had offs and will have suffered damage.
Uneven tyre wear could be due to suspension misalignment, suspension damage or a distorted shell and is a big job to set up correctly.
Timing belts must be changed every 36,000 miles or 3 years, whichever comes first.
Brake fluid needs changing every year on ABS systems. Coolant needs changing every two years.
Look for coolant and oil leaks.
Don't buy one that smokes.
Check the condition of the very expensive brake discs.
You really need an Integrale specialist to go over one of these for you.
Check for cracks developing at the stress points in the bodyshells.
Back: Introduction
Next: Specifications