Lada Samara (1984 - 1996)
Last updated 10 October 2016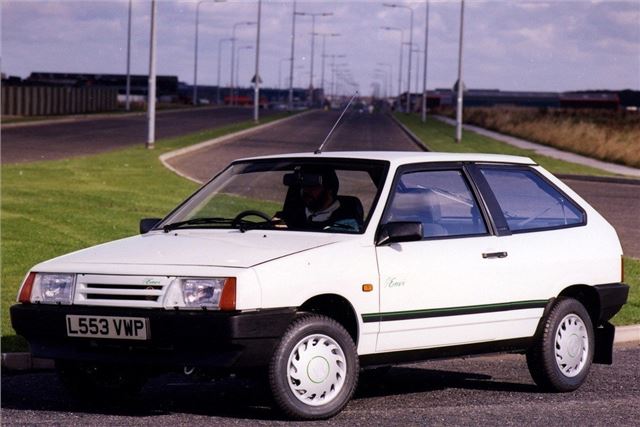 Affordable and you'll stand out from the crowd.
Awful build quality and truly appalling to drive. Crude in every respect.
Front wheel drive hatch. 13' 2" x 6' 2" (inc mirrors) and from 900kg. Engines and gearboxes not that bad. 1,099cc had 53bhp; 1,288cc had 65bhp; 1,499cc had 75bhp. Three or four door hatchback...
Introduction
Despite being the subject of many jokes, the Lada Samara was a huge leap forward for the Russian car maker. Launched in its homeland in 1984 as the Lada Sputnik, it would be another four years before Lada - or VAZ as it was called in Russia - would be able to export the car, such was domestic demand.
The three or five-door hatchback was Lada's first foray into front-wheel-drive, and a massive step forward from the old-fashioned Fiat 124-based Riva models. It came with Lada's own range of OHC engines (an adventure itself in terms of parts availability today), but UK buyers were sadly denied the opportunity to buy the Mazda RX-7-style twin rotary Wankel engine variant.
The Samara, in UK terms, was Lada's 'posh' car, though it was still extremely cheap and also significantly worse than its arch-rival, the Skoda Favorit. Where the Skoda had a number of redeeming features, not least a (relatively) reasonable chassis and comfortable cabin, the Lada was pretty horrific.
Ponderous handling, dreadful understeer, plastics that would warp and fall off in the heat and the most comical seat adjustment mechanism known to man, which would move the base of the seat in a rainbow-style arc only, and give the driver not one comfortable position…
Next: Model Timeline