Lada Riva (1981 - )
Last updated 31 July 2013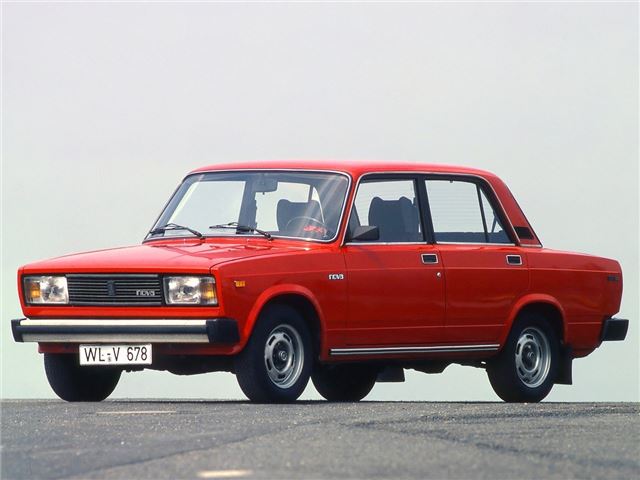 Buying Guide
Good
Based on 1960s Fiat 124.
13' 4" long by 5' 3" wide and around 1,050kg.
Last ones had 1,452cc 72bhp catalysed engine. Very tough. They gave you a full set of tools to fix it when it went wrong.
Kids don't steal them for joy rides.
Made infamous by Maureen and Dave Rees from TV's 'Driving School'.
Owners display their own brand of inverted snobbery. Quite a few 'catless' cars legally took advantage of extended 'cat' deadline.
Estate cars make the best sense. Dealers and parts specialists can be 'salt of the earth'.
Bad
Appalling build quality.
Very basic.
Noisy, thirsty, dated and lumpy to drive (nothing like a real Fiat 124).
Spare parts supply not guaranteed to last indefinitely.
Factory infiltrated by the Russian Mafia.
Post-August 1992 models fitted with cats have severe trouble passing MOT advanced emissions systems test.
Hardly any left.
Watch
Where do you start?
Conscientious owners look after them properly.
People who buy them for £100 at an auction, don't bother to maintain them and simply run them into the ground.
Listen for signs of big ends going.
Expect some gearbox whine, but not too much.
Unscrew a spark plug to see if it's burning oil.
Trim may have fallen apart of its own accord under the inevitable seat covers.
Electrics play up (fusebox shorts, distributor wears out). If you're paying the full £100, make sure the tools are all there.
Hardly any left in UK.
Back: Introduction
Compare classic car insurance quotes and buy online. A friendly service offering access to a range of policies and benefits.

Get a quote