Jensen Interceptor (1966 - 1976)
Last updated 27 November 2014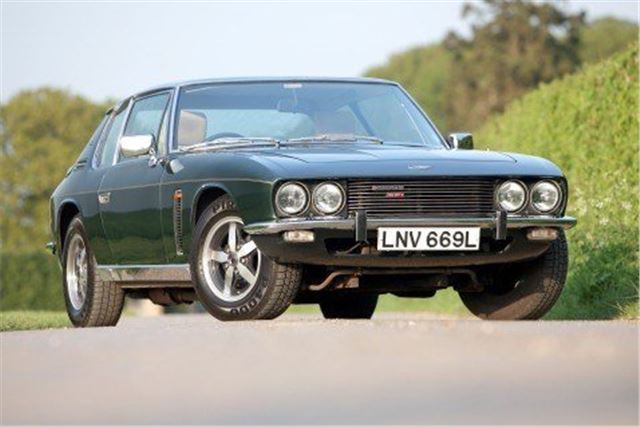 Ultra-cool Anglo Italian GT with lashings of V8 power, FF version had all the toys
Horrendous thirst but we assume you'll not be racking up thousands of miles in it
Introduction
The Jensen Interceptor was one of the biggest and best British GTs ever built. In 1966 it catapulted Jensen into the upper echelons of the supercar manufacturers. The Interceptor was styled by Touring of Milan and, initially, the bodies were built by Vignale in Italy before Jensen switched production to the UK. The standard car's most distinctive feature was a curved glass hatchback - and its most distinctive sound was the rumble that came from its exhaust tailpipes.
The Interceptor Convertible was launched alongside - and despite losing that hatchback, it was still a very stylish machine. It was conceived as a flagship to boost Jensen sales in the USA, and the convertible was mechanically the same as the coupe – the 7212cc Chrysler V8 with TorqueFlite automatic transmission – but changes to the body included strengthening around the sills and the windscreen pillars.
But technical star of the range was the Jensen FF. It was the world's first performance car with permanent four-wheel drive and anti-lock brakes - a proto-Audi quattro, if you like. It was closely related to the Interceptor, but had a longer wheelbase, twin vents in the front wings and a bonnet scoop. FF stood for Ferguson Formula, the tractor company behind the all-wheel drive system, while the ABS was by Dunlop.
For those who thought the standard Interceptor wasn't quite powerful enough, the 1971 Jensen SP was just what the doctor ordered. 'SP' stood for 'Six-Pack' and denoted that these Jensen Interceptors sported three twin-barrel
Holley carburettors in a 'six-pack' configuration. The designation also hinted at a macho and hairy-chested nature, for the SP was the most powerful Jensen ever built. That 7212cc powerhouses peaked at 385bhp, which meant a speed of 150mph. But it faded out in the wake of the 1973 enegy crisis, with the rest of the Interceptors dying out by 1976. Production has continued ever since in fits and starts.
Next: Buying Guide
Buy a Jensen Interceptor from £16,000