Jaguar XK140 (1954 - 1957)
Last updated 7 April 2013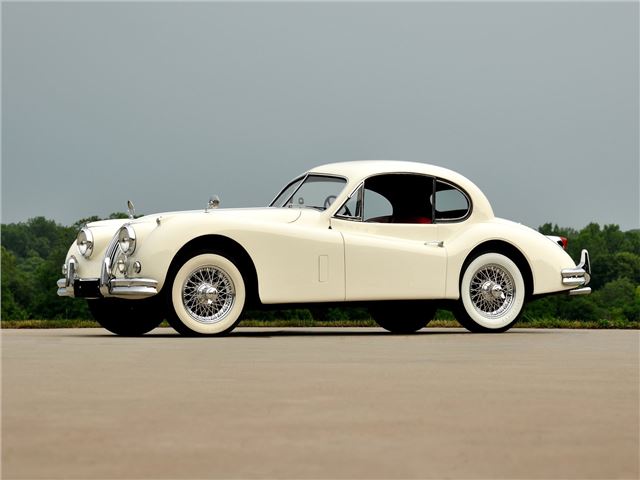 Fast, charismatic, and excellent handling when fitted with modern radial tyres.
Heavier and less responsive than the XK120.
Introduction
The XK120 was replaced by a car that looked and felt very much the same - but when you have a winning formula, why change it? The XK140 was offered in three forms - coupe, roadster and drophead coupe. The coupe was larger and heavier than the XK120, but had more power to counteract those extra kilos. Some would say that this changed the character of the XK line, moving it from out-and-out sports car, to a more relaxed long distance cruiser. The Coupe was fitted with small rear seats and the C-type's rack and pinion steering, which for the first time, was offered with - gasp - optional power-assisted steering. Despite all that, the XK140 is a fine car to drive, and if anything, a better classic car than the XK120.
In the roadster, the additional weight over the XK120 was more evident than the coupe - but classic car fans probably don't mind the additional ride quality on modern roads. Some sold of the roadsters were sold in Special Equipment form, which were fitted with the C-type cylinder head, developing 210bhp. It's in SE form that the roadster's in its most desirable form - and the good news is that like the coupe, it's worth rather less than the XK120, and in many ways, it's also a better car to drive.
The Drophead Coupé was the most interesting variation, with an additional a pair of rear seats. Yes, they were of little use for anything other than bags or small children, they still added practicality. The battery was relocated
behind the front wing, and the cockpit was shifted three inches forward. And the good news is that the XK140 Drophead Coupe is the least expensive of all the open top XKs.
Next: Specifications