Jaguar XK120 (1948 - 1954)
Last updated 7 April 2013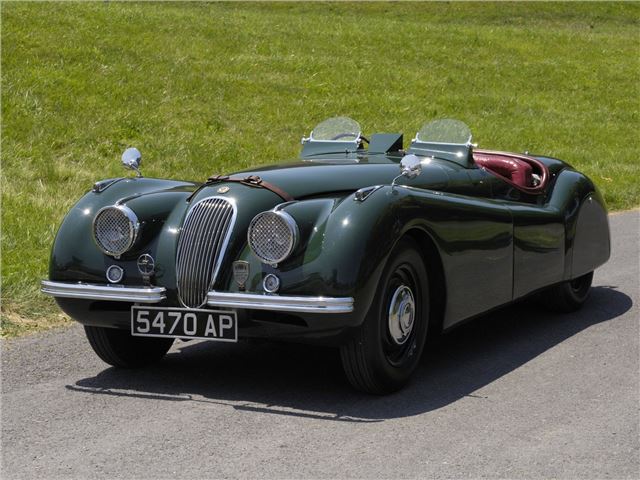 Beautiful Jaguar roadster and coupe that really set the bar high for the company. Brilliant to drive for its age, and proven competition history. Active social scene with full specialist support.
Fragile and expensive to restore to a high standard. Beware of non-standard cars, and fake SE upgrades.
Introduction
There aren't too many gamechangers in the automotive world, even if manufacturers would like to make you believe that there are. But in the XK12's case, this much used description very much holds true, not least because when it was launched at the 1948 Earls Court Motor Show it was the world's fastest produciton car. The specification was advanced - it was powered by an all-new twin-overhead camshaft straight-six that would power Jaguars well into the 1980s. And as for how fast? Why do you think it was called the 120? Because it could go 120mph, in an era when the average family car would struggle to top 70.
But the XK120 was all about its maximum speed - it was a great all-rounder offered at a relatively low price. Unlke the Italian supercars it could outdrive, the hard-working professional could aspire to own one of these. The earliest
alloy-bodied roadsters are easily the most valuable, and rare, with the SEs and Drophead Coupés following by some distance.
A nice addition to the range was ushered in just over two years after the original roadster was launched, and demand was finally caught up - the two seater coupe. Differences between the open-topped car and its coupe counterpart are legion - the coupe used a mostly steel floorpan, in place of plywood, which added weight, but also longevity (in theory). All XK120s were available with the SE option, which added 20bhp thanks to high-lift cams, uprated valve springs and a lightened flywheel. Wire wheels were fitted to SEs, and were a popular retro-fit on non-SE models - and these are now the ones to have.
In short, a brilliant classic, and considered by many as the greatest Jaguar of them all. But whatever your views, the XK120 set the pace for all Jaguar sports cars to follow.
Next: Specifications