Jaguar XJ (2003 - 2009)
Last updated 12 April 2018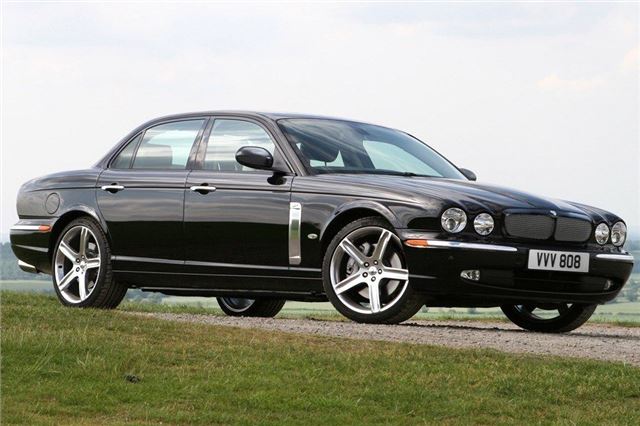 Buying Guide
Good
9-12-2009: Jaguar and Land Rover brands achieved the 1st and 5th highest scores among Luxury brands in J.D. Power and Associates 2009 Sales Satisfaction Index (SSI) StudySM. The study is a comprehensive analysis of the new-vehicle purchase experience and is based on responses from over 48,000 owners and lessees of new vehicles registered in May and June of 2009. Overall customer satisfaction is measured based on five factors: dealership facility; salesperson; paperwork/finance process; delivery process; and vehicle price.
Bad
Looks are a mixture of X type and XJ. Suspension clonks a bit on tight corners taken hard.
Needed but never got Dagenham built Range Rover's 3.6 litre twin turbo V8 diesel with 272PS and 640Nm torque originally due late 2006 but by late 2008 still not offered. Engine production at Ford's Dagenham plant started April 2006 for Range Rover. Would make the XJD a genuine 155mph car. Where fitted to the Range Rover, despite more power and torque than the TDV6, fuel consumption figures are the same or better at 19.6mpg urban, 31.2mpg extra-urban, 25.1mpg combined. Cuts 0-60 by 4 seconds to 8.5 seconds. In the XJ reckon on 155mph top speed and 0-60 in 6.5 seconds. 
No 3.6 V8 diesel in 2008 range at launch.
Watch
One reader running the 2.7 diesel in Spain very annoyed by tinkling noise identified in my road test. Seems to have been a "bad" batch of turbos fitted to 2006 2.7 V6 turbodiesels. Though failure may simply be due to failure by owners to idle the turbos from red hot before switching off. They do get extremely hot, especially after a long ascent.
2.7 diesel turbos run very hot and are prone to turbo oil seal failures. need to be idled after motorway runs in hot weather, after long ascents, or after towing. 2.7d engines used for short runs from cold starts will clog their particulate filters, leading the the excess fuel for regenerating them dribbling down the bores into the sump, contaminating sump oil and raising its level to a point where the engine may run on it.

Seems to have been a "bad" batch of turbos fitted to 2006 2.7 V6 turbodiesels. Though failure may simply be due to failure by owners to idle the turbos from red hot before switching off. They do get extremely hot, especially after a long ascent. By late 2010 the first report of DPF failure had come through and the cost of replacement is a substantial £2,000 + unless Jaguar contributes.

Rear brake pads can have a very short life. 

Surprisingly prone to corrosion, particularly around the bootlid, door pillars, door bottoms and wheelarches. Seems that the culprits are the steel rivets used in the aluminium panels.
Problems can occur when two dissimilar metals are in electrical contact in the presence of a corrosive electrolyte; this leads to so-called "galvanic corrosion". An example might be stainless steel (acting as the cathode) next to aluminium (the anode). This is a potential problem with the XJ, since Jaguar, in their infinite wisdom, chose to use steel rivets! The rivets are coated with a protective zinc/tin layer, so the risk is minimized, but it is still there. Interestingly, Jaguar and Alcan are sponsoring a lot of research in this area.
16-8-2011: On 3.0 V6 petrol, a rumble from the front may mean that  the bottom crank pulley damper assembly 4659709 is starting to separate around the rubber insert  in the middle of the flat dinner plate sized wheel. Costs £83.23 + vat. Pulley Assy £25.47 +vat and the V-Belt £17.86+vat Total Labour £82.00. Separation is usuallly more marked on the inside than the side one can observe. If it fails completely then engine is written off.
11-6-2012: Report of exhaust flexi hoses to driver's side catalytic converters failing on 54,000 mile 2006 2.7TDV6. These coast £650 + VAT + 2 hours labour to replace because the oxidising cat converters have to be replaced as well. Cannot simply replace the flexi hoses.
25-8-2012: Rear wishbone bushes prone to failure after about 5 years. Can cost £840 to have them replaced.
1-9-2013: Electronically controlled hydraulic engine damper on 2.7TDV7 is prone to failure of the electronics leading to harsh tickover. Jag dealers want £600 to replace it.
2-11-2013: Report of problems moving old style selector out of Park. Dealer replaced contact switch on brake pedal, but problem returned.
17-3-2015: On Jaguar XJ TDV6, the fractured flexi hose downpipes to the DPFs and cats is such a common problem that Jaguar makes a repair kit for it. (See 11-6-2012.)
17-10-2016: Seemingly unsurmountable problem reported with 2007 Jaguar XJD 2.7 diesel: "Brake assist" warning light showed and then the car would not respond to "cruise control". Took it to a Jaguar franchise in North London who could find no fault with the braking system or any reason why the cruise control should not operate. When asked for return, Jag dealer told could not have car back "because they could not get the gear shift out of "Park"". He insisted, and was told that if he pushed a screwdriver into space behind the shift he could disengage the mechanism and move the shift. He did this and and took car to the Jaguar dealer he bought it from. They say to repair the "Park" problem would cost £700. They say the brake assist comes on and the system says there is a brake fault so bars the cruise control for safety reasons. As the car was still being driven a second safety stage is triggered and the gear shift is locked. This would be fine if there was a fault with the brake system in the first place, which both garages have categorically stated that there is not and therefore can find no reason why the warning light should come on. There seems no way to brake this frustrating circle.
7-10-2017: Report of driver's window mechanism failing. Motor whirrs but window doesn't mive. Probably the mechanism has rusted.
26-12-2017: Report of engine catastrophe with 58k mile 2007 Jaguar XJ350 2.7TDVi with full Jaguar service history. Owner nad it serviced including timing belts and transmission oil change. Then service light started coming on intermittently on start ups. 10 minutes into a journey went into limp home. Dealer said problem awas DPF pressure sensor and replaced it, but service light remained on. Reset the service light. Then got about 30 miles into another run and and the DPF light came on so stopped and referred to the handbook, which stated should drive at a constant speed in a lower than normal gear. Didn't get very far and it cut out and wouldn't get going again, so recovered home and left battery on charge overnight to see if that had anything to do with the problem. Next day, reconnected battery and started it up. It struggled starting and it was throwing out smoke, more on the left side and it was also misfiring on what looked and sounded like the whole left bank. So got it taken in to a local independent Jaguar specialist. They found oil and metal parts in the turbos. Also no compression on the left bank. Owner researched and cound a couple of other examples of the same thing. The problem with this engine is that the turbos sit inside the V where they get extremely hot. If the engine is shut down when the turbos are extremely hot, then the oil in the turbo oil feed and oil return pipes becomes carbonised, restricting the flow of oil to the turbo bearings. Eventually those bearings will become oil dry and will disintegrate which is where I think the shrapnel came from. Good maintenance of this engine (apart from letting it idle for a minute or two before shutting it down, so the oil flows rather than carbonises) is to periodically replace the turbo bearing oil feed and oil return pipes and I think your Jaguar dealer should have been well aware of that.
12-4-2018: Report of valve stem breaking in 2003 Jaguar XJ8 at 150,000 miles.
Recalls
April 2004: Recall because 6-speed automatic can slip into reverse at high speed due to computer software problem.
28-7-2004: Recall announced for all production from 18-11-2003 to 13-1-2004 because sharp edges of dashboard could puncture airbags as they inflated, rendering them useless.
Back: Driving
Buy a Jaguar XJ from £11,552
Compare classic car insurance quotes and buy online. A friendly service offering access to a range of policies and benefits.

Get a quote