Jaguar S-type (1999 - 2007)
Last updated 27 November 2017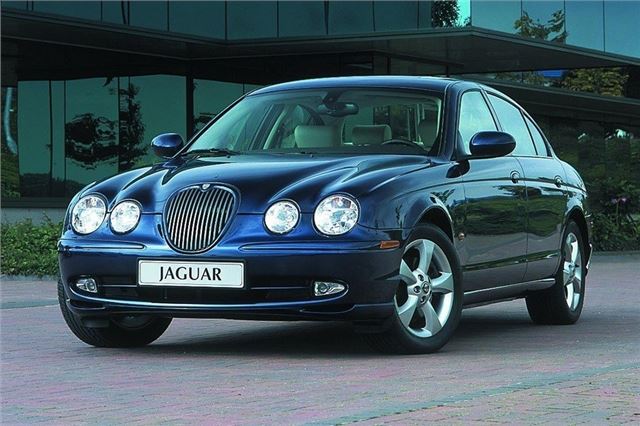 This car simply oozes personality. The smooth 3.0 litre 240bhp Ford Duratec V6 thrums, whoops and bellows, yet remains smooth to quite high revs. It's also very powerful, with 20bhp more than Audi's new 3.0 litre V6, 19bhp more than Mercedes' 3.2 litre V6 and 9bhp more than BMW's much-vaunted 3.0 litre straight six. The five-speed manual gearbox has a heavy, ponderous, occasionally obstructive shift (something Autocar magazine criticised it for). But what Moss-boxed Mk II or original S Type didn't? To my mind, this adds to the character of the car. The new ZF variable ratio power steering has a mechanical oiliness to it, yet allows enough feedback to make the driver feel attached to the car rather than detached from it. And you get that amazing Jaguar buzz of endless acceleration, just as I remember from my first ride in a 3.8 E-Type in 1965 when we went out to double the newly-imposed 70mph speed limit.
You can, of course, simply go for the looks and opt for the Ford-supplied automatic. If you want the most powerful S Type, the 281bhp 4.0 litre V8, you have no choice. But the autobox isn't a very good one and is apt to change ratio when you least want it to while pressing on. And to my mind, the automatic ceases to be the characterful car which the looks of the S Type promise. The V8 doesn't sound Jag-like either, so I'd plump for the V6 manual every time.
The ride is smooth, even on the huge 18-inch alloy wheels and liquorice-strip-thin 245/40 Pirelli P Zeros of the Sport. Wind noise is pleasantly subdued. And the 3.0V6 engine pulled our car to an indicated 146mph on a German Autobahn with commendable ease. The slight roughness of the engine at these high speeds was simply cured by switching to Superunleaded, but this isn't necessary for normal day-to-day running. Fuel consumption worked out at 23.9mpg overall, which wasn't bad for the speeds plus a lot of stop-start town work. Handling is fine, though definitely big-car-like rather than hot-hatch-nippy. And I have to admit I didn't press this particular car to find its limits of adhesion.
With Volvo and Jaguar building its top-of-the-range cars, Ford no longer needs a Granada or Scorpio. Volvos provide a feeling of immense strength together with old-fashioned, police-car-like front-drive handling on the one hand. Jaguar successfully interprets its core values of smoothness, pace and rear-drive handling on the other. The four-wheel-drive X Type will soon complete the range. But the S Type is by no means eclipsed by it.
I'd also better mention Jaguar's impressive scores in all recent Top Gear J.D. Power Customer Satisfaction Surveys. My own mailbag reflects this. Hardly a single complaint about Jaguars, compared to significant numbers about Mercedes and a fair few about BMWs too.
Update for 2.5-litre and 4.2-litre V8.
'Autocar' had a high opinion of the new entry-level 2.5 V6 automatic and I can confirm it's a very pleasant car. The automatic parking brake comes as a slight surprise (on the automatic, you do nothing; one the manual you switch it on and off by a console control that looks like the hood switch on an Audi cabrio). But it works far better than, for example, the Mercedes Benz arrangement.
With six ratios to help haul the car along, the new autobox makes the best of the engine's 201bhp. But if you're not happy with its decisions, you can always use Jaguar's 'J' gate which allows you to stop the box changing up from 2nd, 3rd, 4th or 5th and has a natural, intuitive action of moving forward to go lower or backwards to go higher.
The bigger 240bhp 3.0V6 manual has been re-mapped a bit. So, while it's now officially cleaner and more fuel efficient, it's just a tiny bit slower off the mark. But it makes up for that with more settled handling than the original S Type. It now feels more like a modern E Class Mercedes than like it did before, which is saying a lot. And a really useful feature is electrically adjustable steering wheel and foot pedals so almost anyone can find the ideal driving position.
Next up, the 4.2V8 is sublime. Most drivers will simply burble along in fully automatic mode. But, if the mood takes you, you can hold the lower ratios and shoot up to 110 or so on almost any short, open straight. It's an excellent long distance cruiser, too, with 70mph corresponding to exactly 2,000rpm in sixth. And it's also better value for money than the old car was.
Finally, there's the bonkers, screaming-mad, supercharged 400bhp Type R. Whether you use the 'J' gate or not, this will howl its way to sixty in just 5.3 seconds and on to around 175 if you can find a way to disconnect the limiter. But it's far from leery or uncouth to drive. Even on the wettest July day in history with mud all over the country roads and the traction control switched off it was still easily manageable. I actually had to try quite hard to get the tail out and it came back again very obediently. Yet of all the new S Types, surprisingly enough, this was the nicest to drive slowly.
Update for V6 diesel
BMW offers big diesels. Mercedes offers big diesels. Audi offers big diesels. All with better economy, lower C02s and therefore lower BIK tax for company drivers than equivalent petrol models. And now that British bosses are leaner, hungrier and more cost-conscious than the fat cats they used to be, it's very hard to put them into a car that not only guzzles petrol but guzzles tax at 40% as well.

So now, with Prescott in a Prius, Jaguar has had to get its act together and start offering BIK friendly alternatives. The front drive X-Type diesel is already the most popular X-Type. The lightweight aluminium XJ is awaiting some new big diesels being developed by PSA and Ford. And the S-Type has been the first recipient of PSA/Ford's new 206PS 2.7 litre twin-turbo diesel V6.
So what does this do to the car? In the old days Jaguar engines were so smooth you could balance a coin on the cam covers. Stand next to even a rust-bucket Mk II and your ears wouldn't tell you if the engine was running or not. That was part of the point of a Jag. The last thing you wanted was a car that looked fantastic but sounded like a Kango hammer.
From outside the S-Type diesel you can hear it. It's as subdued as a diesel could be and far more so than an Audi, BMW or Merc. But anyone at the golf club who isn't deaf will know you're burning oil under the bonnet.
Inside, too, it's no longer a case of looking at the rev counter to check if the engine is running. You are aware of a distant hum, but your passengers probably wouldn't be. Especially with the 10 speaker optional Premium Sound system playing Christina Aguilera's 'Stripped' CD.
How does it go? Well not as hard as the new Audi A6 3.0 V6 TDI or the BMW 530d or the muscular Mercedes E320CDI, that's for sure. Really, more like a 525d or an E270CDI. It does pick up speed, and does make proper use of the first five of its six gears. But totally undramatically and very quietly. The complete opposite of the A6 3.0 V6 TDI. Handling is pleasant rather than out and out sporty. You are slightly isolated from the action, but if you're buying an S-Type diesel you probably want to be.
It's nicely appointed inside, with a vast options list that allows you to tailor the car almost exactly as you prefer from a luxurious cruiser to a tighter, sportier chariot. You can go for wood, pale leather and deep pile carpets, or aluminium, black leather and 18" wheels. The car I drove had Mercury 8 x 18" alloys with 245/40 tyres, a £250 option on the Sport model it was, yet it rode and steered on indifferent surfaces with true Jaguar distain.
DVD satnav, with touch-screen controls for the aircon and sound system is an option well worth ticking because it works very well indeed. Set everything as you want, then leave the GPS to tell you where you are.
Electric seats and steering wheel adjustment are standard through the range, with memory on Sports and SEs and also a very useful of option of electrically adjustable pedals, which is a huge help to those with longer or shorter legs than average.
My one bugbear was the 6-speed autobox. On the petrol engines it's fine, the changes are fairly seamless and you don't get the whole thing dying on you. But because the diesel has no torque at all below around 1,200rpm, and because the 'J' gate is a very sloppy kind of manual over-ride, on some corners and roundabouts you can be stuck up the creek without a paddle-shift.
I tried pre-selecting third, but it still bogged down between gears. Maybe familiarity would breed content, I don't know. And, of course, you could go for the Barcelona box instead.
A six-speed manual V6 twin-turbo diesel S Type. Imagine that emerging from Brown's Lane in the late 1960s.
In the cabin
It's a surprisingly big car - bigger than a BMW 5-Series. (We'll soon see the X Type Jag to compete with the 3-Series.) The boot looks absolutely huge until you start loading it up, when you find it's a lot shallower than you first thought. However, it does have the advantage of fold-down rear seats, and an optional ski flap if required.
If you want a real Jag, the S Type Sport V6 manual has to be the one to go for. It costs £30,600 on the road and the price includes leather seats, leather steering wheel, leather gear knob, climate control, floor mats, those huge 18-inch Monaco alloy wheels, P Zero tyres and front fog lights. You can get an S Type V6 manual from £27,000, but the Sport's extras make the car. Do, however, be careful to specify electric lumbar support for the driver's seat, as this is one very worthwhile accessory.
On the other hand, if you want superb, less traditional looks, coupled with fine, Mercedes S Class-beating handling, a decent Mercedes sourced autobox and truly immense performance, Jaguar can always fix you up with an XJR8.
Back: Model Timeline
Next: Buying Guide
Compare classic car insurance quotes and buy online. A friendly service offering access to a range of policies and benefits.

Get a quote