Jaguar XK (1996 - 2006)
Last updated 21 May 2018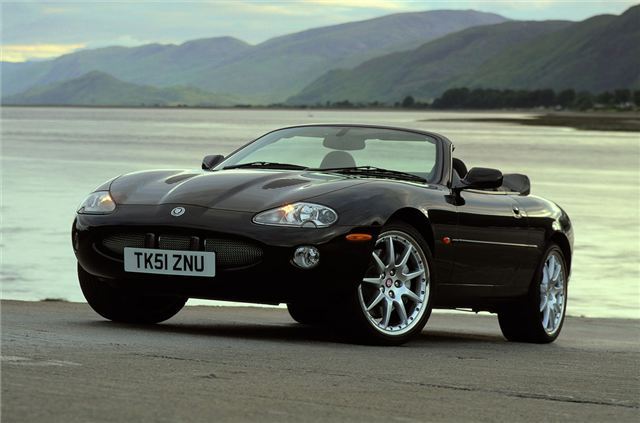 Model Timeline
March 1996
Much better looking, more 'Jaguar-like' than XJS. 15' 7" long by 6' 7" wide and from 1,640kg (coupe) to 1,750kg (convertible). Tried and tested styling seen before on Aston Martin DB7. Convertible looks lovely.
290 bhp in standard form. Supercharged XKR has 370 bhp and 387 lb ft (525Nm) torque, plus better Mercedes autobox - and there is an XKR convertible. 0-60mph in 5.2 seconds. Three-year 60,000-mile warranty.
May 2001
370bhp XJR 100 launched summer 2001 to mark Sir William Lyons Centenary, priced at £69,950 for the coupe and £74,950 for the convertible. New 300bhp 4.2 V8 and 400bhp supercharged 4.2 V8 from S Type for 2003 model year.
January 2004
Facelifted with cleaner look and updated for 2004 model year. Prices XK8 coupe £49,290; XK8 convertible £56,720; XKR coupe £58,120; XKR convertible £64,920.

11-01-2005: 4.2 S headed the 2005MY XK range. Four limited edition exterior colours – Copper Black Metallic, Frost Blue Metallic, Bay Blue Metallic and Satin Silver Metallic. Three interior colours and two veneer options for the instrument panel. XK8 models offered a new luxurious Elm wood veneer as standard for the interior trim, while XKR cabins were lined with sporty Carbon Fibre veneer set, with Elm veneer as a non-cost option.
New interior carpet colour, Dove, was also offered for the first time on a Jaguar. XK8 models had 19-inch 'Atlas' style wheels, while the XKRs got unique 20-inch split rim BBS Perseus performance wheel. XKR also got cross-drilled Brembo brake discs, red wheel badges and red brake callipers to reinforce its sporting credentials.
2006 Prices:- XK8 Coupe 4.2 V8 £49,995; XK8 Convertible 4.2 V8 £56,795; XKR Coupe 4.2 V8 Supercharged £59,995; XKR Convertible 4.2 V8 Supercharged £66,795.

3 year UNLIMITED MILEAGE warranty from 2004.
Back: Introduction
Next: Buying Guide
Buy a Jaguar XK from £10,750