Jaguar XK (1996 - 2006)
Last updated 21 May 2018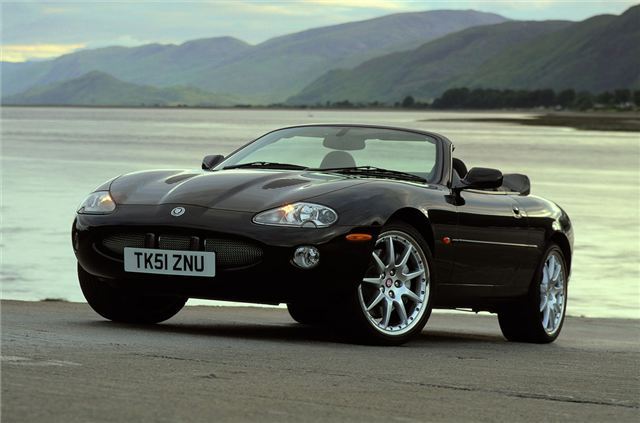 Buying Guide
Good
30th from top car out of 137 in 2003 Top Gear survey.
Bad
May suffer from infuriating build quality problems.
No easy means of checking 5-speed autobox oil level or refilling it. Jaguar says 'sealed for life', but no oil changes mean a 'life' of 10 years tops. (XKR has a stronger Mercedes box.)
Whine of Eaton supercharger pf XKR sounds great at first, but can end up getting on your nerves.
Don't handle as well as saloons, mainly because you can't see out as well.
These cars gulp gas, of course. Rear passengers need to be legless. 

Jaguar had fifth highest warranty repair costs in 2003 Warranty Direct Reliability index (index 126.91 v/s lowest 31.93). Jaguar 2nd bottom of Reliability Index for 2004 combining high average cost of repair of £483.26 with high 42.16 failures per 100 Warranty Direct policies.
Jaguar XK8 9th least reliable car in 2005 Warranty Direct Reliability Survey with 48 repair claims per 100 cars. Link:- www.reliabilityindex.co.uk
1996-2006 XK8 3rd least reliable car in 2007 Warranty Direct Reliability Survey with 62 faults per 100 cars.
Watch
Vital to buy the right trim combination - the 'Classic' rather than the 'Sport' or the base model. 

Nickasil bore liner sulphur erosion problem with pre-2000 model year Jaguar V8s. 1996s, 1997s, 1998s and 1999s could all have residual damage from before mid 2000 when sulphur content of UK petrol was reduced. (Definitely OK from from September 2000 build, or if fitted with a post Sept 2000 build replacement engine as these have cast iron bore liners). Lumpy feeling engine is a sign of the bore problem above. Don't buy a 1996 - 2000 VIN from 001036 to 042775 inclusive unless the engine has been replaced indicated by a special tag to the nearside of the engine block on a reconditioned engine. 

Reports of tensioner problems leading to timing chain failures. Beware of rattles from timing chain as tensioner could be about to let go. Plastic tensioners were later replaced by steel tensioners which can be fitted to earlier cars. 

Front wishbone bushes can go after only about 20K miles causing steering problems, unven tyre wear and, if left unattended, possible suspension damage. Cost to replace can be £700. Jaguar's extended warranty does not cover this, but Warranty Direct's does.
On 2003 cars the footwells can corrode badly. May occur with other years of the model.
31-5-2011: Water in footwell can be due to pinched drain from the a/c condenser, but space is so tight it cannot be rectified without removing the transmission.
1-6-2014: Report of intermittent transmission quadrant problems ever since new on 16,500 mile 2003 Jaguar XKR. Transmission lever would not move out of 'Park'. Jaguar mechanics advised reader to remove the grub screw on the centre console and use a slim screwdriver in the hole to over-ride the usual workings. Also when this problems occurs, an amber warning light displays itself on the dash and the following message is shown "Cruise control not available". Once the car has done a few miles it often sorts itself out and the lever will move from Park position to drive. In 2009 the reader spent £650 on a replacement Modem which the dealer advised but after a while the problem returned. The reader is now being told the it could be the brake switch or the solenoid within the J gate. In addition to this problem he has had since new a grumbling noise from the rear suspension and has had 3 new dampers fitted under warranty but still has the irritating noise. 
10-3-2017: Saga of problems with electronics console of 2008 Jaguar XK8, bought used in 2011. From the winter following the electronics console would occasionally not boot up – generally the morning after a cold and wet night – which meant owner was unable to use satnav, heating controls, CD/radio, etc. Original dealer said this was a known problem that might be fixed by 'reflashing' it and updating the software, which he did under warranty. At the time, this seemed to work, but in fact when the cold weather returned, it became clear the occasional problem remained. Because original dealer a long way from owner's home, he tried to get it fixed via a local Jaguar dealer. When they were unable to fix it, they recommended replacing the console. It took a long time to acquire a replacement, but it was eventually exchanged for a new one in Aug 2015, at a cost to the owner of £2,000. This new one had the same problem, and in Jan 2016 the car went back to Jaguar to have the console reworked (FoC this time, of course). Unfortunately, this didn't work, either, and it continues to have the problem despite further efforts FoC by Guy Salmon. Happens only about once every three weeks during the winter, and when it does the console will usually start up if you turn off and fully lock the car, and then try again.Very occasionally, it will refuse to start altogether, and then it does become more serious. Also has a problem with alarm that goes off occasionally at random times for no apparent reason. This has also been investigated, but no fault identified.
Recalls
1997: rear suspension. 1998 (July-October 1997 build-11,221 cars): may suffer sudden deceleration due to weak retention bracket on accelerator cable. Extra clip 'costing pennies' solves the problem. (Announced on radio 7/2/98.) Defective timing chain tensioner apparently subject to a recall, but cannot give a date.
April 2004: Recall because 6-speed automatic of latest cars can slip into reverse at high speed due to computer software problem (per 'Auto Express' 21-4-2004).
Back: Model Timeline
Buy a Jaguar XK from £25,500
Compare classic car insurance quotes and buy online. A friendly service offering access to a range of policies and benefits.

Get a quote