Hyundai Sonata (1998 - 1993)
Last updated 18 May 2018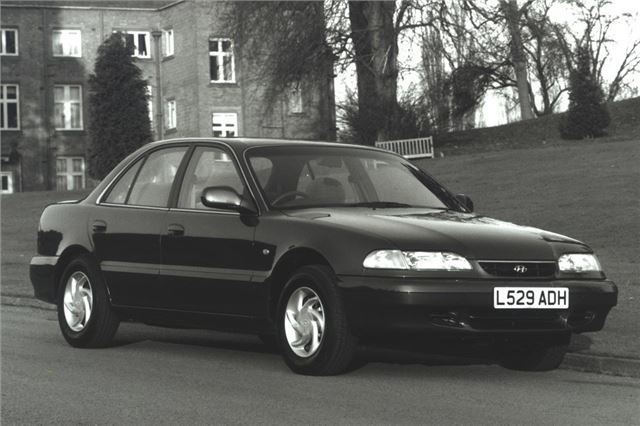 Very reliable and cheap.
Anodyne to look at and to drive. Problems obtaining spares.
Updated 22 March 1992
Hyundai launches first front wheel drive Sonata with 126bhp or 136bhp 1,997cc twin cam four cylinder engine, 5-speed manual or 4-speed autobox. 15' 4" long; 5' 9" wide.
Introduction
Designed by Giorgetto Giugiaro, the second-generation Sonata was part of Hyundai's assault on the North American market and replaced the Stellar as the Korean company's large family car. In Europe, it was Hyundai's third model to launch and aimed to nick sales off the Ford Granada Scorpio by costing the same as the Sierra.
Once again, the car borrowed heavily from Mitsubishi using the Galant platform and engines (although these were built by Hyundai under licence). A 3.0-litre V6 was offered alongside the 2.0-litre four-cylinder. Trim was much improved over the previous version, with more kit and better quality. Outside, it looks like a posh Mazda while inside there's acres of space and black plastic to enjoy.
These are few and far between, but like so many Korean models from this era rarity doesn't command a high price tag. You're most likely to pick one up from a fellow enthusiast or a driver that's (reluctantly) decided to hang up their gloves.
Next: Model Timeline