Honda Civic (1995 - 2000)
Last updated 24 April 2018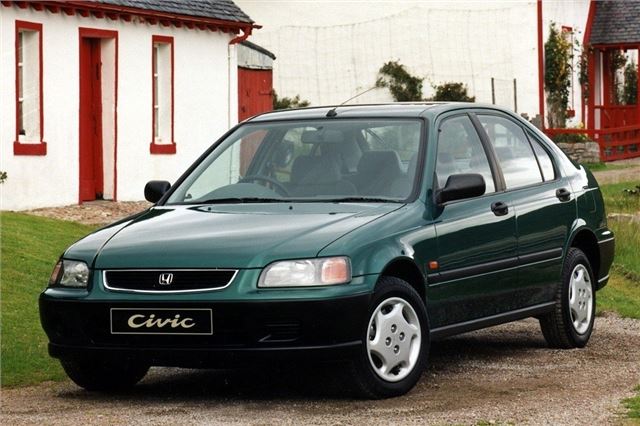 Model Timeline
February 1995
'Swindon' 5-door hatchbacks and estate on floorpan shared with Rover 400.
14' 2" long by 5' 7" long and from 1,075kg.

89 bhp 1.4, 89 bhp 1.5 VTEC-E, 111 bhp 1.6 from '95-'97; 112 bhp 1.5 VTEC, 114 bhp 1.6 and rip roaring 167 bhp 1.8 VTEC from '97 on. Smooth 4-speed autos.

1.5 VTEC-E was capable of 45-50 mpg, but at 45-50mpg. Very nicely built, under-bonnet looks like Honda motorcycle high tech. 1.5 VTEC-E replaced by 85 bhp Rover 2.0 DI engine in May 1997. Aerodeck 5-door estate from February 1998.

27-03-1997: Introduction of the VTI model. There was a rear VTI badge, and decals of "DOHC VTEC" on the rear doors. Then a limited edition VTI-S. The VTI came in 2 different flavours - the DOHC 1.6VTI (B16A2 engine) and the DOHC 1.8VTI (B18C4).
The 1.6VTI car was actually slightly faster in acceleration than the 1.8 due to the different gear ratios (the power developed by the engine was higher in the 1.8, but the measured power at the wheels was not as pronounced due to the different gear ratios. The 1.6 was also a lighter engine). Front/rear disc brakes were standard on all VTI/VTI-S versions. The 5-door versions included a much-needed Torsen limited slip differential, which went some way to eliminate understeer.

The VTI-S was as close as UK owners could get to a Type R without importing from Japan. It improved on the bland appearance of the standard Civic with a more pronounced front and rear lip on the bumpers, and side skirts. There was also a chrome-effect front grill surround as opposed to normal black. Both models had different kits from each other. The 5-door (MB6 body) version also had stiffer suspension, and front & rear anti-roll bars. These modifications, together with the lightweight 15-inch Speedline alloy wheels, improved the handling on the standard VTI. The VTI-S badge also added half-leather seats, carbon effect dash trim, front door-tweeters, air-conditioning, sunroof, and electric windows and wing-mirrors as standard. The VTI-S was only sold in the Honda colour 'Pirates Black'.
Back: Introduction
Next: Buying Guide
Compare classic car insurance quotes and buy online. A friendly service offering access to a range of policies and benefits.

Get a quote