Hillman Imp (1963 - 1976)
Last updated 21 August 2014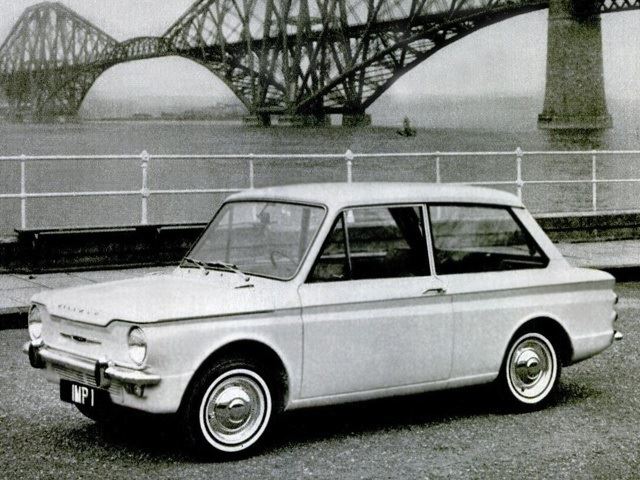 Model Timeline
May 1955
Rootes starts working on a new baby car
The Hillman Imp's beginnings actually date back to 1955, when the Rootes small car project was instigated. The reasoning behind its creation in the first place was simple: Rootes produced medium and large cars, and yet, during the 1950s, the 1-litre class accounted for a significant number of sales in the UK, and Rootes simply had no presence here. Michael Parks (project engineer – who later went on to work for the Ferrari F1 team) and Tim Fry (co-ordinating engineer) were charged with getting the project off the ground, and were given a clean sheet of paper to work with. Essentially, the project was defined by what the car should achieve – and, interestingly, Fry and Parkes thought that the new car should reach these goals:
Accomodation for two adults and two children.
Peformance/economy: At least 60mph maximum speed and 60mpg fuel economy.
Echoing the oppposition of the day, a rear engine layout was preferred.
The car should be fun to drive.
The project progressed 'without much impetus' towards a 2+2 air-cooled economy car.The team soon came up with a highly aerodynamically styled economy saloon – aptly named, Slug. Without doubt, all of its design objectives would have been met with this car, but it was not met with enthusiasm from the Rootes Group powers-that-be. The development team presented its two engineering prototypes to the Rootes board members, and they made it clear they were not interested allowing the Rootes Group to produce a car that so obviously resembled a bubble car.
Not only that, but the board also made it clear that it did not want to see the Rootes Group name compromised by selling that had been so obviously created for times of austerity; intelligent engineering, or not. Given the board's reticence to move forwards with these proposals (allegedly, Lord Rootes hated the sight of it so much, he refused to ride in it!), because they were so stark, one would assume that the board was against the company producing a small car. This was patently not the case; it was just that the board members were uneasy with the idea of selling a product so outwardly similar to the bubble cars.
The board did conclude that Rootes needed a small car (the Suez Crisis had erupted by this time), but it needed to maintain the quality and solidity of the rest of the Rootes range. Further to this, it also needed to sport a four cylinder engine, and be able to accommodate four adults. The burgeoning popularity of the Ford Popular and Austin A30 in these fuel-starved times encouraged the board that moving upwards was the correct
direction to be moving in.
So, from this desire to create a bigger, better mini car, Project Apex was thus created; and it would be Technical Director Peter Ware that would see it to maturity.
June 1955
Development of the Apex gets fully underway
Rootes had no existing small car engine in production, and the decision was taken to approach local company Coventry Climax. At the time the Rootes board had decided to go sophisticated, Coventry Climax were producing the FWMA all-aluminium racing engine, which Tim Fry thought would fit nicely into the Apex's engine bay. Fry contacted them and asked if it were possible to get hold of installation drawings, telling them that he was in the process of developing a car that could be an ideal beneficiary. Sensing an opportunity, Coventry Climax was happy to co-operate, and as a result, Fry managed to get the tiny engine and gearbox to fit into one of the prototypes, by now named, Little Jim.
In the meantime, the Coventry Climax engine was developed into something far more suitable for road use: it was expanded to 875cc, detuned to 39bhp, and most of its internals were changed in favour of longer life items. Even in production specification, the engine was a peach, and was more advanced than its immediate rivals, thanks to an overhead camshaft and that lightweight construction.
The clean sheet approach also extended to the gearbox: one of the problems encountered during Apex development was that there had been numerous gearbox failures. No doubt, this was due to the revvy nature of the Coventry Climax engine, which demanded frequent gearchanges. It was decided that the new car would sport a transaxle (gearbox and differential in the same housing), but because Rootes had never used this arrangement in any other cars, it hired Adrian West as Senior Transmission Engineer. West's task was to design and build a transaxle that was strong enough to withstand enthusiastic use, yet be light enough to appeal to all buyers the car was aimed at. West was chosen because he had wide experience of gearbox design, having spent time at Simca, Renault and Fiat.
West achieved these goals handsomely, and the transaxle he produced boasted fantastic change quality… Much of this was attributable to the use of a baulk-ring synchromesh (something the Mini missed out on at its launch, and suffered from as a result). The combination of Coventry Climax engine and West transaxle was a hard one to beat; and it was light years ahead of the opposition when the Imp was launched in 1963.
The engine/gearbox might have been adjudged a success, but there were questions about the styling. After Peter Ware had ditched the aerodynamic styling of the original prototypes, Apex was quickly moved forwards. Keen to project a more youthful image, Bob Saward's styling department looked across the pond to the USA for its styling influences. The original three-box Imp prototypes were rather bland looking cars, and it was only when the addition of Americana took place, that the essential character of the car came bursting through. It is easy to see, however, that the Chevrolet Corvair has been used as a reference point, and as this car was seen as being popular with the young at the time, Rootes was keen to follow down this road.
September 1959
Rootes sticks with its decision to build a rear-engined car despite the arrival of the Mini
The Apex was a technically interesting car – however, the decision to retain a rear-engined layout was one borne out of a long gestation period. In 1955, many existing continental rivals slung their engines out back, but in the UK, the small car opposition had stubbornly remained with the classic front engine/rear drive layout. And that was part of the problem. The UK's motoring press began to see the conventional products produced by the Rootes Group as being boring, and stung by such criticism, as gentle as it was back then, the company wanted to produce something totally European in its approach. However, in 1959, Alec Issigonis turned the world upside down by proving that front engine/front wheel drive was the way forweards for small cars. The Mini may have taken time to gain acceptance with the buying public, but engineers and designers knew that the rear engined family car, so typified by the Simca 1000, NSU Prinz and Renault 8, had been rendered obsolete.
By that time, the rear engined layout was now carved in stone. To go front engined at this point, would mean scrapping the project up to that point and starting again, and given Rootes' ambitions of expansion, a launch that took place sooner, rather than later was desired. And it was these expansionist ideas that would add difficulties to the Apex programme, as well as the Rootes Group as a whole.
By the late-1950s, Rootes felt that expansion was the only way to survive. Given that each new Apex sold would be a new customer to the Rootes fold, extra production would be needed drastically. However, the Government of the day made it quite plain that if Rootes wanted to expand using government assistance, it would need to do so in an enterprise area. This struck quite a blow for the future plans of Rootes, because it had already been refused permission to develop Ryton, and now it would be forced to set-up a new plant away from its Coventry heartland. The pressure exerted on Rootes led the company to Linwood, near Paisley and Johnstone, and not too far from Glasgow; and it would be here that a new factory would be built thanks to a government loan, and in it, the new car would be built.
Production of the Apex might have presented problems, but there were also issues that befell its development. The Apex engineering team was based in Ryton, and was treated as an entirely different entity to the main engineering office at Stoke. As the Apex programme had dragged considerably, it was also treated to an injection of haste towards the end, which meant that several exciting features that the engineers wanted to hone to perfection (such as the pneumatic throttle, automatic choke and marginal cooling) were never tested fully. Ware knew the dangers of launching a car without thorough development, and in the fullness of time, he was proved correct.
In his book, Cars of The Rootes Group, Graham Robson also relates that the Apex was committed to production far too early, and this was probably down to the fact that Rootes wanted no further delays, or a newly opened factory which would be standing idle at the point it was to be declared open in May 1963.
May 1963
Hillman Imp launched
The Rootes Group was unable to spring a surprise on the car buying public, as details of the upcoming car were scooped in the first issue of Small Car magazine (which later became Car) in 1962. The remarkably accurate article prepared us for a rear-engined mini-Rootes, although calling it Ajax was slightly adrift from the truth. The idea of a mini-Rootes took some getting used to, and even though the company were clearly going to call it Imp and restrict it to the Hillman marque, it was still positioned a long way below anything else in the then current range.
The motoring press was largely favourable about the Imp, although comparisons with the Mini were always going to prove difficult to avoid. Nevertheless, the Imp's superb engine, gearbox and handling were praised in equal measure. The Motor magazine in its road test of 8 May 1963 was very enthusiastic:
Handling: The fact remains, however, that the Imp can be hurled into corners at speeds which would be suicidal with most saloons and with very little roll and no tyre squeal it just motors round them. It is so close to being a neutral steering car that different driving techniques can tip the balance one way or the other.
Transmission: The gearchange, as we have said is quite certainly one of the best, if not the best we have ever handled.
Performance: For an 875cc car, the performance is astonishingly lively and bears comparison with many family saloons up to 1600cc.
Although it was rear engined, the addition of that lift-up rear screen (do not get carried away and describe it as a hatchback) meant that the Imp's practicality was also praised. The Motor was forthright in its verdict too, and were most optimistic about the Imp's future: "If Rootes cannot sell 150,000 Imps a year, as they have planned, we shall eat our editorial hat." Sometimes hindsight can be a wonderful thing.
However, it soon became clear that the Imp's rushed final development phase would have a lasting impact on the small car's reputation with customers.
Problems that would have been picked-up in those months soon manifested themselves: defective water pumps and automatic chokes, overheating, water leaks, throttle problems and lack of performance. These soon became widely known in the trade and with buyers, and a poor reputation for reliability – so easily won – would never be shaken off. The Rootes dealers were ill-equipped to deal with such problems, and at the production stage, it took years to iron them out. Linwood's industrial relations were poor from day one, so any running changes that needed introducing, were drip-fed rather than rushed in.
One story that sums up the logicistical problems encountered by Rootes comes from John Simister's retrospective Motor article from 1986: "…for example, the cylinder blocks for the die cast engine were cast in Linwood but had to be sent down to Coventry for machining and assembly and returned to Scotland for installation." It was madness, and sadly a folly (through no fault of Rootes), which was then repeated with Avenger assembly .
But had the Imp gamble paid off? Arguably, its 1963 launch date was too late for another mini-car; the petrol crisis had receded and the economy was booming. Small car sales were still strong, but the Imp was already below the UK car maket's centre of gravity. Interestingly, the rear-engined layout was also now seen as past its prime, thanks to BMC's front wheel drive exploits.
By the year following the Imp's launch, the Rootes Group's finances had been compromised enough for it not need to accept its first parcel of cash from the acquisitive Chrysler company in the USA. This was due to the company feeling the effects of mounting losses caused by disappointing Imp sales and the after effects of the huge Linwood investment. Not only this, but Linwood could not produce the Imp efficiently at anywhere near projected volumes, as its engine and gearbox were extremely labour intensive to produce.
Losses continued, and Chrysler's takeover of the Rootes Group followed in 1967.
October 1964
Badge engineered Singer Chamois version added
Even though the Imp was clearly defined as a Hillman at the time of its launch, it soon became apparent that the policy of badge engineering would need to be followed in order to maximise sales potential. In short order coupé, van, estate car versions became available, and plusher Sunbeam- and Singer-badged versions were phased in. It was never going to be enough, though. By the time Chrysler was fully in charge of the company, it was clear that any further meaningful development of the Imp was never going to happen.
A scant year after its launch, the first badge engineered version appeared, and in short order, a raft of further derivatives followed:
Imp marque and model variations
May 1963
Hillman Imp launched
Oct 1964
Singer Chamois launched
Sep 1965
Commer Imp Van launched
Oct 1966
Sunbeam Imp Sport (and Singer variation) launched
Jan 1967
Hillman Californian launched
Apr 1967
Singer Chamois Coupe launched
Hillman Husky Estate Launched
Oct 1967
Sunbeam Stiletto launched
Oct 1968
Commer Imp van renamed Hillman
Apr 1970
Singer models phased out
Jul 1970
Husky and van phased out
Mar 1976
Hillman and Sunbeams phased out
Facelifts were investigated and then dropped; as were larger engined derivatives… Rootes had now become known as Chrysler (UK), although the structure of the company remained largely in place. This would not last too long into the 1970s, and it is this process of rationalisation that explains why Ryton's front wheel drive supermini projects never proceeded very far from the stylists' sketch boards.
So, the Imp marked something of a dead-end in the company's history, and even though it was eventually turned into a reliable car, and was one that handled and performed well, it was never taken on by Chrysler and developed to face the challenge of the 1970s. Certainly, the rear engined layout played against it from day one, but that did not mean that its excellent engine and gearbox could be utilised in any other installation. It is fair to say that the Coventry Climax engine was expensive and labour intensive to build, but surely some of its nicer features could be used elsewhere.
May 1976
Imp production ended
Chrysler saw it another way, and refused to kill it or develop it. The vastly simpler Avenger was also built at Linwood, but it was not a replacement for the Imp, and so, the little car remained in production until it became clear that the Sunbeam would be introduced to replace it. The travesty there is that this likeable small car did not owe anything at all to the Imp (or its front wheel drive design studies) apart from the slant-four engine in the 928cc version, which was a development of the Coventry Climax engine. However, by the mid-1970s, Chrysler's European arm was deep in crisis, a wider product strategy demanded a different solution.
But ultimately, the Imp was a victim of the oft-repeated mistake of launching a car before it had been fully developed. Reputations are hard earned and easily lost…
Back: Introduction
Next: Buying Guide