Ford Mondeo (1993 - 1996)
Last updated 22 February 2016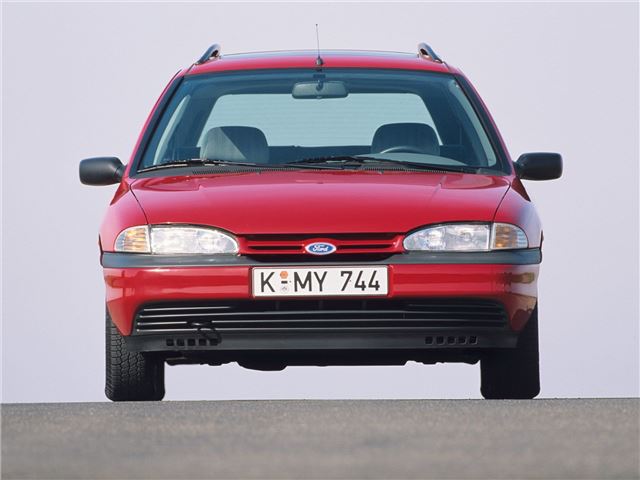 Buying Guide
Good
Very strong bodyshell at the front. Comparatively good performance in NCAP crash tests. Easy and cheap to repair body damage.
BMW, Toyota and Ford jointly suffered the fewest breakdowns attended by German ADAC during 2001. Enthusiasts and problem solving website: www.fordmondeo.org
Ford had seventh lowest average warranty repair costs in 2003 Warranty Direct Reliability index (index 65.51 v/s lowest 31.93)Ford 4th top top of Reliability Index for 2004 combining very low average cost of repair of £207.58 with average 32.16 failures per 100 Warranty Direct policies. Link:- www.reliabilityindex.co.ukPetrol models and diesels 1995-1997 rated average for breakdowns, problems and faults in 2003 Which survey.
16-6-2012: Reported on BBC News Website that a Mk 1 Ford Mondeo 1.8TD used as a taxi has reached a million miles. Brian Holmes from Preesall, Poulton, bought his Mondeo in 1996 for £14,000 and said he has made more than 8,000 120-mile round trips to Manchester airport as Bernie's Airport Service. He said: "I've not had many problems with it, just general wear and tear and there is still some life left in it. I go between 60-65 miles per hour which is fast enough and sticking to that speed is better for the engine."
Bad
The Mondeo is a bigger, heavier, wider car than the Sierra. May not fit your garage.
Lacks spaces for oddments such as mobile phones inside cockpit.
Subframe needs dismantling to change the clutch, making it a £500-£600 job. Incorrect reassembly leads to tracking problems.
Sticking valves on pre-1997 1.6s, 1.8s and 2.0s run short distances on cheap petrol (most have now been cured by 'in-service' mods which cause engine to use a bit more oil.)
Original 2.0 litre a bit coarse and boomy and gear ratios are for town rather than open road use.
Watch
Slipping clutch.
Baggy suspension.
A bang on a speed bump can knock out the otherwise well protected catalytic converter on 4-cylinder cars.
Infamous 'pulling to the left' caused by kerbing damage, by worn track control arm bushes, by misaligned reassembly of front subframe after clutch replacement or by failure to re-track properly after replacing track control arms. Look for uneven tyre wear (outer shoulder wear normal).
Early (1993) Mondeos prone to starter motor failure.
Engine management problems on 2.5 24v V6 can burn out catalytic converters (the car has three).
1.8 diesel engine very antiquated.
Question-mark over longevity of front wishbone bushes on all models, especially V6. Suspension bags out after 120,000 miles.
Report of £500 diesel injector pumps "only" lasting 100,000 miles, but this could be due to the lack of lubricity of the fuel being used.
Screenwasher pumps apt to clog up. The simple cure is to use a bamboo cane or similar to give the reservoir a stir, but better to flush the reservoir out with a fairly high pressure hose and get rid of the gunk in there. Also make sure screenwash pipes have not become trapped or kinked in bonnet hinge.
Reports of 2nd gear band breaking up in 4-speed autobox, contaminating the ATF and requiring the box to be rebuilt. These boxes tend to have a life of 60k - 90k.
Loss of power on 1.8 turbo diesel may simply be due to a split in a pipe to the turbo.
If ABS fitted, make sure light goes out after 3 seconds or new pump or ECU may be needed.
Shafts of front electric window winder mechanism can go: make sure both work.
More than its fair share of recalls. If automatic, make sure shifts are smooth and check ATF which should be red, not black. Timing belts belts on diesels only good for 3 years or 36,000 miles.
On Zetec E petrol engines, several reports of timing belt tensioner pulley heating up and shattering after 5 - 6 years and 60 - 80,000 miles. Essential to replace the pulleys at the same time as the belt.
Alarm sensors under the rear windows of V6 Ghia estates can suffer water ingress leading to electrical short and flat battery.
Only the 1.8 engine with hydraulic lifters is suitable for conversion to lpg. 1.8 engines with mechanical lifters tend to burn out their valves.
Watch out for corroded lower radiator pipes/connectors on older Mondeos. Can lead to sudden loss of coolant.
Open both rear doors and check for rust in the permanently wet crevice where the lower rubber sealing strip ends just before the rear wheel arch. May be minor, but may have taken hold quite seriously.
Corroded rear brake pipes where they pass over the fuel tank (an MOT failure point).
Headlight diffusers go yellow with age, fail the MoT and cost £42.37 plus VAT for both of them. Left one is £23.81 and right one is £18.56, both plus VAT, but at least available without having to buy them all in one with the reflectors.
16-8-2011: On 2.5 V6, a rumble from the front may mean that  the bottom crank pulley damper Assy 4659709 is starting to separate around the 'rubber insert ' in the middle of the flat dinner plate sized wheel. Costs £83.23 + vat. Pulley Assy £25.47 +vat and the V-Belt £17.86+vat Total Labour £82.00. Separation is usuallly more marked on the inside than the side one can observe. If it fails completely then engine is written off.
Back: Model Timeline