Ford Ka (1996 - 2008)
Last updated 18 June 2019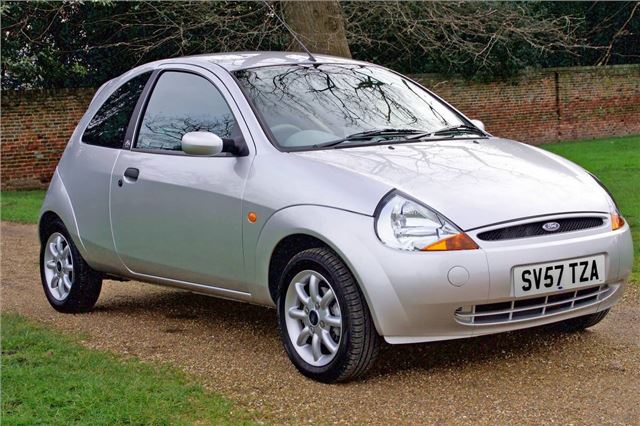 Buying Guide
Good
Club for owners of all Fords, old and new: www.fordownersclub.com
Bad
Not much space in the back. Doors unprotected from parking damage. 

Have been complaints of over-servoed brakes. 

May suffer engine idle flare between gearchanges (see TSB below). 

Either replace front pads at 18,000 - 20,000 miles or expect to have to replace discs every 25,000 miles. 

Joint 3rd from bottom in 2007 UK J.D. Power Customer Satisfaction Survey with 74.4% score.
Watch
Flaking paint. Check for rust in the door sills and rear wings. Numerous reports of massive structural corrosion of driver's door sills of early Kas leading to MOT failure. Check that any previous accident damage was repaired under Ford's 6 year no perforation warranty. (James Ruppert aptly calls this 'Karrosion'.)

Suspension damage from kerbing. Front suspension bushes have been prone to wear so if the front suspension clonks this is probably why. 

Number of reports of steering rack failure both of early non-PAS racks and of power assisted racks. The part alone is £500, plus £200 fitting. Steering racks continuing to fail, even on powere steered 4 year old 2003 Kas in early 2007. Possible cause: water ingress to rack prior to assembly of car. 

Hidden damage underneath deformable plastic ends. 

Aircon much better than an aftermarket sunroof, but can develop problems (see Ka Sun Collection in 'Whats Good'). 

Reports of reverse gear selector forks shearing. 

Motorised heater valves fail, but cheap to replace. 

Beware of emulsified oil under oil filler cap. If the engine is tappety it probably needs a new set of cam followers, which isn't a quick and easy job on a pushrod engine. Original 59bhp Endura E 1.3 pushrod engine very long in the tooth, apt to emulsify oil, block oilways and develop rocker shaft trouble. Non case-hardened cam followers wear away making engine very tappety. 

Spark plugs of original ohv iron block and head engine may either have corroded into the head or been over tightened (taper fit) which means head removal to drill them out. Should be removed every year, coppergreased and refitted, but since this could snap them they are not usually touched. 

Stalling problem usually due to dirty idle control valve. Best replaced. Replacing standard front pads with uprated aftermarket items, such as EBC pads greatly improves feel, stopping distances and most importantly reduces brake fade under heavy braking. 

Sumps of old 1.3 pushrod engines rust through. 

New problems emerging with 70bhp ohc Ka are water filling plenum chamber and swamping electrics (probably blocked drains, but this happens on new Kas) and squealing from the PAS due to an undersized PAS Fluid reservoir. Ford dealers will replace this with a bigger one if asked. The solution is NOT to overfill the original PAS reservoir. 

The pins which hold the foot pedals in place may fall out, leaving the driver unable to brake or declutch. 

If a Ka you own or are considering buying runs roughly, the following possibilities could be the reason:- 
Pushrod wear, where unhardened push rods have been installed. Poor cylinder bock cleaning while machining (leaving burrs). And unexpected wear of correctly hardened push rod cups traced to problems with the adjustment screws. (Ford has now eradicated these problems for new production.) 

Ka 2s and Ka 3s can suffer from corrosion of the door wiring loom connectors, leading to electric window and central locking failures. Cost of replacing the wiring can amount to £300 for parts plus up to a full day's labour. Older high spec Kas (W reg and earlier) suffer failure of the door mirror motors due to water ingress. 

Overtightening the pollen filter apparently cracks the windscreen. 

If the heater stops working the solenoid valve situated on the bulkhead is usually responsible. 

2004 (04) models have dodgy secondary bonnet catches that can snap. 

can sufffer early failure of dampers. 

Dashboard rattles. Water leaks through scuttle. 

Build omissions such as lack of a VIN plate. 

Parking brake cables come out of their clips under the car and rattle. 

A tip for people wanting to protect the door sills on their Kas which don't yet have rusted sills: 3M Scotchgard paint protection film applied to the door sills, and then taken off and reapplied every 3 years should help postpone rust on the sills. 

Rust around the petrol filler cap is caused by a dirt trap on the other side. Rust can be avoided or even stopped completely by regularly hosing out the dirt trap, easily accessible in the gap in the rear passenger side wheel arch. Also, the rubber seal around the filler seems to trap water, perhaps contributing to moisture build-up
Tailgate rust around wiper spindle common on later Kas. Ford insists on annual inspections or won't meet any claims under the paintwork and body warranties.
1998 Kas with ABS (Mar '98-Sep '98): Brake master cylinder may fail.
2000: TSB issued to replace throttle position sensor and connector if revs fail to decrease on lift off when upchanging. TSB issued advising dealers to use copper grease on spark plugs to aid removal. Technical Service Bulletin (TSB) 095/200 entitled 'Engine Idle Flare during Gear Changes' involves replacement of throttle position sensor (FPS) and wiring to it. Looks as though it is simply replaced and the wires splied to the existing loom. Time taken/charge should be 0.3 hours.
Rumours of Summer 2001 TSB over problems with a/c pump. Stage 1 tighten auxilary belt. Stage 2 if that does not work replace pump. 22-7-2002: 31,000 UK market Kas built Jan-June 2002 recalled because front brake hose retaining clamp could become loose leading to pipe fouling on wheel and loss of brake fluid. 31,606 Kas affected.
12-4-2013: Late 1st shape overhead cam Kas can suffer clutch and flywheel problems that are expensive to rectify relative to the value of the Ka.
16-5-2003: Complaint of poor lighting of instruments.
15-2-2015: Kas more than 10 years old with rust problems are not worth repairing. Example: 25k mile 2004 Ka with nearside and offside rear lower inner door sill and suspension component mounting area is excessively corroded. Also perished suspension bushes, failed wheel bearing and broken rear coil spring. 
8-5-2019: Heater valve problems reported in two 2007 Ford Kas owned by the same family. Heaters stuck on maximum heat.
18-6-2019: Report of power steering 'stiffening up' and failing to self centre on 2005 Ford Ka. Garage cannot find a fault external to the rack, so must be the rack.
Back: Driving