Ford Focus (1998 - 2004)
Last updated 8 June 2019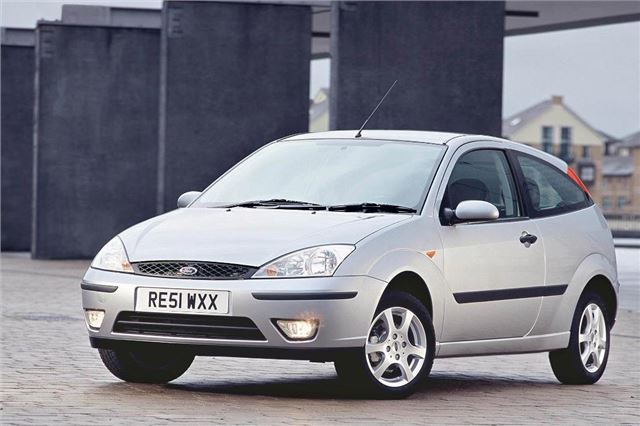 Buying Guide
Good
Club for owners of all Fords, old and new: www.fordownersclub.com
Will accommodate a golf bag laid across behind the rear wheel arches.
Bad
Sharp edges of rear hatch. Bonnet opened by key-lock in grille badge which can be vulnerable to road salt.

ABS, aircon etc. originally all extra, bundled in £500 'extras' packs.

Original diesel is ancient 1,753cc with vulnerable fuel pump to camshaft belt drive that needs replacing every 36,000 miles.

1.6 with Mazda 4-speed automatic initially proved to be a disaster due to ATF leaks between transmission and engine (see recalls about this). Soon fixed, proving to be reliable (no reports of any failures at all 2001-2004) and became third best selling automatic in the UK.
Watch
Some fleets reckon on just 60,000 miles for Zetec E timing belts and idler pulleys. 35,000 miles still max for 1.8 diesel timing belts. However belts on Endura DI diesel reckoned to last 60,000 miles before tensioner or pulley failure occurs. Essential to renew belts, tensionersa and all pulleys at the same time. On 1.8 petrol engines, timing belt tensioners are failing at over 80,000 miles and 5 years old.

On estates and other models not fitted with plastic sill protectors, look for stone damage and possible rusting at rear bottom edge of front wheel arches. Corrosion can also start in hatchback at the sharp point in the recess for the rear screen. Look for flaked paint here. Rear window wiper action on T to W reg cars causes movement of the glass, scraping the paint in the base of the rear window V which is a natural rust trap. (Rust occurs even though the shell is supposed to be electro galvanized.) Paint can crack and corrosion can start around door mirror housings. Check door bottoms on cars over 5 years old as sealant can fail allowing water to settle there and rust through. Apparently not covered by no perforation warranty. Rear silencers can rot through in two years if car used for short runs from cold. Contacts in rear number plate light can rust up. Can suffer water leaks at rear through vertical light clusters and light contacts can rust up causing current drains. Also reports of rust in area around rear hatchback hinges and around chrome number plate light trim on Ghia models

Listen for rumbly rear wheel bearings, especially on estates, but quite a common failure on all Focuses. If not fixed under warranty, a suggestion from John Shuck in the USA is, "the bearing material was not properly hardened, aka nitrided to Rockwell C 60 or higher. So, get new bearings, find an aircraft parts guy, and get them nitrided ASAP. Also use a good grease. Krytox is good but expensive, so I use Amsoil Series 2000 racing grease, drop point is at 540 degrees F." Temporary speedometer/odometer failures quite common, so speedo and odo may not have recorded actual mileage covered. Number of reports of flywheel failures on diesels.

Some late 'W' and early 'X' reg 2.0 litre Focus were fitted with Mondeo inlet manifolds and sometimes refuse to drop below 2,500 rpm.

The pins which hold the foot pedals in place may fall out, leaving the driver unable to brake or declutch.

Sharp front edge of parcel shelf can chafe back seat material. Some cars have a protective strip over the parcel shelf edge. Others don't.

Reports of front springs breaking on 1999-2000 Focuses: bad news because it untwines and tears up the tyre and front brake pipe. Further spate of coil spring failures on 1998 - 2001 cars over 2006 to early 2007.

1.4 and 1.6 models can have a problem caused by spark plug interferance with their GEM (Generic Electronic Module). This controls instrument cluster, interior lights, rear heated screen timer, front wiper intermittent, central locking, airbag, reverse lamps, rear wiper, trip computer, etc. The cure is to realign the cylinder head temperature wiring and cable tie it to the engine.

On late cars there have been instances where the power steering loses pressure when the driver suddenly turns the steering on to full lock. All power assistance may then be lost and the feeling is that the steering will not turn. Dealers will make a small modification to the power steering stops free of charge and the power steering will feels different on full turn.

Seems to be a common problem of failed high pressure pumps on 1.8 TDCI. Many traders were wary of Focus 1.8 TDCI as a result and would not take them in p/x unless the pump has been replaced. Most were recalled by Ford and fixed so this should no longer be a problem.

The lower powered TDDi engine has been known for failure of the electronics controlling the fuel injection pump. The TDDi is fitted with a Bosch VP-44 fly-by-wire fuel pump and has been known for injection pump control module failure, which leads to the engine suddenly cutting out and refusing to restart. This failure is shared with many other vehicles using similar Bosch fly-by-wire injection pumps. The problem seems more to lie with the Bosch systems rather than the car
manufacturers using them. Despite this, the number of failures compared to the
number of vehicles on the road still remains fairly low.

Fuel level sensor in tank can play up and Ford dealers usually quote for whole lifter pump assembly to be replaced at £250.

Poor starting and hesitation of Focus petrol engines may be due to loss of pressure from the fuel rail, itself either due to a gasket failure or due to failure of the rail, which is expensive at over £400 fitted. Though another possibility is a cracked crankshaft breather pipe. Front disc and pad problem on American production Focuses has led to a class action against Ford in California.

Focus speedometers dropping to zero can be due to an oil gasket failure on the vehicle speed sensor (VSS) plugged into the final drive. A clean of the contacts can fix it but more usually it needs replacing at a cost of £100 - £150. The fault may affect other instruments and warning lights. The traction control warning light may come on along with the engine warning light. Indicated fuel economy might drop. Acceleration might be affected. Problem of all Focus models suddenly losing power may also be be due to the failure of the 'fly by wire' electronic throttle sensor. Or hydrocarbon build up in the throttle body.

Speedometer, fuel gauge and temp gauge, odeometer/tripometer all failing, plus various lights flickering on and off are symptoms of dried out contacts in the panel circuit board necessitating a new instrument cluster at £376.

ST170 can suffer from prematurely rusted welds to their catalytic converters. One reader had a catalogue of problems with a Focus ST170: "Brakes have failed, engine cut out twice on the motorway, won't start, air-con would'nt turn off, hesitant at all speeds, noisy tappets, the list goes on".

By 2008, dual mass flywheel failure on 2.0 litre models and diesels had bedome common. 'Dual mass flywheel' failures create iron filings which in turn accumulate on starter motor magnets, leading to starter motor failure. Ford will sometimes contribute to the very high replacement costs of dual mass flywheels and clutches (£1,200) if the car has done less than 45,000 miles.

Fresh spate of reports of failures of both the electronics and the transmissions of 4-speed autos in autumn 2007.

Reports in 2007 of five year old Focus suffering steering rack failures.

Beware when buying a 1.6, particularly an ex Motability car. The washer fluid can drip into the spark plug channel at the top of the engine and if the engine does not regularly get hot enough to evaporate it off then the spark plugs rust so badly they fuse into their sockets and become impossible to remove, necessitating a £2,500 head off job to replace them.

If the heater fan fails on its first one two or three settings, the resistors have probably gone and that they can be accessed on the right hand side of the glove box. Ford franchises usually carry spares. Inside the glove box, on the right, there is a screwed panel behind which reside the resistors and fuses. The resistors needing to be replaced are listed in the car's manual.

Can be prone to blowing headlight bulbs every 10 - 12 months.
6-11-2011: Quickclear elements of heated front windscreen can start to break down after 8 - 9 years.
27-9-2013: Four rear wheel bearing replacements reported over the life of a late Mk 1 Focus.
6-12-2013: Unchanged timing belt failed at 10 years old on 2003 Focus 1.6 petrol. They do need changing at 6 years/90k miles max.
21-3-2014: ABS lights flickering have become a common problem on Mk 1 Focus models and this is now an MoT failure. In the past, Ford had replaced the modules for £50, but with Mk 1 Focus all now more than 10 years old the price has risen to £500, leading to many owners regarding their cars as economic write offs.
27-1-2019: Report of 2001 Ford Focus failing the new (post-May 2018) MoT because the headlight beam height adjustment motors both sides had failed.
Recalls
'Knocking noise when braking' requires a different torque setting on one of the lower suspension arm bolts. It also states a new bolt and nut should be fitted, and notes that care must be taken to assemble the washers in the correct order, and that the torque should be applied to the bolt and not the nut.
61,000 cars built Sept '98-Mar '99 recalled in July 1999 for better waterproofing of alternators to prevent short circuits.
Cars built Sept-Nov '98 recalled in October '99 to cure possible failure of door latches.
TSB 52/1999 entitled 'Rattle or knocking noise from front suspension over rough surfaces' and involves too much freeplay between the spring and upper seat, This is rectified by the fitting of a rubber insulator between the spring and mount.
2000: rear light bulb holders rust around the bulbs. New rear light fittings are installed under a Technical Service Bulletin if a rear bulb fails.
101,000 Focuses recalled: 1.8 litre and 2.0 litre Zetec E-engined Focuses recalled because oil filler cap can come adrift and oil then be blown out over engine. Wiring harnesses also to be checked for correct routing. ECUs of 1.6 litre Zetec S to be re-programmed if engines suffer from intermittent loss of power.
TSB 40/2000 entitled 'knocking noises from engine bay uner load changes is a misalignment between the engine rear mount and bracket. Rectified by fitting new components.
TSB issued to Ford agents to replace the rear hubs of Focus models fitted with rear disc brakes when in for a service due to snapping of the wheel studs.
Defect in ECU of Saarlouis and Valencia cars built March 1999 could cause inadvertent deployment of airbags and seatbelt pre-tensioners.
All Focus automatics recalled because excessive crankshaft end float may allow torque convertor to contact crankshaft position sensor leading engine to cut out. Revised crankshaft thrust bearing and new crankshaft position sensor to be fitted.
2.0 litre Focus models recalled for brake master cylinder to be replaced. 2001: diesels checked under Ford TSB system for possible air leaks into the fuel system.
TSB on 1.8 and 2.0 Zetec engines which suffer from stalling suggests that Power Control Module may need recalibrating using 'FDS2000' diagnostic equipment.
Another TSB on 1.6s that if engine cuts out to replace clutch switch bracket. 21-5-02 Alternator B+ terminal may break leaving battery + cable loose. Check alternator and replace as necessary.
TSB No.63/2002 31.10.2002 Model: Mondeo 2001 with 2.0L DuraTorq-TDCi engine built from 10.2001 (build code 1K), Focus with 1.8L DuraTorq-TDCi engine built from 05.2001 (build code 1B. Engine running erratically or does not start. Common cause is that the fuel pump is unable to deliver the required fuel rail pressure due to wear of the cam, rollers and shoes. The damage is caused by insufficient bedding of the rollers during early life. This also creates metallic particles which can enter the high pressure fuel system and lead to injector failure. To rectify this concern, a revised fuel pump, new injectors and associated parts should be installed. If this concern is present, it will generally be indicated by a flashing glow plug indicator showing that a fault has been detected. This bulletin supersedes TSB 63/2002 dated 08.08.2002, which should either be destroyed or clearly marked to show it is no longer valid (e.g. with a line across the page). Additions have been made to the Parts Required and Labour Times. The Service Instruction has been ammended.
September 2005 (build April 2003 to March 2005): Recall of 68,722 Focus and C-Max for checks on the windscreen wipers. Water can work its way into the wiper motor along the arm of the blade. If the water contains salt it can cause the motor to short circuit and leave cars without working wipers. In extreme cases, the short circuit can also cause the wiper assembly to overheat and melt nearby trim components. Cars to be fitted with a new cover, which better seals the motor from water. Journalist Philippa.Mina tells us The US Department of Transport describes the problem as "Vehicle Stall at any speed due to contamination blocking the intake mesh on the Fuel Delivery Module, located in the fuel tank." Ford in the US has extended the warranty for the fuel delivery system of the 2000-2001 Ford Focus for 10 years from the original start date. It specifies that vehicles covered by this programme are: "certain 2000 and 2001 model year Focus vehicles built at the Wayne and Hermosillo Assembly Plants from Job 1, 1999 through June 13 2001. Affected vehicles are identified in OASIS". Because of the use of canbus wiring (where various components share the same power cable) the failure of one can affect the others.
1
28/06/1999
R/1999/051
FORD
Focus
possible short circuit in alternator
Various
01/06/1998
31/03/1999
2
07/10/1999
R/1999/084
FORD
Focus, Mondeo and Cougar
door latch concern
WB, WR & WA
03/09/1998
18/11/1998
3
20/03/2000
R/2000/003
FORD
Focus
oil filler cap may become loose
Various
01/03/1998
4
20/03/2000
R/2000/046
FORD
Focus (1.6)
engine may lose power
Various
01/01/1999
31/01/2000
5
25/04/2000
R/2000/048
FORD
Focus (Produced at Saarlouis and Valencia plants)
restraint system may inadvertently deploy
Various
15/03/1999
20/03/1999
6
30/05/2000
R/2000/054
FORD
Focus (with 1.6 litre engine and automatic transmission)
engine may cut-out/stall
Various
01/08/1999
23/02/2000
7
21/05/2002
R/2002/044
FORD
Focus (all models except ST170)
alternator terminal concern
Various
15/03/2002
26/03/2002
8
26/01/2004
R/2004/009
FORD
FOCUS RS
rear brake hoses may chafe
06/12/2002
13/12/2002
9
11/04/2005
R/2005/026
FORD
FIESTA, FOCUS C-MAX AND FOCUS 1.6 Diesel engines
fuel return pipe leak
14/07/2004
22/02/2005
10
18/08/2005
R/2005/101
FORD
FOCUS AND FOCUS C-MAX
wiper motor may fail and overheat
02/04/2003
03/03/2005
| | | | | | | | |
| --- | --- | --- | --- | --- | --- | --- | --- |
| 11 | 05/07/2006 | R/2006/092 | FORD | FOCUS C-MAX WTH 1/6L DIESEL ENGINE | engine may fail | 27/02/2004 | 28/06/2004 |
Back: Model Timeline