Ford Fiesta Mk2 (1983 - 1989)
Last updated 18 January 2014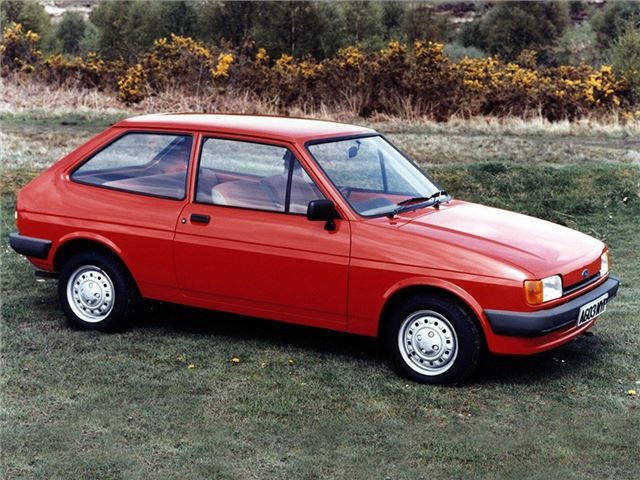 Buying Guide
Good
11' 8" long by 5' 2" wide and weighing from 700kg to 800kg.
Original 1976 Fiesta facelifted in 1983 with more rounded front. 
Low insurance groups.
Cheap and simple. 'Valencia' pushrod engines are long-lasting so long as the cars get driven regularly.
Spares cheap and second-hand parts plentiful.
957 had 40bhp; 1117 had 53bhp; 1.3 ohc CVH had 69bhp; 1392cc ohc CVH had 74bhp; 1592cc ohc CVH in XR2 had 96bhp.
Also a 54bhp 1.6 diesel (same basic engine that lasted until 2010) and an automatic. CTX CVT auto could be reliable in '84-'89 cars. 5-speed gearboxes in some 1.4s and all XR2is. Not quite as rust-prone as 1976-1983 model.
Bad
Still too 'light' and rust-prone, particularly front inner wings just above strut top mountings.
A rust-weakened light car is a disaster waiting to happen, especially with young people aboard.
Watch
Rust.
'Short-run syndrome', because many were used for shopping by elderly ladies and never got properly warmed up. 10 years ago a 10-year-old Fiesta with 25,000 miles was close to needing a new engine and clutch.
On the other hand a white socks and back-to-front baseball cap XR2 might have been surprisingly well cared for apart from huge holes in the parcel shelf for oversize speakers.
'Round front' 1984-89 Fiesta had improved anti-rust treatment, but all these cars are so old now they need checking carefully.
1.3 and 1.4 CVH engines prone to oil sludge.
Back: Introduction
Buy a Ford Fiesta from £3,950
Compare classic car insurance quotes and buy online. A friendly service offering access to a range of policies and benefits.

Get a quote