Ford Escort (1990 - 2000)
Last updated 18 January 2014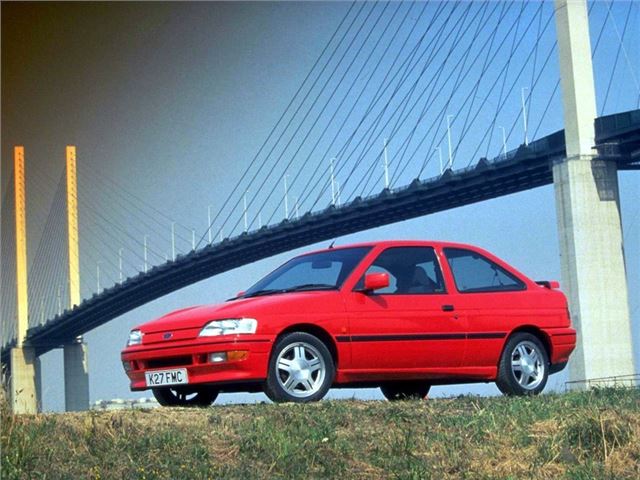 Looked okay in a bland kind of way, three-door more attractive than five-door, formed the basis of RS Cosworth, massively improved with subsequent facelifts in 1992 and '95
The 1990 original was a deadly dull and deeply cynical car, dreadful unassisted steering, rust kills them off
Introduction
The 1990 Ford Escort - the fifth generation car to bear the name - was by far the least convincing to be launched by Ford. In an extraordinary U-turn, the company that had brought us the bold and interesting Sierra and Scorpio,  delivered a car so unimpressive, conservative, and cynically conceived, that the press staged a mass revolt against the car. Far more damagingly, the fifth generation Escort lost its top-selling spot from the UK charts (to the Fiesta). The problem was that although the 1990 Escort was a brand new car, it failed to improve on its predecessor in any meaningful way - and was also hampered by its carry-over CVH engines.
Stung by criticism and disappointing sales, Ford knuckled down to the matter of improving the car. Less than two years after the original was launched, Ford introduced the oval-grilled facelift car. It might not have looked much different, but improvements in the suspension and steering set-up made it a better drive - and much more importantly, the 16v twin-cam Zetec engines were a huge improvement. By the end of 1992, the Escort was at least class-competitive. The 1995 facelift saw new front-end styling, and ushered in a new dashboard - but again, it was a much improved car to drive.
The most interesting 1990-2000 Escorts were the go-faster and cabriolet models. The first RS2000 - initially powered by a modified version of the Sierra's I4 twin-cam developing 148bhp, and after the dullness of the car it was based upon, its excellence was a genuine surprise. At the first facelift, the RS2000 was improved further, and offered with the option of four-wheel drive. The RS2000 made it to the second facelift, but was finally phased out in early 1996 - today, very rare, and sought after by Ford enthusiasts. The XR3i name had also made a return with the first facelift n 1992, but the Zetec-powered warm-hatch was far less impressive.
Next: Buying Guide