Ford Cougar (1998 - 2000)
Last updated 9 February 2018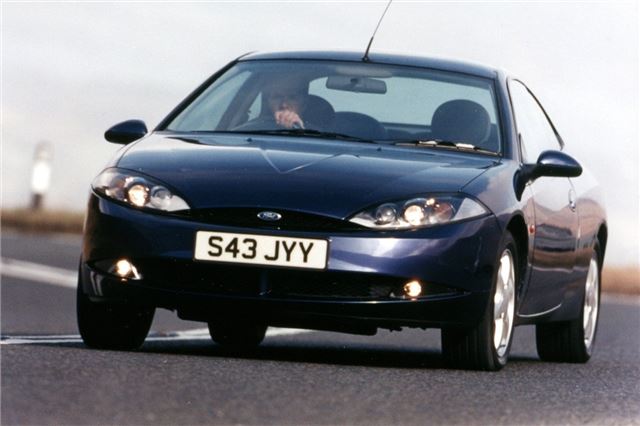 Model Timeline
Sharp-suited Mondeo coupe with Mondeo 2.0 litre and 2.5 litre engines.
4,699mm (15' 5") long x 1,769mm (5' 10") wide and weighing 1,291kg to 1,342kg. 

Good looking and different. Low wind noise. 2.5 V6 recovers lost speed extremely well. Handles and holds the road nicely without much understeer.
Effective 'eyeball' vents. Sensible boot. Fold-down rear seats ideal for golf clubs. Rear-view mirror well placed for motorways and heavy traffic.
Sounds a bit like an Alfa 156 2.5 V6.
30 mpg possible from 2.5 litre; 36-plus from 2.0.
4-speed auto available, but not a very good one.
Most V6s were 2,544cc, but last shrunk slightly to Mondeo II/Jag X Type 2,495cc.
Useful levers on backs of headlamps to switch from LH to RH dipped beam. 

BMW, Toyota and Ford jointly suffered the fewest breakdowns attended by German ADAC during 2001. Ford had 7th lowest average warranty repair costs in 2003 Warranty Direct Reliability index (index 65.51 v/s lowest 31.93) Ford 4th top top of Reliability Index for 2004 combining very low average cost of repair of £207.58 with average 32.16 failures per 100 Warranty Direct policies. Link:- www.reliabilityindex.co.uk
Back: Introduction
Next: Buying Guide