Ford Cougar (1998 - 2000)
Last updated 9 February 2018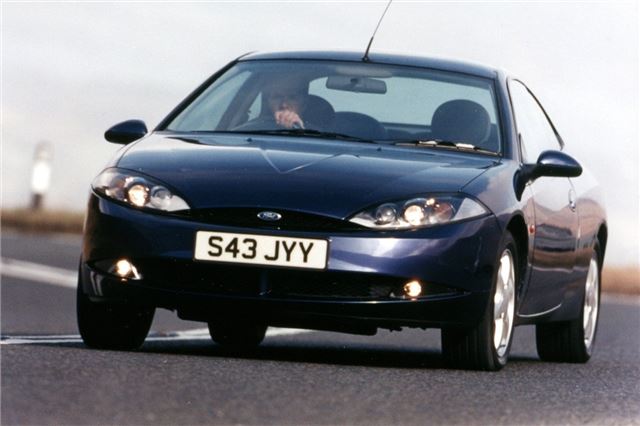 Buying Guide
Bad
Hopeless rear headroom.
Harsh, crashy ride.
Quite a few rattles, even when new.
Console straight out of Mondeo.
2.5 V6 lacks low-down torque and needs to be revved for maximum effect (red-line only starts at 7,000 rpm).
Short-range tank only good for 300 miles at a push.
Odometer under-reads by 2%.
Fairly heavy tyre wear on 2.5 V6. 215/50 16 tyres are specifically made for the Cougar by Pirelli and Michelin and cost £130 to £190 each.
Door mirrors are 'snap-off', not sprung. H7 headlight bulbs are prone to overheating due to the design of the light unit. 

8th from Bottom in 144 car 2002 JD Power / What Car? Customer Satisfaction Survey of V and W reg cars. 

Withdrawn from UK market due to poor sales of just 12,000 in two years (Daily Mirror 21/11/2000).
Watch
Damaged panels and trim which may become difficult to obtain replacements for. 

Oil pump problem causes frothing and oil starvation at top of 2,544cc V6. Some cars have had two engines replaced under warranty for this reason. 

OWNER'S TIP: Mintex brake pads improve bite and reduce brake dust.
Recalls
Cars Built Sept-Nov '98 recalled in October 1999 to cure possible failure of door latches.
1/5/2001: Build 1/1/1999 to 18/9/2000 recalled because battery cable may be misrouted and or loose connection to alternator B+ stud which could lead to electrical chort. B+ stud to be checked and battery cable routing to be checked.
8/5/2001: Build 6/12/1997 to 31/8/1998: Brass rather than bronze terminal in brake lamp switch jumper harness could lead to malfunction of brake lamp switch. Jumper harness to be replaced on all vehicles and brake lamp switches to be replaced if overheated.
8/10/2001: recall of 32,665 Mondeos and Cougars built 1/11/1999 to 1/5/2000 because parking brake ratchet can lose a tooth. Lever ratchet assembly to be replaced.
15/10/2001: 24 US spec Cougars in UK built 1/12/1997 to 31/5/1998 recalled because heater blower resistor connector blades can damage wiring harness leading to arcing and overheating of the connector.
Back: Model Timeline