Ford Capri Mk3 (1978 - 1987)
Last updated 24 July 2018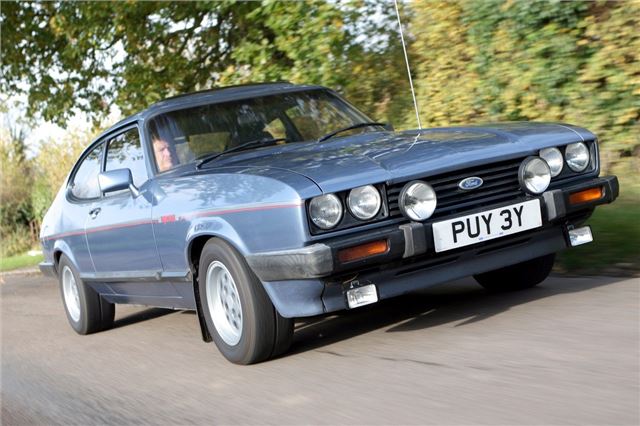 Great looks improved by the final facelift, brilliantly marketed, exciting drive in V6 form
Once again, buying a 1.3- or 1.6-litre denies the owner of any excitement
Introduction
The final – and some would say ultimate – Capri arrived in 1977. And with the minimum of effort on Ford's part, it put right just about all of the Mk2's flaws. Designated Project Carla, the re-invigorated coupe looked mean and moody, and proved that the Ford stylists had not lost their magic touch. In fact, it is hard to believe that in terms of styling, the only major differences between the Mk2 and Mk3 amounted to a re-profiled bonnet leading edge, some natty ribbed rear light clusters, and wraparound bumpers.
Once again, the Capri became the pushy young exec's weapon of choice, and the 'S' versions did all they needed to impress potential buyers who may have otherwise been tempted to go and buy a Manta. The 3.0-litre version remained the performance bargain of the decade, which no rival could match – and although the Essex engine was beginning to be seen as a bit long-in-the-tooth side, there was no denying it delivered the goods.
However, time wasn't kind to the Capri. By the 1980s, buyers were beginning to see the Capri as a hangover from a by-gone era, and just like stragglers at an overnight party the morning after, turfing out time was upon us. Except the Capri didn't give in to the ravages of time without a fight – despite the arrival of a new generation of hot hatchbacks as epitomised by the Golf GTi and Escort XR3. Ford dropped the Essex engine in 1981, replacing it with the 'Cologne' V6 – this creating one of the coolest-named cars in the world – The Capri Injection…
Boasting 160bhp and a 0-60mph time of 7.7 seconds, the Capri was able, once again, to punch above its weight, and give the snobs from Germany and Italy a bloody nose… However, in real terms, that was it for the Capri. Final development was little more than a marketing exercise, with a raft of special editions seeing it into old age – you could buy the Calypso, the Cabaret, the Brooklands. But in an era of engine management and digital dashboards, uncle Henry's European Pony Car has passed its sell-by date.
In 1987, time was called on one of the defining cars of a generation, and after a run of nearly two million cars, the book was closed on a legend.
Next: Buying Guide
Buy a Ford Capri from £9,995
Compare classic car insurance quotes and buy online. A friendly service offering access to a range of policies and benefits.

Get a quote