Ford Anglia 105E (1959 - 1967)
Last updated 18 January 2014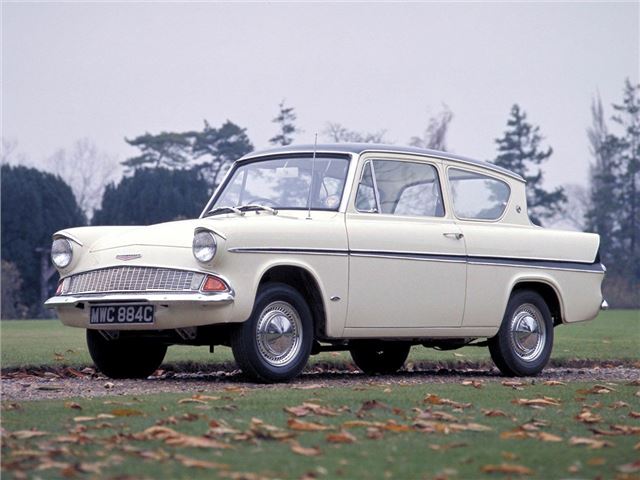 Distinctive styling, easy to fix, with plentiful parts supply, good to drive.
You'll get called Harry Potter...
Introduction
The year of 1959 willl probably be remembered for being one of the most revolutionary in British family car motoring. It saw the arrival of three fresh and exciting cars - the Mini, Triumph Herald and Ford Anglia 105E. The former might have gone on to sell the most and have the most bearing on future car design and engineering, but it was the latter that did more for the image of its maker than any other car.
When Ford opened a research and development centre in the heart of the British motor industry in Birmingham in the mid-1950s, it meant that the company could produce cars specifically tailored for one of its most important market. However, despite the promise of a bright future, only one production model emerged from this creative 'hothouse', the 105E Anglia. However, the car was an interesting departure for Ford. Most obvious was the Americanized styling, which was not too surprising as a visiting designer from Ford USA, Elwood Engel, was credited with many features as well as being responsible for the extensive wind-tunnel testing.
The main point of interest were the rear wings, reverse rake windscreen and hooded headlights, which made the Anglia a bit of a landmark car for Ford. But the big advancement for the Anglia was its sweet and efficient 'Kent' engine, and its sweet-shifting four-speed gearbox, which in a stroke managed to banish the long-lived sidevalve power units from Ford's range.
But there was more to the Anglia's appeal than this - and in UK terms it was one of the most significant of all because the 105E brought new levels of sophistication to the multi-national company's British arm. Allying the eager overhead-valve engine and nifty handling, the Anglia proved a joy to drive. Estate versions arrived in 1961, closely followed by the 123E Super the following year. And they remained strong sellers until the day they were replaced by the Escort Mk1.
Next: Specifications
Buy a Ford Anglia from £6,995
Compare classic car insurance quotes and buy online. A friendly service offering access to a range of policies and benefits.

Get a quote