Fiat Punto (1994 - 1999)
Last updated 12 October 2017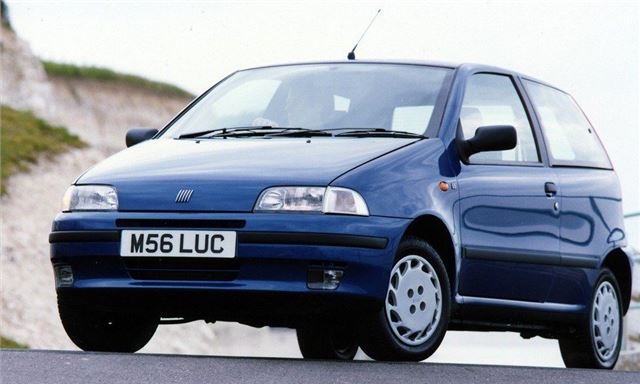 Buying Guide
Good
The best-designed small car in the world in its day and a worthy European 'Car of the Year' award winner.
Fiat had second lowest average cost in warranty claims for cars up to 10 years old in 2002 Warranty Direct index. FIATs generally had below average warranty repair costs in 2003 Warranty Direct Reliability index (index 75.82 v/s lowest 31.93), narrowly beating Volkswagen.
Bad
Choppy ride quality. Handling and roadholding not as good as contemporary Fiestas. 

90 Sporting has mismatched engine. 

'Space saver' emergency wheel not liked by Brits. 

Rear brake adjusters a bit gimpy, as with Uno. 

Diesels not brilliant. 

Fiat/Alfa joint worst for breakdowns attended by German ADAC during 2001.
12th from Bottom of 100 models for reliability in Auto Express 2002 survey.
Rated average for breakdowns and problems, poor for faults in 2003 Which survey.
10th least reliable car in 2005 Warranty Direct Reliability Survey with 48 repair claims per 100 cars www.reliabilityindex.co.uk
Watch
Selecta CVT auto is excellent in both theory and practice, but can become troublesome. If test driving a Selecta, make sure the electromagnetic clutch is 100% (there should be no jerk when you put the lever in 'drive', no jerk when you drive away, and no 'creep' at idle). 

Bonnet releases break.

Hydraulic clutch slave cylinder may develop a leak. Clutch and transmission problems common. 

Check for signs of head gasket failure on 55s and 60s (brown sludge under oil cap) as this happens very frequently. 

Isolated report of front suspension wishbone collapse. 

If heater matrix fails it may leak onto the ECU immobilising the car. 

Electric sunroofs prone to failure. 

Possibility of brake master cylinder seal reversing itself leading to momentary but total loss of braking. Seal then flips back and braking is normal. FIAT dealers have renewed master cylinders when the problem was reported by owners. 

Seems to have been a spate of sumps rusting through on four year old Puntos. 

Spate of ECU. lambda sensor, injection potentiometer, temperature sender and throttle body problems. 

Rear suspension arm bushes wear and are expensive to replace. To check for rear suspension arm bush wear, look for uneven rear tyre wear. 

'Knocking noise' from rear suspension may be subframe mounting bushes which are cheap and easy to cure. FIAT does an additional "helper" bush, which fits round the original (Part 46476755 £13.59 plus VAT a side). Looks like short section of 2½ inch hose on a plate. Easy DIY job. Pattern part also available from motor factors. 

Look carefully for accident damage. Make sure it has its 'Red Key'and that all keys work (problem emerging over mismatched keys and lost codes at FIAT HQ). 

Make sure that the fuel pump is not leaking (new pump: £159 + VAT + fitting.) 

If the car has an electric sunroof, make sure it works as FIAT dealers charge £600 for a replacement. 

If a manual, check the transmission and clutch. 

Essential to use the correct spark plugs or the ECU can become confused. 

Oil pick-up filter from the sump gets clogged resulting in oil starvation to the camshaft with terminal consequences.
20-6-2011: Oil cooler of 1,248cc diesel is integral with oil filter mount, using engine coolant to cool the oil and these sometimes fail. Check header tank for any sign of oil in it.
May 2012: 1994 Registered Fiat Puntos MoT tested during 2011 had the 6th worst overall pass rate at 36%, though excusable because the cars were 16 years old at the time and who would ever have reasonably expected 1,735 of them to last that long?
Recalls
1998 (March '97-Nov '97 build): Faulty seatbelt pre-tensioner.
1-8-2001: 77,166 Mk 1 Puntos built 1/1/1993 to 31/12/1996 (VINs ending 0010087 to 6023643)recalled to check for corroded brake pipe, replace as necessary and apply corrosion protection to remaining pipes.
17-8-2001: 3,055 Mk 1 Puntos built 1/1/1994 to 31/12/1995 recalled because water ingress to driver and passenger airbag ECU can set them off. Water protection to be fitted to ECU.
22-9-2001: Possible secret TSB to renew brake master cylinders if owners report sudden loss of brakes.
Back: Model Timeline