Fiat Panda (1980 - 2003)
Last updated 23 May 2013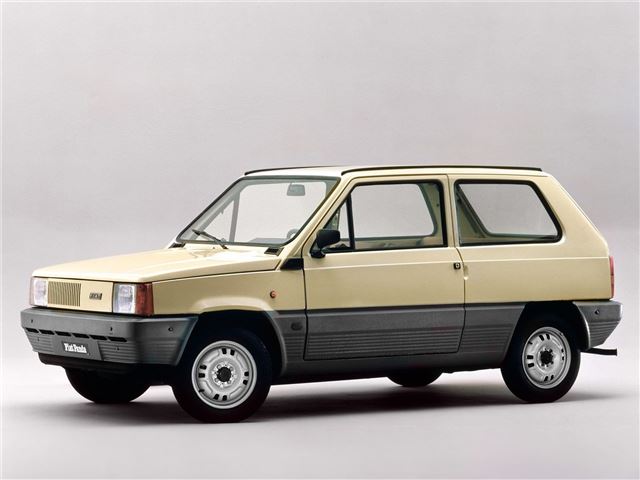 Buying Guide
Good
Simple, practical, cheap car.
11' 2" long by 4' 11" wide and weighing from 700kg.
999cc 'Fire' engines go on and on. 4x4 was best lightweight 4x4 of the lot (I found a 4x4 Fire that had done 210,000 miles, then the guy's neigbour turned up with one that had done 215,000 miles).
Engines range was 903cc pushrod with 45bhp; 769cc 'Fire' with 34bhp; or 999cc Fire with 45bhp to 50bhp. 999cc 'FIRE' engine is 'non-interferance' so valves don't hit pistons if the timing belt snaps.
Was still being made in 2002, but, sadly, with the 899cc pushrod Seicento engine rather than the ohc 'Fire' engine. Sold for £3,500 new in Italy. Cheap to buy and cheap insurance. Part-galvanised from 1990. 1000cc FIRE engines are non-interference if the timing belt snaps (valves don't hit pistons)
Bad
Basic car, with choppy ride and cheap interior trim.
Very high 9 point death rate from accidents in this model. Need the key to open the rear hatch.
Reincarnated as the cheap and rather nasty Marbella in Spain.
Watch
Rust. Pre-1990s Pandas rusted badly from new and even 90s models rust in the doors. Any structural rust, avoid the car because it will disintegrate in a crash. Look for rust in the back corners of the non-galvanised side doors.
Trim tends to fall apart.
Don't pay extra for low mileage. Many low mileage cars serviced once every two years or worse. 'Mayonnaise' under oil filler denotes life of short runs, never properly warmed up.
'Old' pushrod 903cc engine best avoided. Timing chain gets noisy on 903cc pushrod engine (not recommended).
Selecta CVT auto troublesome and expensive to fix. Any clunks selecting 'drive' on the Selecta should be avoided like the plague.
Can suffer cold-starting problems.
Clutch cables snap. Oil leaks common.
Wheel bearings go. Suspension bushes wear. Look for wear in 4x4 drivetrain.
Check tyres for uneven wear.
With the FIRE engine, if the engine cuts out when hot, will restart after about 10 mins, then last another couple of miles, the reason could be that the cable insulation cracks and shorts inside the distributor from the magnetic pickup to the ignition module. Results in no spark. Happens on cars from late E reg onwards. Pre mod distributors had red & green cables which never gave a problem. If the FIRE engine suffers from flat performance, the vacuum advance/retard units on the distributor has failed. Units can purchased separately from Fiat for about £20.
If the FIRE engine suffers from fast idle, very weak mixture the reason is Weber carbs designed in Germany. These suffer from air leaks, hence fast idle and weak mixture. Fitting repair kit risky. Best buy new from FIAT (£110 + VAT). Weber charges a lot more. Late Panda's LHD only. Replaced by new Panda in September 2003.
Make sure timing belt changed recently on 'Fire' engines (but engine non-interference so pistons will not nortmally hit valves if it snaps).
Bounce the car on its suspension to make sure shocks are still absorbing.
Back: Introduction
Compare classic car insurance quotes and buy online. A friendly service offering access to a range of policies and benefits.

Get a quote