Fiat Bravo/Brava (1995 - 2002)
Last updated 12 October 2017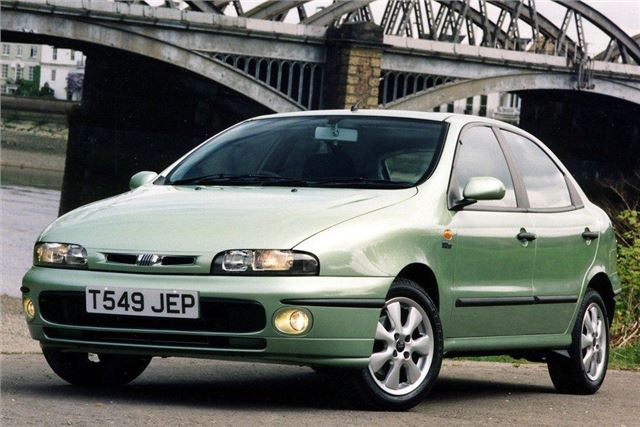 Buying Guide
Good
Good, sharp steering. Easy to use dash-top radio/cassette. Excellent, fully-adjustable seats and steering wheels throughout the range (designed by Professor Mark Porter's Ergonomics Group at Loughborough University).
Fiat had second lowest average cost in warranty claims for cars up to 10 years old in 2002 Warranty Direct index.
In 2003 Warranty Direct Reliability Index Bravo/Brava scored an excellent rating of 30.
Fiat generally had below average warranty repair costs in 2003 Warranty Direct Reliability index (index 75.82 v/s lowest 31.93). Seventh in 2006 index.
Bad
Two-Star below-average performance in NCAP crash tests. 

Timing belt changes on 5-cylinder HGTs are a very expensive, engine-out job and all Bravos/Bravas MUST have a timing belt and tensioner change every 3 years or 36,000 miles whichever comes first. 

Timing belts, tensioners and pulleys need replacing every 36k - 40k miles. Also need new waterpumps because pumps are driven by timing belts and if they fail the belt gets flung off. 

Came joint bottom with Marea in 2001 ADAC list 2001 of cars which break down most on German autobahns.
S and T plate Bravo 11th from bottom in 2001 Top Gear / J.D. Power Customer Satisfaction Survey.
Fiat/Alfa joint worst for breakdowns attended by German ADAC during 2001.
7th from Bottom of 100 models for reliability in Auto Express 2002 survey.
Bravo 5th from Bottom, Brava 13th from Bottom in 144 car 2002 JD Power / What Car? Customer Satisfaction Survey of V and W reg cars.
95-97 poor for breakdowns and problems, average for faults; 98-2000 poor for breakdowns, average for problems and faults in 2003 Which survey.
Bravo 13th from bottom, Brava 21st from bottom out of 137 models in 2003 Top Gear survey.
Bravo bottom model in 2004 JD Power Customer Satisfaction Survey.
Brava 5th bottom model in 2004 JD Power Customer Satisfaction Survey.
2004 Which? quote: "Almost comically unpopular with people who've bought one. Poor blighters." 
Watch
Make sure it comes with the original 'Red Key'. First thing that breaks is the cassette lid, so check not broken. Silly damage from careless renters and their kids. Check aircon on cars where fitted. Check operation of electric sunroof and windows where fitted. 

Reports of premature HT lead failure which could, in turn, spike the catalytic converter. 

Bonnet catches break (see Tipo). 

Small number of cars have suffered from faulty engine speed sensor leading to erratic running and cut-outs. Need frequent oil changes to avoid carbon build up in oil feed pipe to camshaft. 

Problems with plastic thermostat housing on earlier models which lead to localised overheating not picked up by temperature sensor and may result in head gasket failure. 

Reports of wrong size pistons having been fitted to 80bhp 1.2 engines. Also problems with throttle potentiometer, throttle body and airt pressure sensor of 1.2 16v. 

Plastic timing belt tensioner pulley can shatter without warning. Make sure timing belt and tensioner have been changed within last 3 years/36,000 miles. 

Trim starts to creak and rattle. Check everything electrical. Check carefully for signs of overheating, such as emulsified oil under oil cap (see above). Like most European cars, can suffer from coil spring failure.
Recalls
1997 (1996-97 build: 17,000 cars): petrol may contaminate brake vacuum diaphragm leading to loss of power assistance to brakes. 1998: Bravo/Brava 1.4 and 1.6 with ABS built before Oct '97: check for chafing of brake hoses.
Back: Model Timeline