Fiat Barchetta (1995 - 2005)
Last updated 18 June 2013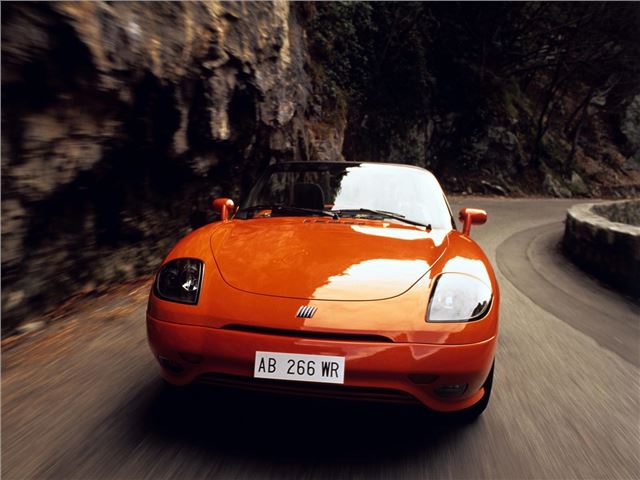 Buying Guide
Good
Cute, 1800cc twin-cam, front-wheel-drive sportscar with some nice design touches. Useful 130bhp. 124mph. 0-60 in 8.6 seconds. PAS, ABS. 12' 10" long by 5' 5" wide and weighing 1,060kg.
Drives quite well. Restyled late 2002.
Reintroduced for summer 2003 with twin airbags, CD player, foglights, leather steering wheel cover and gearknob of just £10,995, £2,800 less than the previous price.
FIAT had second lowest average cost in warranty claims for cars up to 10 years old in 2002 Warranty Direct index. FIATs generally had below average warranty repair costs in 2003 Warranty Direct Reliability index (index 75.82 v/s lowest 31.93), narrowly beating VW.
Barchetta finally made a proper return in June 2004 at £11,995. Mechanically identical to original and still left-hand drive only, the Barchetta is powered by FIAT's 16-valve, twin overhead camshaft 1.8 litre VVT engine which produces 130 bhp, giving it a top speed of 124mph, with 0-60 mph in 8.6 seconds.
Standard 2004 kit included power steering, ABS, driver and passenger airbags, CD player, central locking, foglights, electric windows and door mirrors, height-adjustable leather steering wheel and gearknob, immobiliser, and an electric aerial.
Bad
Owner/driver feedback welcome.

Left-hand-drive only.
Most older cars were personally imported from Europe where they cost as little as £10,000 new.
Summer 2003 Special Offer stalled after just a few cars due to trouble at the factory.
FIAT/Alfa joint worst for breakdowns attended by German ADAC during 2001
Watch
Imports with the wrong lights and speedos being re-sold as UK-market cars at UK prices.
Make sure it has its 'Red Key'.
Cable can get trapped in seat mechanism, setting off airbag warning light.
Timing belts, tensioners and pulleys need replacing every 36k - 40k miles.
Also need new waterpumps because pumps are driven by timing belts and if they fail the belt gets flung off.
Back: Introduction