Daihatsu Copen (2003 - 2009)
Last updated 14 February 2018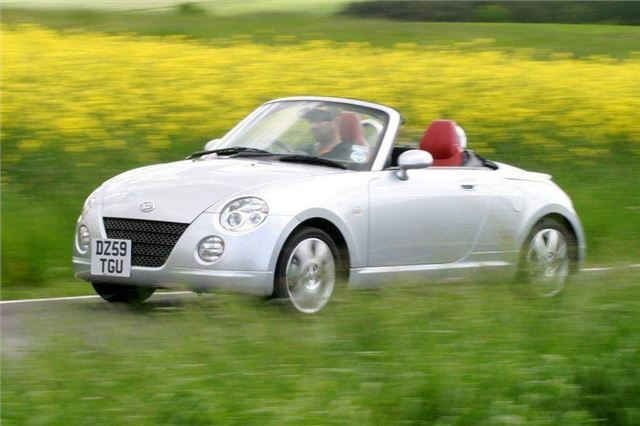 Model Timeline
March 2003
Copen unveiled
Tiny roadster 3,440mm (11' 2") long and 1,475mm wide filling gap left by Suzuki Cappucino and Honda Beat and also nibbling into Street Ka, Smart Roadster and SEAT Tango territory.
A bit reminisecent of Nissan Figaro, but far more sporty. Has huge plus over Street Ka of a hardtop that folds into the boot like an MB SLK and Peugeot 206CC. Sits on much modified Cuore platform.

Euro spec 16 valve 659cc chain cam turbo engine develops 68PS at 6,000rpm and 81lb ft torque at 3,200rpm. 5-speed manual. Top speed 106mph with 0-60 in 11.4 seconds. 44.1mpg combined and 151g/km C02 puts it in Band C for VED.

06-06-2003: Price of £12,995 announced Comes with heated leather seats for all pre-orders delivered by 31-12-2003. Rest of spec included PAS, twin airbags, ABS, alloy wheels, electric windows and mirrors, central locking, CD/radio, air-conditioning. Colour choice: black, yellow or silver. Not a bad drive. Fits like a glove. Tuned more for mid-range torque than screaming revs, so not a revver. Turbo makes a whistling noise. Speed limited to 98mph.
First shipload of 200 arrived early December 2003 with 'free' heated leather seats and Momo steering wheels within £12,995 price. Real price supposed to be £13,495.
July 2004
Special edition called the Vivid launched July 2004, also at £12,995, with CD, alloys, a/c, Momo steering wheel, rear tonneau and unique red paintwork.

12-03-2007: Revised Copen launched Revised with 1,298cc 'Dynamic Variable Valve Timing' (Yaris) engine developing 87PS at 6,000rpm and 88.5 lb torque at 4,400rpm. Top speed up to 112mph, 0-60 down to 9.2 seconds, economy improved to 47.1mpg combines and CO2 down to 140g/km. Price also down, to £10,995, making it the cheapest electric folding hardtop on the market. Air con, radio CD, electric windows and mirrors, remote central locking and alloy wheels all remain standard. Has a self-regenerating catalytic converter.

11-04-2008: Copen came with five years' unlimited mileage warranty plus five years' UK roadside recovery. The offer is not transferable and applies to all retail sales. It runs until the end of the year when it will be reviewed.
Back: Introduction
Next: Buying Guide