Citroen ZX (1991 - 1998)
Last updated 3 January 2014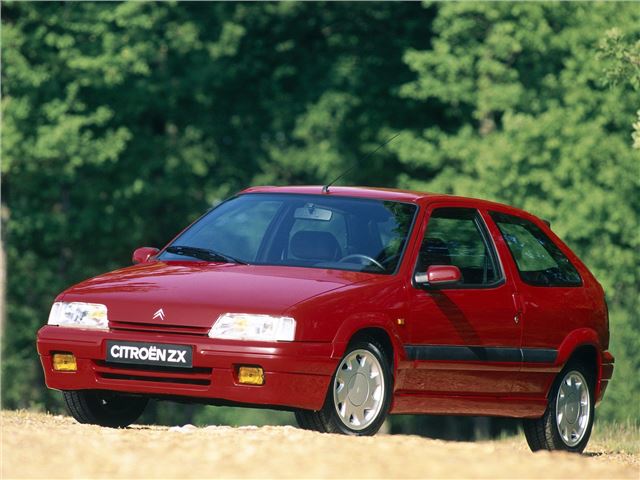 Buying Guide
Good
Dirt cheap to buy now.
Superb blend of assured handling and comfortable ride.
Bargain basement prices despite rarity
Bad
1.6 is a bit of a camel, 1.8 less so. 155bhp 2.0 16v had strange power delivery and throttle delay, making old 130bhp Volcane feel nicer to drive.
Turbo XUD not that economical - can drop to as little as 36 mpg.
Boot not much bigger than Peugeot 205.
Early Avantage diesels lacked power steering, as did early Avantage diesel estates which came out long after the hatch got PAS.
16v noisy, not really that quick and best avoided.
In June 2001 Citroen was rated by Motor Warranty Direct as Britain's 3rd worst out of 22 marques for warranty claims. Citroens generally had average warranty repair costs in 2003 Warranty Direct Reliability index (index 99.84 v/s lowest 31.93). Link:- www.reliabilityindex.co.uk
Watch
'J' reg ZXs could suffer front brake caliper problems cured by fitting later calipers (this will have been done to most of them). Brake warning light very sensitive to low brake fluid level. If this happens with a diesel, which has a brake vacuum pump, disappearing brake fluid could leave you with no brakes. Brake master cylinders themselves also fail. Some reports of sticking handbrakes, easily checked by seeing how easy the car is to push.
Upholstery tears easily and is difficult to repair.
Make sure all the electrics work.
Insist on new MOT, especially if car is post-August 1992 and fitted with a cat.
Check spare wheel is in its underboot cradle and not nicked.
Look for engine oil leaks, gearbox oil leaks, coolant leaks from radiator and heater matrix, brake fluid leaks from rear brakes.
Cambelts and camshaft end seals must be changed every 3 years and 36,000 miles.
Coolant must be changed every two years to avoid cylinder head gasket problems. (Coolant is difficult to change without getting air-locks.)
Radiators prone to failure every 3 years or so.
Petrol models may have cat converter MOT test problems.
Always difficult to sell and becoming increasingly so.
Transmission oil warmer/cooler of automatic is in the radiator header tank and can perforate, letting in radiator coolant which wrecks the transmission.
Rod through block failures in 1997 and 1998 XUDTs.
In summary (with thanks to David W. in The Backroom):-
Timing belt at 50,000ml intervals, tensioner at every other belt change.
Water pump may be needed at second or third belt change.
Coolant should be changed two yearly.
Heater matrixs do go anything after 100,000mls. They are a fair job having a trade time to change from 7-10hrs.
At £50/hr plus the matrix you can get up to a major bill.
Change brake fluid two yearly.
Front discs may be needed every 50,000mls.
Rear brake cylinders (on drum models) may fail after 60,000mls.
Handbrake cables can fail after 80,000mls.
Front suspension bushes are often needed after 60,000mls.
Diesel fuel filter housing cover can distort giving rise to air leaks..easy/cheap to cure.
Glowplugs perhaps needed every 75,000mls
Diesel fast idle "waxstat" ofen sticks in slow or fast position after 75,000mls.....easy/cheap to replace.
Tailgate lock solenoid assy can fail after 100,000mls...easy to replace.
Back: Model Timeline
Compare classic car insurance quotes and buy online. A friendly service offering access to a range of policies and benefits.

Get a quote