Citroen Xsara Picasso (2000 - 2010)
Last updated 18 October 2018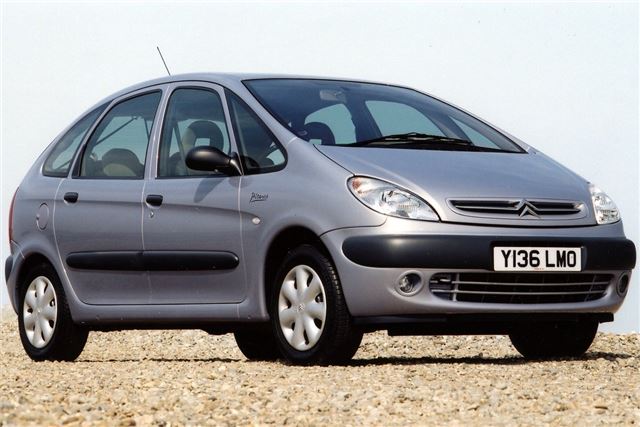 Buying Guide
Good
Rated one of the cheapest MPVs to run in 2003 Which survey.
All models rated average for breakdowns, problems and faults in 2003 Which survey and 'Worth Considering' by Which.
Cheap to buy new and used
Spacious cabin with three full size seats across the back
Comfortable cruiser
Aerodynamic shape means 1.6 HDi can do 55mpg.
Reader report by Simon Hickie. I have owned a Citroen Xsara Picasso 2.0hdi Desire (90bhp model) from new (June 2005) partly on the recommendation in your review. During this period I have covered 87700 miles at an average of around 48mpg in mixed driving. The only thing I have had to have fixed (under warranty) apart from the usual service items was a leaky coolant system thermostat. The car has lugged heavy loads up and down the country, conveyed the family on a 260 mile round trip to Wales every few weeks and served in the daily 28 mile round trip commute. I either use a premium brand diesel or add Millers diesel additive to help preserve the fuel pump. Mechanically, it uses no oil, does not have a dual mass flywheel or a diesel particulate filter. Nothing creaks or groans apart from the dashboard in hot weather at certain revs. It has an appetite for headlamp bulbs but these are a relatively easy fix. Fuel economy does depend on tyres though. The supplied Michelin Energy tyres were excellent, but I didn't like the handling. Conti Ecocontact 3s gave better handling at slightly reduced economy. Some Firestone TZ300a tyres on the front are OK for handling, but fuel economy is down by around 6%. The tyres are shortly due for replacement, with Hankook Optimo 4S all season as the favourite thanks to a glowing recommendation in Auto Bild where they matched premium summer tyres in summer conditions and almost matched winter tyres in winter conditions. Goodyear Vector 4seasons came out equally well. My only real gripes are that the driver's seat does not go back far enough and the height adjustment also tilts the seat squab backwards when you lower the seat – my dodgy back needs a flat squab and my height (6' 1") needs decent leg room. 
Further report from Simon Hickie. The car has now done 102,000 miles and apart from service items, the only additional parts have been a pair of rear brake cylinders (£14 addition to service bill). I have kept comprehensive fuel consumption data from new. This all probably seems rather anal, but it's easy with good record keeping and a spreadsheet! Overall MPG is 48.7 (47mpg average indicated on the fuel computer) at an average speed of 36.75mph. On Michelin Energy Saver tyres (first 62,000 miles) economy was 48.71. With a pair of Firestones on the front (62,000 to 89,000 miles) economy dropped to an average of 48.35 during this period. Now with Hankook Optimo 4S tyres all round (89,000 miles onwards), economy is averaging 49.32mpg. I have used various brands of fuel and have also used the Millers diesel additive for just over half of the fills. Singling out Shell, economy has averaged 49.35mpg at an average speed of 37.64mph over the life of the vehicle. Also, the Hankooks plus Shell diesel is showing a current average of 50.51mpg at an average of 41.3mph, although the sample size is smallish and the combination has not been used in a full winter yet. Hankooks plus supermarket diesel is showing 48.07mpg at an average of 36.1mph, (perhaps suggesting more urban motoring) again with a smallish sample size. The fuel economy figures show relatively marginal differences, but simply using the right fuel and tyres seems to improve economy by up to 5%, all else being equal. 
Bad
Underslung spares prone to theft. 

Spare wheels may not be the same size as road wheels as all bodies have the same spares as a production economy. 

Front window pillars can slightly obscure front three-quarter vision. 

Aircon £650 extra on base-spec LX models. 

A really tricky road will show up its handling limits, but still impressive for a mini MPV. 

Citroens generally had average warranty repair costs in 2003 Warranty Direct Reliability index (index 99.84 v/s lowest 31.93) www.reliabilityindex.co.uk
Production finally ended in May 2010 after 270,000 had been sold in the UK.
Watch
Was an EU wide problem with clutch of HDIs, but no recent reports of this. What happened was release bearings were failing on average at 30K miles and the hydraulic actuators at approx 70K miles. Both caused significant damage (£700 - £1000) to repair. 

One report of an older 1.6i petrol model Picasso "spontaneously combusting". 

Dual Mass flywheel and clutch problems increasingly common on 1.6 HDIs from 2004. High incidence of failures. On cars still under warranty Citroen has been meeting part but not all of the costs. 

Some problems reported with Multiplex wiring. . 

On 2.0 HDIs, rubber cushioned timing belt pulley needs replacing at same time as timing belt (60k - 70k miles) otherwise can separate. 

Problem with Siemens ECU/injection system on 2.0 HDIs (no problem with Bosch ECU/injection system). Complaints about door rattles. 

"Pressure gateway failure" has caused turbo failure on early 1.6 16v HDIs. Needs new valve and new turbo. Several reader reports of this. Water ingress to ECU of late (54 reg) petrol models. Turbo failures on 1.6 16v HDIs becoming increasongly common by early 2008. 

End of plastic dipstick of 1.6 HDI engine can break and drop into sump requiring removal of sump to retrieve it. 

I.6 HDI does not respond well to 20k mile oil changes. Particularly prone to failed turbo oil seals, so always wise to idle the engine for a minute or two and keep the turbo bearings fed with fresh oil while it cools down before switching off. 

Several reports of terminal corrosion of multipin connector terminals to ECU, requiring new ECU. The connector cannot be sufficiently well waterproofed. Seems to affect Picassos from 2004. 

Can suffer repeated problems with a/c and heating system. 

Plastic connection between clutch pedal and clutch master cylinder prone to failure as cars get older. 

One owner's list of problems over 5 years: 

Indicator stalk stuck on, stalk had to be replaced at my cost. 
Engine water pressure valve blew on a motorway, RAC to garage fixed with new valve and luckily no apparent engine damage. Fixed at my cost. 
Brake pedal sensor rear lights staying on and power dip, replaced now all fine. Fixed at my cost. 
Power steering reservoir leak. Fixed by Citroen under warranty, leak was going 
onto an electrical unit and draining battery. 
Leak of diesel when pump replaced by Citroen on a recall. 
Ventilation fan switch failed, waited 3 months for parts and still waiting.
5-2-2012: More reports of turbo oil starvation on 1.6HDI DV6TED4 leading to expensive catastrophes at around 100,000 miles due to carbon build up in the oil feed to the bearing. The cure is not just a new turbo, but new oil pipe, pump, pick-up, etc., etc. Failure to replace these paerts will usually result in another failed turbo within 10,000 miles. There was a Ford TSB45/2008 about this. Newer engines (2008+) have modified parts. Apparently you can get a new turbo for £350 plus £120 for a "kit" of modified pipes/pick-up unions etc. from Transitpartsuk (International Parts Ltd) to fit next week. eBay supplier TransitpartsUK
16-2-2013: ECUs on older Xsara Picassos routinely fail because water gets in from the fuse box via the connecting cable (a manufacturer design fault).
2-6-2014: Misting up of Xsara Picassos may be caused by the rear light cluster seals eventually failing and the water they admit collecting in the central underfloor storage compartments.
Recalls
14-5-2012: Citroen Recalls Website. Register to receive recall/TSB information direct from Citroen.
25-9-2000: 3,648 Xsaras and Picassos built 7-2000 - 9-2000 recalled because front suspension ball joint clamp bolt hold may have been incorrectly machined leading to disengagement of the ball joint. Pivots replaced if necessary.
Late 2001: PSA TSB issued to check all common-rail to injector unions on HDIs for leaks.
25-2-2002: All 77,595 RHD Picassos sold in UK recalled to check/replace circlip which holds brake pedal pin in place (source: 'Autocar' 20-3-2002).
May 2002: 4,000 UK Picasso HDIs recalled (24,000 worldwide) starting with VIN 392XXXX. Problem with a turbocharger pipe which can lead to erratic performance and/or excessive smoking.
14-5-2003: VF8839432028 to VF**39483313: Vehicles with the HDI engine but without the optional diesel fired heater may be fitted with a maxi-fuse supplying the fuel heater circuit. This can lead to a short circuit and consequential fire risk. Remedial action: remove the maxi-fuse.
14-5-2003 (repeated 6-8-2003): on 9,297 cars VF7CH**39432028 to VF7CH**39485071: Transposed wiring connections to the side airbags control unit will result in deployment of the airbag on the opposite side from an impact. Correct the wiring connections.
27-10-2003: 5,853 Picassos VF7***39519536 to 39567526 recalled because accelerator pedal may fall off support link. Pedal clips to be replaced.
April 2004: Recall for HDIs built 2002 to replace both low pressure tank sender and high pressure fuel pumps.
7-2-2005: Recall Picassos built 1-10-03 to 1-11-03 because may suffer abnormal wear of dashboard wiring loom.
25-4-2005: Recall Picasso, C4 and C5 built 1-7-04 to 10-10-05 because diesel fuel return pipe may leak.
13-7-2004: Voluntary Recall Picasso and Berlingo built 1-4-2000 to 30-9-2004 because suspension springs may break.
13-7-2005: VOSA recall (R/2005/095) of Citroen Xsara Picasso, Berlingo van and Berlingo Multispace built 1-12-2002 to 30-9-2003 because if a front suspension spring broke it could damage a front tyre. Cups to be fitted to the ends of the springs to contain them if they break.
Back: Model Timeline
Next: Running