Citroen XM (1989 - 2000)
Last updated 15 May 2018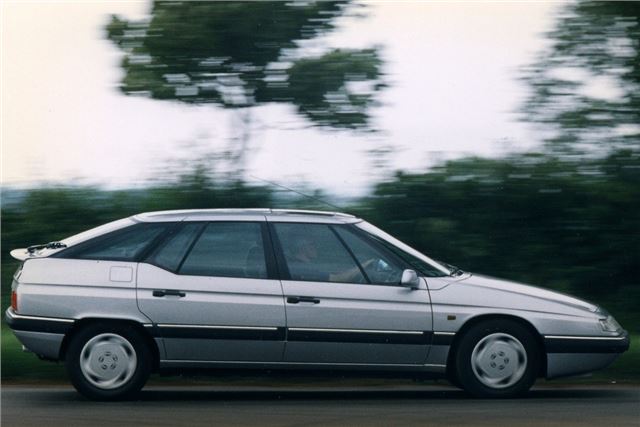 Buying Guide
Good
Hugely roomy
Long-legged cruisers
Large load bay, especially in the estate version

Bad
Riddled with niggly problems and rattles prior to 'M' reg.
Mark IIs from 'M' reg much better.
Mk I V6 24v fast but not a success.
Horrible American-style foot-operated parking brake.
Watch
Clutch problems (best replaced at a Citroën dealer).
Slurry automatics due to neglected ATF changes. ATF of ZF autoboxes best changed changed every 30,000 miles. Instruction by Citroen France that ATF of ZF 4HP20 autobox must be changed at least every 80,000km.
Dodgy electrics mainly due to poor contacts (solved on Mk II).
ABS computer can give up, ABS pump will rust up inside if hydraulic fluid not changed frequently.
Uneven tyre wear can mean serious chassis problems.
Hard ride and excessive roll means suspension links have seized up.
Brakes eat pads and discs will eventually wear.
Make sure aircon blows cold. Listen for knocking from engines of 2.0 litre models (both 8v and 16v) due to design of piston skirts. If fault developed early, pistons were replaced FOC, but only when knocking became excessive.
Strut top bearings can fail and break free. Check by jacking the car up and pulling. Recall in New Zealand for this reason.
In June 2001 Citroen was rated by Motor Warranty Direct as Britain's 3rd worst out of 22 marques for warranty claims. Citroens generally had average warranty repair costs in 2003 Warranty Direct Reliability index (index 99.84 v/s lowest 31.93). Link:- www.reliabilityindex.co.uk
28-12-2012: Citroen XM 1994 - 2000 

rated 10th most likely car built 1997-2009 to suffer expensive problems according to Warranty Direct December 2012 

Reliability Index

, with an index of 438 (compared with a rating of 6 for the best).
Back: Model Timeline
Next: Running