Citroen Synergie (1995 - 2002)
Last updated 4 October 2017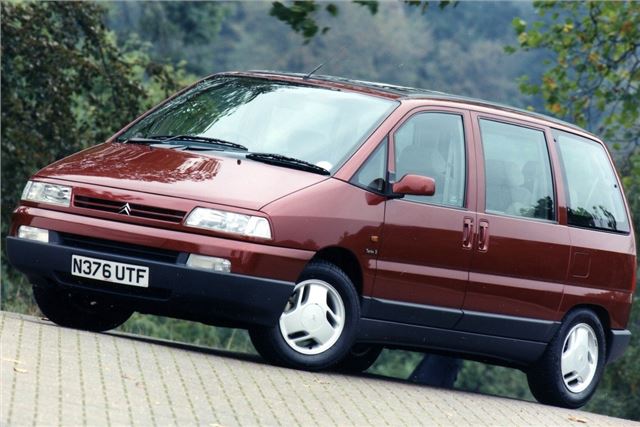 Buying Guide
Good
Seats up to eight.
Sliding doors give easy access to the airy, well-designed cabin.
Frugal 110bhp HDI diesel.
Well-planned, bright walk-through interior with dash-mounted gearshift.
Nice trim colours.
Bad
Doesn't handle as well as Galaxy family. No automatics. Centre rear passenger only gets a lap belt. 

In June 2001 Citroen was rated by Motor Warranty Direct as Britain's 3rd worst out of 22 marques for warranty claims.
Citroen generally had average warranty repair costs in 2003 Warranty Direct Reliability index (index 99.84 v/s lowest 31.93) www.reliabilityindex.co.uk
Watch
Not many left. Thost that are probably ex-rental or ex-taxi. 

Make sure sliding side doors open smoothly and don't stick. 

Check for uneven front tyre wear. 

Look for signs of having been overloaded. May have done a few Calais beer runs. 

EU wide problem with clutch of HDi: release bearings are failing on average at 30K miles and the hydraulic actuators at approx 70K miles. Both cause significant damage (£700 - £1000) to repair. Basically, the clutch assembly "blows-up", though not the actual clutch disc, which can have as little as 20% wear. 

Flood water ingress to the gearbox is a problem, causing the box to seize. 

Spate of conrod failures on 1997 -1998 R and S reg 1.9 XUTD diesels: too many to attribute merely to running with low oil levels. Seems only to affect cars built from April 1997 with DHY (not DHX) serial number engines. 

On HDI, rubber cushioned timing belt pulley needs replacing at same time as timing belt (60k - 70k miles) otherwise can separate. Catalytic converters for petrol engined versions very expensive.
Recalls
1996 (Sept '95-Oct '95 build): Check airbag trigger. March '99-April '99 build Synergies with ABS only: possibility of air in brake fluid. March '98-July '98 build: handbrake ratchet could fail. Late 2001: PSA TSB issued to check all common-rail to injector unions on HDIs for leaks.
20-02-2002: On diesels, water ingress to brake vacuum pump may cause reduction in power assistance to brakes.
Back: Model Timeline