Citroen Saxo (1997 - 2003)
Last updated 23 May 2017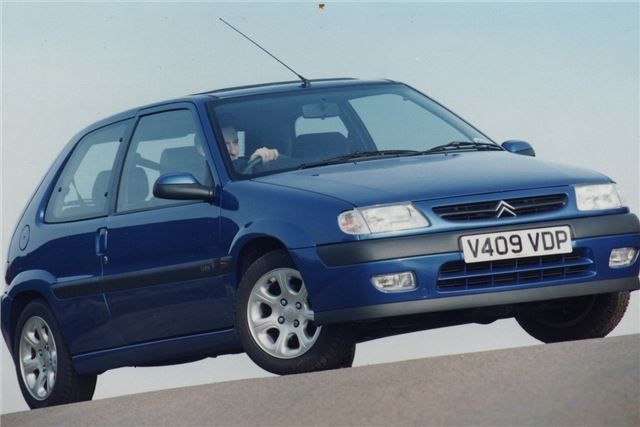 Buying Guide
Good
Good value and one of Citroen's most reliable cars
VTS is quick, the 1.1 very economical.
Bad
Twisted spine from offset driving position and big feet can hit more than one pedal at the same time. 

3-speed 1.6 automatic replaced by 3-speed 1.4 auto (don't buy the 3-speed). 

Can suffer mechanical problems and unsympathetic dealers. Only two stars in Euro NCAP crash tests. 

Some VTRs were fitted with alloy wheels with no hole in the centre which makes balancing them difficult and expensive. 

S and T platers 14th from bottom in 2001 Top Gear / J.D. Power Customer Satisfaction Survey.
In June 2001 Citroen was rated by Motor Warranty Direct as Britain's 3rd worst out of 22 marques for warranty claims.
16th from bottom for reliabilty in Auto Express 2002 reader survey of 100 models.
Citroen generally had average warranty repair costs in 2003 Warranty Direct Reliability index (index 99.84 v/s lowest 31.93) www.reliabilityindex.co.uk
10th from bottom out of 137 models in 2003 Top Gear survey.
Came 14th from bottom in 2005 JD Power/What Car Survey of 23,000 cars reg Sep 2002 to Aug 2003 with satisfaction score of 74.1%
Watch
Two years free insurance made them attractive to 17-year-olds who may have crashed them. 

See Peugeot 106 for what to watch out for on VTR and VTS. 

Check seat sliding mechanism as very prone to failure. 

ECU problems reported. 

Reports of symptoms of premature bore wear on 1.5 diesel really due to oil misting as a result of overfilling with lube oil. Should not be filled with more than 3.5 litres of oil which reads to 2/3 full on the dipstick. 

Saxo VTS can suffer problem of water ingress to gearbox after driving through floodwater. 

Tip from Richard Turber about improving Saxo 1.0 and 1.1 brakes: "The brake servo has an pedal adjuster rod under a rubber cover which needed taking up a few turns, this noticably improved the braking immediately. The rear brakes were still only just holding on a moderate incline and when I stripped them again after 1000 miles they had worn the adjusters smooth, thus no permanent take up on the handbrake. So I bought the cheapest linings I could find which came with separate, but much more robust looking, adjuster cams. I replaced the Citroen adjusters but kept the linings on, and bingo; excellent." 

Further warning about rear drum brakes is that the linings are merely stuck to the shoes, can come unstuck and can seize the entire rear drum.
Recalls
1997: Faulty driver's seat catch on 3-door model.
1-2-2000: (Sept/Oct 1999 build only): brake servo valve may fail, leading to loss of servo assistance. Inspect and possibly replace brake servo valve.
28-2-2001: Build 1/1/2001 - 31/1/2001: Possibility that brake relay lever may be faulty. Recall to replace relay lever.
11-5-2001: 2000 Build 5-door models only: Lower fixing bolt of adjustable upper anchorage of LH front seat belt may not be to specification. Recall to replace bolts.
16-5-2001: Build date: January 2001, VIN VF7S*****57426214 to VF7S*****57436943: Front disc brake calliper bolts may not be to correct spec and may fail. Recall to replace calliper bolts.
8-8-2001: 484 1.6 VTRs built 1/1/2001 - 28/2/2002 recalled because defect in rear brake caliper may cause parking brake efficiency to be reduced. Check and replace caliper if necessary.
Back: Model Timeline