BMW Z1 (1988 - 1991)
Last updated 18 March 2013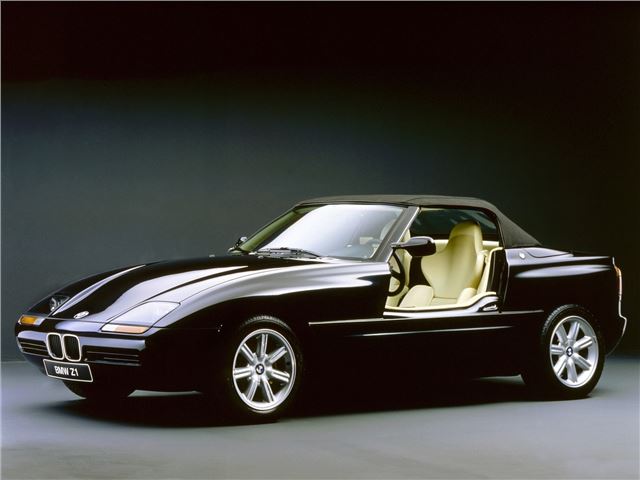 Buying Guide
What's Good
Classic from day one. Groovy drop-down doors. Sophisticated multi-link rear suspension. 12' 10" long by 5' 6" wide and weighed 1,338kg.
Doors don't hinge open. Instead they drop into the sills.
Iron block, single belt cam 171 bhp BMW six.
Plastic body panels colour impregnated so stay looking good.
Only 8,093 built. Cost up to £36,000 new.
Good ones never really dropped much below £20,000. On 27-11-2007 BCA sold a very nice 30k mile 1989 Z1 for £18,885, including commission.
What's Bad
LHD only.
Go over a bump or humo-back bridge too hard and the doors can drop back into the sills.
Many imported used from Germany so difficult to check history, and may be clocked.
'Old' single cam 325i engine needs regular cambelt changes, can suffer cracking of cylinder head. Panels hard to replace.
From April 2002 BMW started to phase out production of official replacement parts for cars over 10 years old.
What to Watch Out For
Badly fitting panels hiding old accident damage.
Make sure the door mechanisms work properly.
Cambelts need replacing every 3 years or 36,000 miles.
Check header tank for signs of oil in coolant and look under oil cap for mayonnaise.
Twin exhaust the most desirable. German TUV insisted that the rear be fitted with a towing eye, so most cars only had one exhaust outlet.
Original AG supplied 'Z1' badged stereo system very desirable.
Recalls
1998: all Z1s recalled to fit new radiator cap.
Back: Introduction
Next: Specifications
Compare classic car insurance quotes and buy online. A friendly service offering access to a range of policies and benefits.

Get a quote