BMW X5 (2000 - 2007)
Last updated 4 May 2018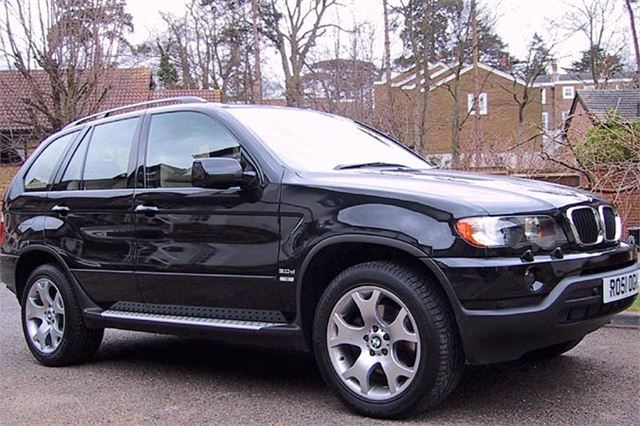 Model Timeline
March 2001
BMW's Range Rover with 231bhp 3.0 litre petrol or 184bhp diesel sixes and 286 bhp 4.4 litre V8 option. 4,667mm (15' 4") long x 1,872mm (6' 2") wide.
4.4 came first; 3.0 petrol in Spring 2001 priced from £33,000; diesel summer 2001 similarly priced; 347bhp X5 4.6iS in UK late 2001 capable of 0-60mph in 6.5 seconds and 150mph, at a higher than anticipated price of £54,000.

Improved unlimited mileage two year full manufacturer warranty followed by one year full dealer warranty from November 2001, making total three year unlimited mileage warranty.

12-05-2003: Minor cosmetic changes and more major drivetrain changes from summer 2003. Three new engines: 320bhp 4.4i Valvetronic V8 with 6 speed auto does 0-62 in 7.0 seconds, top speed 149mph. New even higher performance X5 4.8iS (last photo) arrived in spring 2004. New X5 3.0d with second-generation common rail diesel puts out 218 bhp (previously 184 bhp) and 500 Nm of torque (up from 410 Nm). 0-62 mph in 8.3 seconds while still delivering 32.8 mpg on the combined cycle. Top speed of 6-speed manual is up to 130mph.

New xDrive system enables the power and torque increases to be converted into usable traction in all driving situations. "This completely new, intelligent four-wheel drive system, announced recently on the forthcoming X3, constantly varies drive between the front and rear axles, depending upon the traction requirements." Using information from the wheel sensors and data collected from the DSC stability system, including the yaw rate and steering angle, xDrive predicts any loss of traction or tyre slippage and reacts in a few milliseconds.
A mid-mounted, electrically controlled multi-disc clutch is used to distribute drive constantly between the front and rear wheels, varying the torque delivery to the wheels which most require it. This could be in a dynamic driving situation or, off-road, on a slippery surface or incline. (Previous X5 works on the basis of a fixed front-to-rear drive ratio, and uses only DSC traction control for critical interventions.)

Prices of 2004 models: 3.0i: £34,675; 3.0i Sport £36,625; 3.0d: £35,060; 3.0d Sport: £37,010; 4.4i: £46,835; 4.4i Sport: £47,525; 4.8is: £57,005. Reported as vastly better to drive both on and off road than original version. 4.8is has 360 bhp at 6,200 rpm and 500 Nm of torque at 3,600 rpm. Mated to a six-speed automatic gearbox does 0 to 62 mph in 6.1 seconds and 153 mph. VALVETRONIC induction system and bi-VANOS camshaft timing technology keep consumption to 20.9mpg on the combined cycle.

3 year UNLIMITED MILEAGE warranty from 2005.
Back: Introduction
Next: Driving
Compare classic car insurance quotes and buy online. A friendly service offering access to a range of policies and benefits.

Get a quote