BMW X5 (2000 - 2007)
Last updated 4 May 2018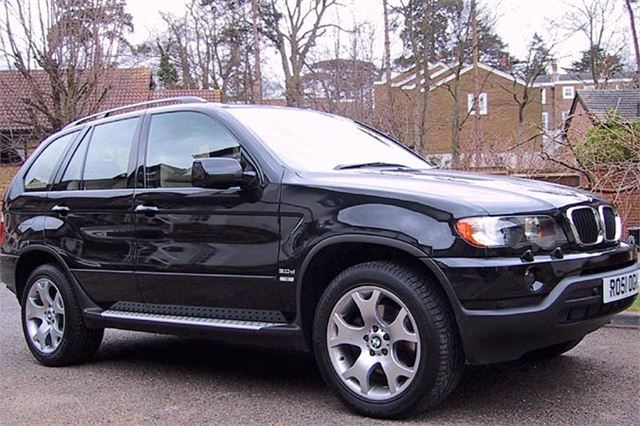 Excellent drive on the road and very capable off it. Commanding road presence and sky-high image. Five-star crash test rating from June 2003.
High second-hand prices and expensive to run. Not pedestrian friendly in NCAP tests. Diesel engines susceptible to hydraulic lock if driven through floodwater.
Updated 10 March 2001
BMW's Range Rover with 231bhp 3.0 litre petrol or 184bhp diesel sixes and 286 bhp 4.4 litre V8 option. 4,667mm (15' 4") long x 1,872mm (6' 2") wide. 4.4 came first; 3.0 petrol in Spring 2001 priced...
Introduction
Developed while BMW owned Land Rover, most pundits thought the X5 was merely just a Range Rover in a different suit. The truth is actually quite different - the German was based on Munich's four-wheel drive 5-series. In fact, it was probably the Range Rover that benefited the from BMW's involvement.
True, BMW did pinch the hill descent control and off-road engine management control, but that was about it. Still, we can't help but feel direct access to the underpinning and knowledge of one of the best off-road vehicles in the world gave BMW a leg up. This, couple with the strength of their own chassis and handling team created a formidable vehicle.
In fact, it was so formidable that at its launch it attracted a certain kind of driver. Indeed, our very own Honest John said, 'BMW shouldn't have messed around naming this the X5. They should have come straight out and called it the Intimidator. Painted solid black, with black glass, a big V8 petrol engine and a set of four drainpipe exhausts, it's the ultimate in motorway muscle. The sides are even sculpted to look as if it's been swallowing steroids and working out on weights. There's no messing with the man in this machine.'
Quite. If anyone was still uncertain about the X5's on road prowess, then BMW created the X5 LM to drive the point home. Equipped with the S70/2 V12 engine from the Le Mans winning BMW V12 LMR, Hans Joachim Stuck used it set a lap record at the Nürburgring in 2000.
For the rest of us, we had to make do with a 3.0-litre straight-six and various sizes of the V8, including a 340bhp 4.6-litre V8. If you can find an early (pre-2001) model, you can save a bit of money on road tax - otherwise, high running cost and complicated drive systems might make this an endangered species.
Next: Model Timeline