BMW 8-Series (1989 - 1999)
Last updated 27 November 2014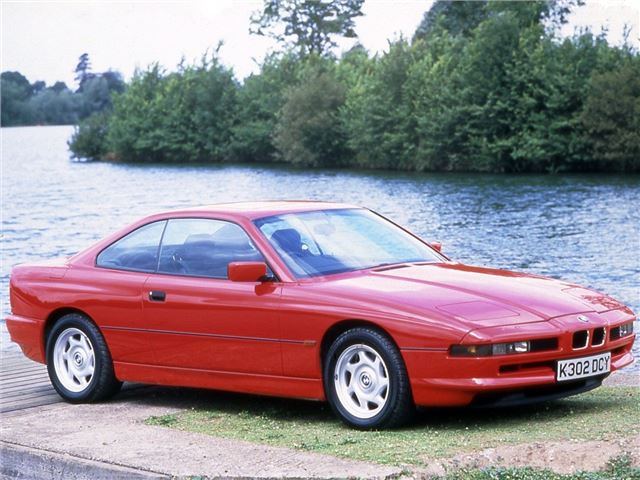 Buying Guide
Good
BMW's super coupe launched in UK October 1990 as 850Ci with 4,988cc 300bhp M70 V12.
4,780mm long (15ft 8in) x 1,855mm wide (6ft 1in) and weighing in at 1,830 to 1,900kg.
Soon followed in June 1993 by 850CSi with 5,576cc 380bhp V12. 300bhp 850Ci dropped in September 1994; essentially replaced by 3,982cc 286bhp 840Ci from July 1993.
840Ci engine grew to 4,398cc with same 286bhp in January 1997 and this is the model to go for.
Sport option also from January 1997.
BMW had sixth lowest average cost in warranty claims for cars up to 10 years old in 2002 Warranty Direct index. For more info link to Sportscar Guides www.sportscarguides.com BMWs generally had below average warranty repair costs in 2003 Warranty Direct Reliability index (index 81.41 v/s lowest 31.93). Link:- www.reliabilityindex.co.uk
Bad
V12 thirsty.
Bore liner erosion problems with original M60 4.0 litre V8.
Watch
Avoid the 4.0 V8 due to possible Nikasil bore liner erosion problems. 
General Warning about Automatic Transmissions: Many BMWs have "sealed for life" automatic transmissions. Regardless of whether you have a full BMW service history, the dealer will never change the auto fluid. Many of these boxes are failing around the 120-150k mark - often well outside of warranty and to a cost of £3.5k plus VAT.
A good independent or automatic transmission specialist can and will change the fluid for you (and any good BMW independents will recommend this anyway). This is commonplace in the US and means the 'box should last the life of the car rather than being the cause of it being written off. General advice is ensure the fluid is flushed out every 60k or more preferably at each Inspection II. However, the fluid must be changed at the right pressure and temperature.
The obvious issues with the M62 4.4 litre V8 are keeping an eye on the Vanos seals, using only Mobil 1 0-30, and giving it a bootful occasionally.
The M60 4.0 litre V8 (non-Vanos) which is renowned for corrosion issues so your coolant advice is critical.
The main electrical issue is ABS/DSC controller unit failure. Talk to ECU Testing.
Back: Introduction
Next: Running
Buy a BMW 8-Series from £11,995