BMW 5-Series (1988 - 1996)
Last updated 19 March 2013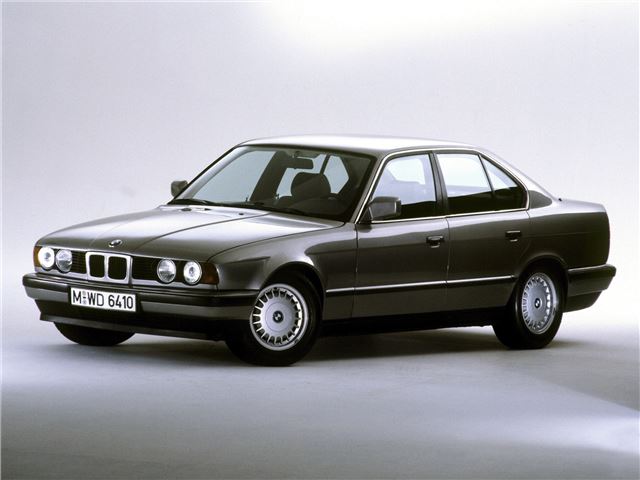 Buying Guide
What's Good
A very good looking car when launched. Replaced square rigged E28 model. Decent quality. Good looks. Good ride and handling. 15' 6" long by 5' 9" wide; weighs 1,330kg to 1,530kg.
Originally offered with 115bhp 1.8 four, 129bhp single cam 2.0 M20 six, 170bhp single cam 2.5 M30 six, 188bhp single cam 3.0 M30 six or 211bhp 3.4 single cam E28 six.
Important engine changes in 1990 when M50 twin chain cam iron block sixes replaced old single cammers: 520i got 150bhp, 525i got 192bhp and 5-speed autoboxes. 3.0 and 3.5 gradually dropped. 315bhp 3,535cc twin chain cam S38 M5 six from 1989. E34 5-Series did not get the sometimes troublesome M52 alloy block six.
Touring model is a practical estate car. IX denoted four wheel drive.
218bhp M60 530iV8 and 286bhp M60 540iV8 from Jan 1993 with optional six speed manual box from May 1994. 340bhp 3.8 litre S38 B39 M5 from Jan 1993 the top performer.
115bhp TD and 143bhp TDS iron block M51 2.5 litre diesels introduced July 1993.
What's Bad
Premature bore wear in 'M60' 530i and 540i V8s from 1993 on.
Low inertia 4-cylinder 518i OK in town, but not strong enough for heavy motorway use and can wear rapidly.
Old single cam 520i and 525i need regular timing belt replacement.
5-speed auto not liked by autobox specialists.
From April 2002 BMW started to phase out production of official replacement parts for cars over 10 years old.
Wear in rear suspension bushes can cause wandering. Steering box and links wear.
N/S wiper arm prone to catching on rear edge of bonnet.
What to Watch Out For
Electronically 'corrected' odometer/on-board computer (clockers sometimes steal one of the chips). Make sure dash display all functioning, as prone to failure and new printed circuit costs £400.
Accident damage. Electric window problems. Faked service indicator.
Whining manual gearbox can last for years but expensive to fix. Slurry autoboxes with neglected ATF and filter changes.
Accident damage to M5s.
Earlier model, less powerful, imported LHD M5s.
Smoke from worn valve stem seals.
Overheating from cracked cylinder heads on older 6-cylinder 12 valve engines. Cylinder head studs of 12 valve engines can shear.
'Problem' M60 V8s.
Duff catalytic converters.
Smoking 1.8s (valve stem seals). Noisy 12-valve sixes. Misfires from faulty integrated coil units on later 24v.
Rear subframe rubbers (MOT failure point - £200 to put right). Damage to front suspension and steering (look for uneven tyre wear).
Duff ABS.
Service light indicator can easily be re-set, so a paid invoice is the only guarantee of a recent service. Check tool kit is all there.
Recalls
1998: 5s built 1988-Nov '94 recalled to fit new radiator cap.
22-12-2006

 

R/2006/199

 BMW E34 Touring steering lock may inadvertently engage build dates 01-11-1995 to 01-11-1996
Back: Introduction
Next: Specifications
Compare classic car insurance quotes and buy online. A friendly service offering access to a range of policies and benefits.

Get a quote