BMW 3-Series (1991 - 1998)
Last updated 3 January 2014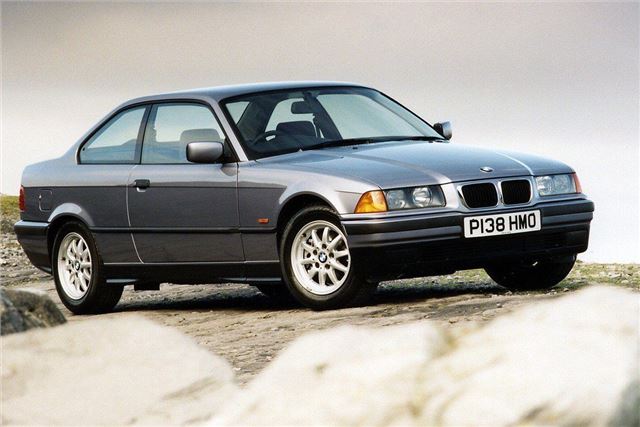 Buying Guide
Good
BMW, Toyota and Ford jointly suffered the fewest breakdowns attended by German ADAC during 2001. BMW had sixth lowest average cost in warranty claims for cars up to 10 years old in 2002 Warranty Direct index.
BMWs generally had below average warranty repair costs in 2003 Warranty Direct Reliability index (index 81.41 v/s lowest 31.93). Link:- www.reliabilityindex.co.uk 1995-1997 models average for breakdowns, problems and faults in 2003 Which survey.
Bad
Average performance in NCAP crash tests.
4-cylinder disc/drum set ups nothing like as good as 6-cylinder's discs (318iS 1.9s had discs all round).
316i and 318i saloons over-rated, under powered and pretty ordinary to drive.
Original 3 year warranty required expensive top-up to be comprehensive.
Thriving trade in M Tech body parts lead to many door mirrors and front spoilers being stolen. Just six fastenings hold it on.
1998 models poor for problems and faults, average for breakdowns in 2003 Which survey.
Note: Haynes Manual covers 1,596cc, 1,796cc, 1991cc and 2,494cc engines April 1991 to 1996. Does not cover M52 engines.
Watch
Getting old now. Clocked mega mile ex-fleet cars (not all fleets registered their mileages on disposal). Lots of early E36 3-Series suffered premature dashboard failure, so mileage on the clock may not be the mileage on the car. Service light indicator can easily be re-set with a £30 tool, so a paid invoice is the only guarantee of a recent service.
M40 8-valve four-cylinder engines had timing belts up to September 1993 and failure leads to bent valves. Belts need changing every 3 years or 36k miles.
M43 four cylinder engines from 1994 model year had chains.
M52-engined 320i from December 1994, 323i from May 1995 and and 328i from April 1995 may suffer premature bore wear due to high amounts of sulphur in some UK petrol. Symptoms are poor starting, high oil consumption and lumpy running. Solved by replacement block with steel-lined bores.
Engine noise on M40 engine usually from worn valvegear due to neglected oil changes.
Early E36s suffered poor quality trim and are also starting to rust in places like the rear arches.
Long cranking time on M40 and M50 engines means fuel tank lifter pump is faulty.
Failure of electric sunroof and windows due to failute of 'comfort' relay located behind the glovebox.
Heater fan not running at set speed means final output stage resistor is faulty, Climate Control Units @ £276 for the part are prone to failure.
Kerbed alloys may indicate front suspension damage.
Lift carpets to check for result of rainwater leaks through screen seals (condensation inside windows a sure sign of this).
Front suspension lower ball joints and inner bushes wear, but are comparatively cheap to replace. Rear suspension bushes of coupes can wear, affecting alignment, and rear springs can eventually soften. Knock from rear indicates trailing arm bushes or top damper bushes are worn out.
A full BMW-dealer service history should tell you all recall work has been carried out.
Check took kit is all there.
Make sure a/c or climate control is working as the control panel can play up and is very expensive to replace.
If M43 engine overheats will be due to failing head gasket. If M50 or M52 6 cylinder engine misfires a coil has failed. If M50 overheats could be the water pump has failed, the viscous fan coupling has failed, the thermostat housing is leaking, the thermostat ahs failed, or the cylinder head is cracked, porous or warped.
Engine noise from M3 Evolution could be from Vanos unit or could mean that conrod bearings are starting to spin, destroying the crank (pre Evo M3 engiens did not suffer this problem).
General Warning about Automatic Transmissions: Many BMWs have "sealed for life" automatic transmissions. Regardless of whether you have a full BMW service history, the dealer will never change the auto fluid. Many of these boxes are failing around the 120-150k mark - often well outside of warranty and to a cost of £3.5k plus VAT. Autoboxes do not take well to being drained and having their ATF replaced.
Back: Model Timeline
Next: Running
Buy a BMW 3 Series from £6,490
Compare classic car insurance quotes and buy online. A friendly service offering access to a range of policies and benefits.

Get a quote