BMW 3-Series (1991 - 1998)
Last updated 3 January 2014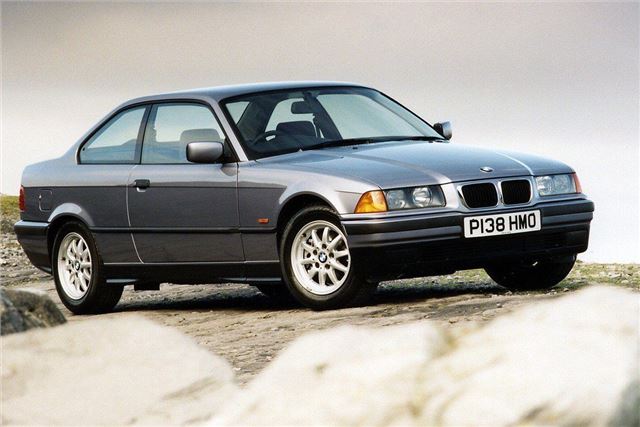 Excellent build quality. Good balance of performance and economy. Plenty around to choose from.
Clocked mega-mileage ones around now. Average crash test rating. 316i and 318i are unremarkable to drive.
BMW 3-Series third generation model launched in the UK in March 1991
14' 7" long by 5' 7" wide and weighing 1,190kg to 1,385kg. Engine line up: 316i 102bhp 1.6; 318i 115bhp 1.8; 318iS 140bhp twin cam 16v 1.8; 320i 150bhp 2.0 litre six; 323i 170bhp 2.5 litre six;...
Introduction
The BMW 3-Series E36-generation was the defining compact executive car during the 1990s - with the Audi 80/A4 and Mercedes-Benz 190/C-Class someway behind in terms of popularity and desirability. Considering it was a complete refresh - visually - of the outgoing model, aping the larger 5-Series in style, buyers took no time at all in taking it to their hearts. The biggest change technically - apart from that sleek new styling - was the fitment of a new independent rear suspension set-up, known as the Z-axle. It was a multilink set-up, which helped maintain the 3-Series' position as the market sector's best handling car.
As before, the 3-Series was offered not only in four-door saloon form, but also as a two-door Coupe (1992), which was a marketing change in plan compared with the old E30 - that car's two-door version was considered a saloon by BMW. A five-door Touring (1995) version and two-door convertible (1994) were also launched. At launch, the engine line-up comprised of in-line four-cylinders and a collection of straight-sixes, all of which were as brilliant as before. VANOS variable valve timing introduced in 1993, and the 2.5-litre diesel was launched in TD and TDS form (115 and 143bhp respectively), legitamising the concept of a sporting diesel car in the 1990s.
Early quality wobbles were soon forgotten, leaving the BMW 3-Series to make huge sales globally, and set the template for the company's mainstay model for decades to come.
Next: Model Timeline
Buy a BMW 3-Series from £3,895