Austin 1800 and 2200 (1964 - 1975)
Last updated 22 January 2016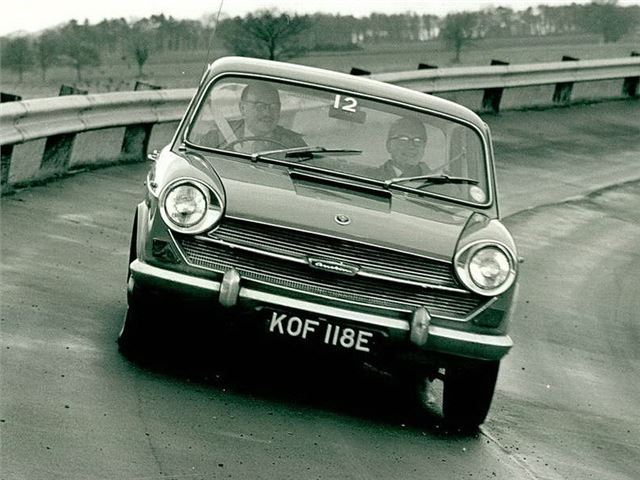 Buying Guide
Buying one
What's out there?
There aren't a great many of these left anymore. Indifference and corrosion have decimated the ranks. Not that the Landcrab is particularly rust-prone but without enthusiastic owners to look after them, they will succumb just as readily as any other 1960s car.
It now actually seems to be the case that Wolseley versions have a better survival rate – probably because all that wood and leather has attracted older owners and classic car enthusiasts who have cherished them. Still, you may need to hunt around to find one.
The six-cylinder cars were in production for a mere three years so there are not many about – especially the Austin and Morris versions. Again though, these slightly more premium vehicles have survived better than most.
What to look for
With ready parts supply, a basket case shouldn't be written off – as long as you have the funds to pay for all of the relevant bits. It is far cheaper to find a good car in the first place although that doesn't give the same satisfaction if 'saving' classics is your thing.
Tony Wood, Spares Secretary for Landcrab Owners International, reports that there are no cars known to be off the road due to parts not being available. An important consideration if you are planning to use your Landcrab regularly.
Engine and Transmission:
Being a scaled up Mini, you'll find the gearbox in the sump. The oil needs to be changed every 6000 miles to avoid problems with both engine and transmission so history is important. On the plus side, the engine is effectively the same as that in the MGB so you won't have trouble tracking down parts.
Clutch parts are unique to the model but still easily found. The clutch is really an engine out job on the 1800 though so make sure there is plenty of bite on the test drive.
The automatic has the gearbox under the engine (driven by chain) but retains its own fluid so does not share the engine oil. The Borg Warner 35 gearbox can be expensive to put right if problems occur so if buying one, be very careful to check that every gear works when out on a test drive.
The 2200 engine was only shared with the later Princess so parts are a little harder to find. While the engine is quite heavily based on the E series engine fitted to both Allegro and Maxi 1500s, there is not a huge amount of parts-swapping possible between the two. The clutch can be changed with the engine in situ however.
Six cylinder cars can suffer from over-heating problems – usually because the electric fan is not cutting in as it should. Some owners wire up a manual switch for the fan for peace of mind. On both engines, a blocked radiator can also cause overheating issues.
Bodywork
The Landcrab has a monocoque construction but unlike the Mini, there is no front subframe which means you can't simply unbolt and replace any rust issues. Luckily, the Landcrab was very solidly built and is therefore much less likely to rot in the first place but check the front valance carefully as it contains a structural cross-member.
Main areas to focus on are the sills. Make sure that the inner sills are solid and that someone hasn't just welded some new outer sills over the rot. Repair sections are available so there really is no excuse for bodging these up, especially given how essential they are to keep the structure rigid. If you find a car with rotten sills that you otherwise like, be aware that there is likely to be around six to ten hours labour per side to replace them. It may be wiser to find a solid one in the first place.
Genuine replacement sills include a section which tucks in behind the front wing. Pattern replacements do not have this but neither cause problems, as long as the work has been done well.
The doors suffer from blocked drainage holes which causes the bottom to rot out. Replacement doors can be found readily as they were fitted to so many cars, the Maxi being the most common source. However, be aware that there were as many as seven different door configurations in production so exact matches may be hard to find.
If the headlamp bowls are rotten, it could suggest that further rot is lurking in the wing itself. There are differences between the MkI and MkII cars as well as a different nose again for the Wolseley but panels are still readily available albeit prices are on the rise.
Check for water ingress in the front footwells. This could be due to a leaky windscreen seal or it could hint at some nasty corrosion on the A post, usually hidden underneath the front wings.
Suspension, steering and brakes
Hydrolastic suspension gives a firm yet comfortable ride and, while sharing many principles with the Citroën hydro-pneumatic system, rarely gives trouble and is easy to look after.
Parts are readily available and there are still many garages with a pump should your car be riding a little low. If you have more than one hydrolastic/hydragas classic, it is well worth investing in a pump of your own – grease guns can be modified to good effect.
Brake parts are easily found but the brake servo can be an eye-watering £300 for a genuine Girling item, so make sure you check that this is functioning properly. Reconditioned units and overhaul kits start at around £80. Clicking on full lock is down to worn CV joints.
Interior
Austin, Morris and early Wolseley 18/85s had lovely vinyl seats. These can wear but replacements can still be found. On the Wolseley Six, the seats may well need recovering as the thin foam under the cloth disintegrates. You'll need to check the state of the leather and wood on Wolseleys as repairs will not be cheap.
Electrics
The electric system is simple and rarely gives any trouble. Most MkI/II models will still have a dynamo and very early cars are positive earth. From 1972, all models had an alternator fitted, including all 2200s.
The Wolseley has unique side/indicator lamps at the front which are getting hard to get hold of now.
The parts situation
As already mentioned, obtaining parts is not an issue although some items are getting a little more costly to buy.
Typical Prices – new old stock
Brake discs – £40
Brake pads – £12
Clutch Kit – £45
Radiator – £100
Starter motor – £60
CV Joints – £20
Front wing – £150
Displacer unit – £40
Back: Model Timeline
Next: Running
Compare classic car insurance quotes and buy online. A friendly service offering access to a range of policies and benefits.

Get a quote