Austin-Healey Sprite (1958 - 1971)
Last updated 19 March 2013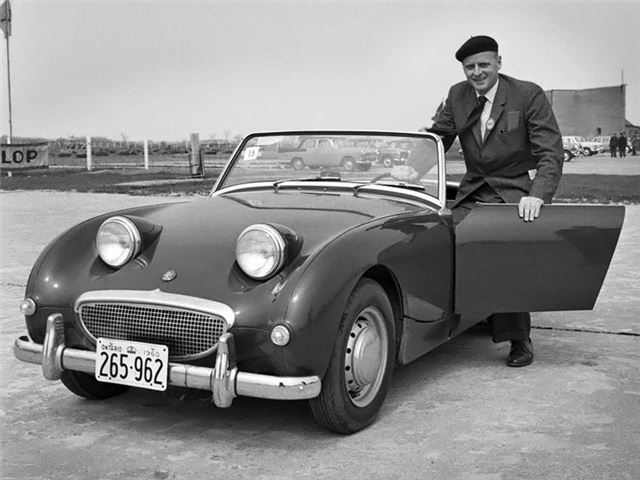 Cute (especially in Mk1 'Frogeye' form), cheap to run, easy to keep on the road thanks to MG commonality, fun to drive
Its smallness can be worrying for people used to driving modern cars, rust is an ever-present issue, performance isn't great on unmodified cars
Introduction
The original Frogeye Austin-Healey Sprite was a cheap and cheerful sports car that appealed to enthusiasts all over the world. Those 'frogeye' headlamps were initially planned to be retractable until it was realised that would put the price up - and retaining them in that positio proved to be an inspired decision.
Underneath the skin the car was mainly a blend of Austin A35 and Morris Minor. But sue to its low weight, it was still an entertaining car to drive with reasonable performance - and sold at a bargain price. But its austerity was a little too much for some customers - it didn't even have a bootlid, so more civilised versions would follow.
The first upgrade came in 1961 with the Mk2. It was an effort to modernise the Sprite and make it more practical. Unfortunately, it also took away some of the car's character and novelty. It was still affordable and enjoyable, and at least passengers now had an opening boot to put a limited amount of luggage in. Improvements same thick and fast - from 1962, there was a larger 1098cc engine plus front disc brakes, but buyers had to wait until the 1964 Mk3 of 1964 for door handles and winding windows.
In 1966 the ultimate Sprite was launched. The Mk4 now boasted a 1275cc engine giving 65bhp and near-100mph potential. A proper hood improved things still further. The 1969 styling update saw the introduction of black sills and Rostyle wheels, but the Sprite was sadly not long for this world: the end of BMC's arrangement with Healey in 1971 meant the final few cars were badged Austin Sprite.
Its sibling, the MG Midget, sold well until 1979.
Next: Specifications
Buy an Austin Healey Sprite from £8,100