Audi A4 S4 B6 (2001 - 2005)
Last updated 25 May 2019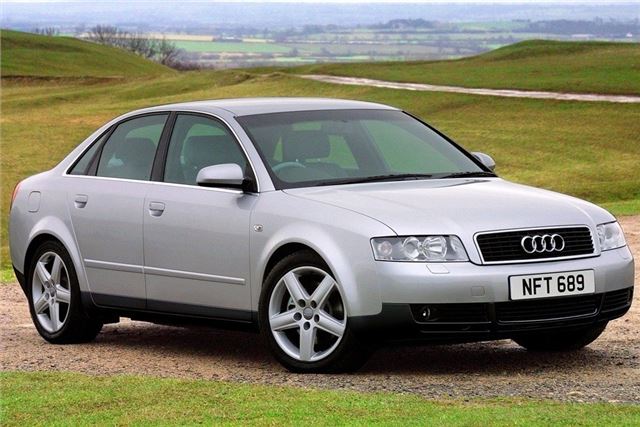 Dutch engineer Jos Van As was responsible for the revised, aluminium four-link front suspension system. Combined with the low unsprung weight of alloy wheels across the range, this is designed to reduce the undesirable effects of front-wheel drive. The strategy works very well, endowing the car with better handling and more steering 'feel' than the old model, and very good ride quality, but doesn't completely eliminate all front-wheel-drive vices. Standard brake pedal feel is much improved, and the car can be gently braked from 120mph without a trace of snatch or drama.
But it's not perfect. While the 130bhp 2.0 litre petrol model is generally a very pleasant car to drive and a useful alternative to the rear-drive BMW 318i or Mercedes C200, it is still very obviously front-wheel-drive with an engine that overhangs the front wheels. You don't notice this cruising fast, when it tracks straight as a die up to 120mph or so, at which point it starts to run out of steam. Nor do you notice it on fast sweeping bends when pushing the car hard; nor at low speeds. But on twisting motorway on/off ramps, and whenever taking a bend at a constant throttle opening, the steering weights up and you are very aware of the car's front-heavy bias. 

The engine note of the 2.0 sounds good, though, with a nice snarly rasp at higher revs and bags of power between 4,000 and 5,000 rpm. This isn't ideal for British motorways because at 22.5mph per 1,000 rpm it means you'll be doing between 90 and 112mph. At this sort of speed and higher, wind, tyre and engine noise are so subdued you can hold a conversation with a front seat passenger in little more than a whisper. My previous criticism of the slightly sloppy gearshift on pre-production left-hand-drive cars seems to have been answered. 

The 2.0 litre A4 is a nice, classy car at a sensible starter price of £18,640 on the road, which comfortably undercuts equivalent models from BMW, Mecedes Benz and even Volvo. The SE pack of alloy wheels, 'concert' radio, driver's information system and leather steering wheel and gearknob adds £610 to the bill. The Sport pack, which basically adds stiffer suspension and sports seats with lumbar support to the spec, adds £900. The Multitronic six-speed CVT automatic gearbox is a £1,450 option. 

On to the 150bhp 1.8T Quattro, where the occasional front-heavy feel of the 2.0 litre is eliminated by the four-wheel-drive system. This is a very safe and secure car, geared similarly to the 2.0 litre at 22.5mph per 1,000 rpm in fifth. But, like the new Ford Mondeo, it goes through a pronounced noisy phase between 75 and 85mph. After that, like the Ford, it quietens down. In the UK, many law-abiding drivers will find this tiresome so they will have to weigh this as well as the basic £19,810 cost of the 1.8T against the added safety and security it offers. There is no automatic option. 

Launch of the 220bhp 3.0 litre manual six-speed petrol Quattro has been delayed by around a month, and there are no immediate plans to import either the six-speed front-drive 3.0 CVT Multitronic or the five-speed front-drive 3.0 manual. 

However the 3.0 litre offered for testing did give me a chance to re-evaluate the Multitronic gearbox on clear, traffic-free but rather bumpy Spanish roads. The trick is to put the selector into manual mode then use the fingertip buttons on the steering wheel rather than the back-to-front Tiptronic style floorshift. Driven this way the box proved excellent, left-foot braking into corners worked well (if not as well as with the Mercedes C Class Sequentronic), and the car easily reached 220kph (136mph) on a relatively short straight. It didn't feel in the least as if the gearbox was holding it back. I also took the opportunity to try the 220bhp 3.0 V6 manual on some truly terrible roads. It actually rode quite well, absorbing vicious bumps and undulations with aplomb. But on tight corners it seemed to behave better with the ESP traction control system switched off rather than on. And, oddly enough, despite the heavier engine, neither the 3.0 Multitronic nor the 3.0 five-speed manual exhibited the same front-end lumpiness as the 2.0 litre. Still, since the car won't be coming to the UK in the near future, this isn't very relevant. The 3.0 V6 Quattro starts at a price of £24,840, with a conventional 5-speed Tiptronic automatic option at an extra £1,400. 

The revelation of the range is the 5-speed 1.9 litre TDI 130. In third gear in traffic it has so much torque you don't need to change gear and can nip in and out of gaps safely as soon as they present themselves. It simply romps up hills, and its potential 50 miles to the gallon more than makes up for the relatively high cost of diesel in the UK in winter. Prices for the TDI 130 start at £19,940 on the road, pretty much the same as the 150bhp petrol turbo Quattro. There is no automatic option. 

However, if you want diesel economy and the 130bhp 1.9 is not enough for you, then seriously consider the 180bhp 2.5 litre V6 TDI Quattro six-speed manual. This model has to be ideal for caravan towers, delivering its huge 273 lb ft torque between 1,500 and 2,500 rpm with gearing which equates to 26.5mph in fifth and 32.5mph in sixth. With an 'extra-urban' economy figure of 47.9mpg, this also has to be an excellent executive express for anyone who values the extra security of the four-wheel-drive Quattro system in slippery conditions. All this does, however, come at a price of £24,340, which is just £500 less than the 220bhp 3.0V6 petrol Quattro. Difficult choice, but I'd have to go for the diesel. 

The significance of the A4 should not be underestimated. It's Audi's biggest individual seller, accounting for a third of all Audi sales. The sheer quality of the new car is bound to attract conquest sales from Three Series and C Class owners. Private buyers with £18,500 to £27,000 to spend have never had a better - or more difficult - choice.
Back: Model Timeline
Next: Buying Guide