Audi A3 (1996 - 2001)
Last updated 7 September 2017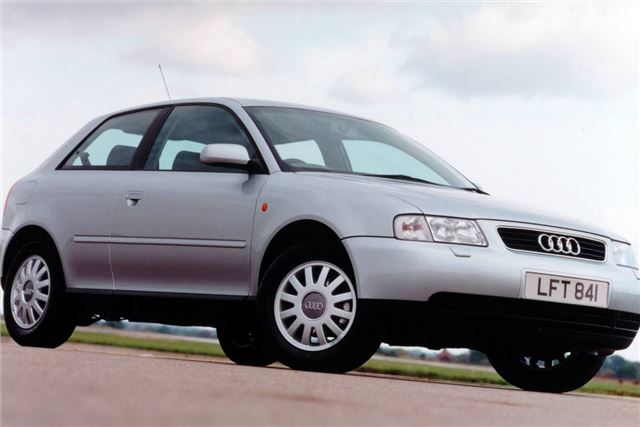 Buying Guide
Good
Helpsite www.audi-forums.com
Bad
Not much room in back whether 3- or 5-door. First tests seemed to indicate that 5-door A3 had lost the handling edge of the 3-door over the Golf Mk IV. 

Expensive compared to SEAT Leon on same floorpan. 

Bigger splashguards to overcome wet weather braking problems mean that later S3 brakes don't cool sufficiently under hard use and are not up to the car's performance under repeated heavy braking, for example on a track day.

Audi had slightly above average warranty repair costs in 2003 Warranty Direct Reliability index (index 110.52 v/s lowest 31.93).
Average warranty repair costs in 2003 Warranty Direct Reliability index (index 101.16 v/s lowest 31.93) www.reliabilityindex.co.uk
1998-2000 models average for breakadowns and faults and poor for problems in 2003 Which? survey.
Watch
Demand a proper Audi dealer service history and evidence that recall work has been carried out. 

Sometimes bought as 'shopping cars', so be vigilant when checking the flanks for dings. Check for accident damage repaired with non-galvanised panels or with bad welds which can rust. 

1.8 20v engines are snapping their timing belts at 70,000 - 80,000 miles and the extensive damage this causes is not repairable. The car will need a replacement engine. 1.8 20v timing belt drives waterpump and belts are difficult to replace on transverse engines. 

Plastic water pump impellers on early 1.8 20v engines fail seizing pump and throwing off timing belt. Newer water pumps have metal impellers, so best to replace original pump with metsl impeller pump when changing timing belt. 

Bosch 'hot film' Mass Airflow Sensors seem to be failing regularly. 

Have been problems with steering racks of early 1996/97 A3s. 

Power loss on TDI 90s and 110s over 3,000rpm can be cured by replacing a thin hose that runs from the exhaust, near the turbo, to the ECU. 

Hydraulic connection to rear brake callipers can corrode due to types of metals used. Make sure no play in steering. Look for corrosion at the seam at the edge of the roof and rear quarter panel.
Recalls
1997 (built Feb-March 1997): Check front seatbelt top mounting height adjusters. 1998: 2,822 cars recalled due to possible cracks in rear seatbelt brackets. 2000: A3s built Jan-May 1999: front seatbelt buckles may open in a collision. Replacement buckles to be fitted (2,855 cars). A3s built Jan-Dec 1998: seatbelt pretensioner could ignite fabric trim; A3 1.8T built Dec '97-June '98: Accelerator could jam. Official recall A3 Quattro and S3 25/9/2001: On cars built up to March 2000 the bottom rear hub carrier ball joint can corrode and seize, leading to the lower suspension arms snapping at the hub ends. Owners to call Audi Customer Services on 0800 699 888. April 2002: German recall of all A3s with standard ABS (no problem with those with ABS + EDS, ASR, ESP.) 16-10-02: On cars with 3 spoke steering wheels airbags may not work. Airbag to be replaced, but affects only 79 of 4,400 cars.
Back: Model Timeline