Audi A2 (2000 - 2005)
Last updated 25 August 2017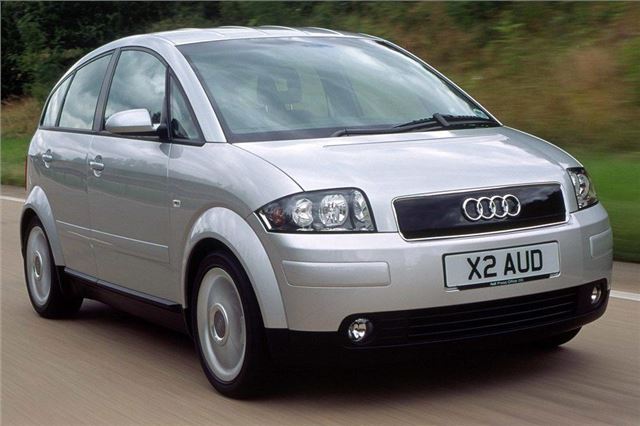 Buying Guide
Good
Economical engines
Very comfortable seats
Decent ride
Grippy handling
Good crash safety rating
Bad
Looks like a chopped-up A6. High rear door sills and sunken footwells do not help access to the back seats for the elderly. 

Gearchange quality varies a lot. Pre-production gearboxes were noisy, but production RHD examples seem to be fine. 

1.4 petrol engine is rorty, needs to be revved for performance and can feel sluggish on the motorway when the car is laden. 

Emergency spare wheel is an optional extra. 

Non opening bonnet foxes some people (front flap opens for checking fluids and revealing clips which allow bonnet to be lifted off). 

Up to 2002 MY had terrible MW and LW radio reception. From model year 2002 radios are completely different and reception is OK. 

Audi had slightly above average warranty repair costs in 2003 Warranty Direct Reliability index (index 110.52 v/s lowest 31.93).
Average warranty repair costs in 2003 Warranty Direct Reliability index (index 101.16 v/s lowest 31.93) www.reliabilityindex.co.uk 

Production ended July 2005.
Watch
Accident damage and parking dings to alloy body and structure will be expensive to repair, but Audi set up six special repair centres for A8s and A2s. If you have a prang it's essential to insist that an A2 is repaired at one of these centres, not any old bodyshop or one tied to the insurer 

Seems to be a problem of turbo failures on the 1.4TDI if the car is not used much. Most reported cases are within first few months of the car's life. 

The A2 anti roll bar has had a design change but no recall from Audi UK. There is nothing wrong with the bar itself but rather the 2 plastic collars that prevent the rubber mounts from moving sideways under load. These collars were attached in the factory before powder coating/painting. Corrosion occurs on the surface beneath the collar and eventually it splits requiring the entire bar to be changed and corresponding sub frame alignment. The new bar has metal collars. Audi may agree to pay for the work, costing £485 but charging one reader £5 for "Warranty Reasons". 

Colossal cost of A2 specific spare parts, in particular things like the panoramic glass sunroof that may have to be specially made if a batch has not been recently run off.
6-2-2014: On 119k mile 2002 A2, traction control and ABS warning lights cam on, probably indicating failure of brake pressure sensor. Quoted £493.18 for parts, total £800 including refitting, this after a clutch and transmission rebuild. So serves as a warning that, though the A2 might attain 'classic' status, it is not a DIY car and can become expensive to run. 
Recalls
26/2/2001: Air-conditioned A2s built 1/1/2000 - 31/12/2000 recalled because a/c components may come into contact with starter motor in a collision which could lead to a short circuit and fire. 16-10-02: On cars with 3 spoke steering wheels airbags may not work. Airbag to be replaced, but affects only 79 of 4,400 cars. TSB 2006: Check and replace front suspension drop down bushes if necessary. A2 1.6FSi: Engine thermostat problem: shows up as slight overheat, engine warning 
light and pinking. Cured by replacement thermostat.
Back: Model Timeline