Audi 80, 90 and quattro (1986 - 1991)
Last updated 31 October 2016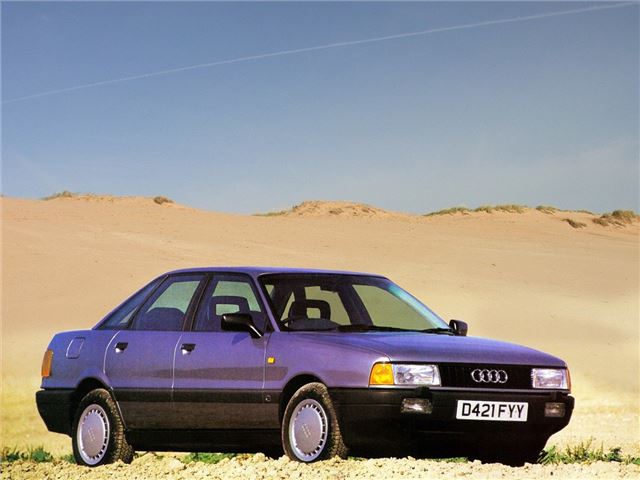 Buying Guide
Good
Electro-galvanised body shell, hot-dip galvanised underside, so very little chance of tin-worm unless accident damaged.
Had switchable ABS.
14' 5" long by 5' 7" wide and weighing from 1,020kg to 1,320kg.
Engine range began with 75bhp 1.6 with five-speed box and three-speed auto option, up through 75bhp 1.8, 90bhp injected 1.8, 112bhp injected 1.8, 137bhp 16 valve 2.0, 80bhp 1.6TD, 115bhp 2.0 five, 136bhp 2.2 five and 170bhp 20 valve five. Quattro versions also available Powerful 2.0 litre 16-valve engine.
Euro Car Parts supplies cheap parts.
Haynes manual available, 1986-1991: www.haynes.co.uk
Bad
Strangely-shaped, short, deep boot. Hard to sell without a sunroof.
Tornado red paint oxidises in sunlight.
Audi replacement autoboxes cost the wrong side of £3,000.
BBS Replica alloy wheels on Sport models chip easily, then oxidise.
Watch
Duff catalytic converters, but pre K reg can be 'de-catted' for £350.
Accident damage repaired with non-galvanised panels.
Rattly hydraulic tappets due to insufficient oil changes (sump only holds 3 litres).
Worn CV joints. Rumbling wheel bearings. Don't buy early cars without PAS.
Look for PAS leaks.
Rear discs rust first, leading to failed MOT.
Valve stem seals may need replacing at 100,000-130,000 miles - earlier if mileage clocked up slowly.
Back: Introduction
Compare classic car insurance quotes and buy online. A friendly service offering access to a range of policies and benefits.

Get a quote