Audi 100 and A6 (1991 - 1997)
Last updated 18 December 2014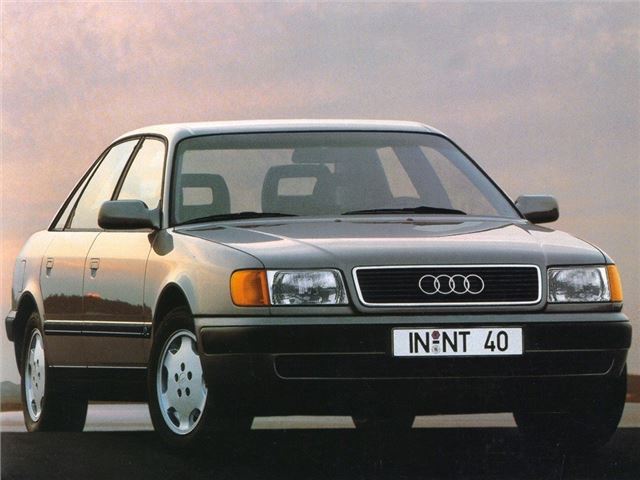 Buying Guide
Good
Essentially the same car with a mid-life name change and a new grille.
15' 9" long by 5' 10" wide and weighing from 1325kg to 1500kg.
Galvanised against rust.
Launched with catalysed 115bhp 1984cc VAG four, 133bhp 2309cc five, 150bhp 2508cc V6, 164bhp 2772cc V6 (front drive or quattro), and 230bhp 2226cc five cylinder turbo for 100S4 quattro. 5-speed manual, but auto now has 4 speeds.
Became A6 in June 1994 and acquired addition of 115bhp 2460 five cylinder TDI diesel.
S4 became S6.
2.0 litre models handle better than heavier V6 and 5-cylinder TDI. Also 90bhp 1.9 TDI from January 1995 when 2.5 TDI grew to 140bhp and gained option of six-speed manual gearbox.
TDI 2.5 5-cylinder powerful and economical, especially with 6-speed manual gearbox.
Haynes manual available, 1991-1997, does NOT cover quattro: www.haynes.co.uk
Bad
Expensive dealer servicing and parts.
TDI fuelling needs re-setting regularly.
TDI timing belt drives water pump and if water pump fails, so does belt. Replacing timing belt is expensive because it's hard to get engine and pump timing exactly right.
TDI is front heavy.
Watch
Worn autoboxes. PAS leaks and wear.
Serious front tyre wear. Suspension joints. Wheel bearing rumble.
Rattling cats, especially on 2.6 V6.
Ex-fleet examples may be clocked.
Accident damage repaired with non-galvanised panels or with bad welds which can rust.
Power loss on TDI 90s and 110s over 3,000rpm can be cured by replacing a thin hose that runs from the exhaust, near the turbo, to the ECU.
Flexible braided fuel hose of S6 passes over turbo and can eventually start to leak, depositing fuel onto red hot turbo. Needs checking regularly and replacing at the slightest sign of a leak. Link to www.s-cars.org/Features/BurntS4/burnts4.html for details.
Mixed metal corrosion at unions of flexible brake pipes to rear wheels.
Recalls
1997 (2.8 V6): rumoured recall issued in April concerning driveline.
1997 (built Feb-March 1997): Check front seatbelt top mounting height adjusters.
(Built '95-'96): Airbag may inflate while stationary
Back: Introduction
Buy an Audi 100 from £2,250
Compare classic car insurance quotes and buy online. A friendly service offering access to a range of policies and benefits.

Get a quote