Aston Martin V8 (1972 - 1990)
Last updated 3 April 2013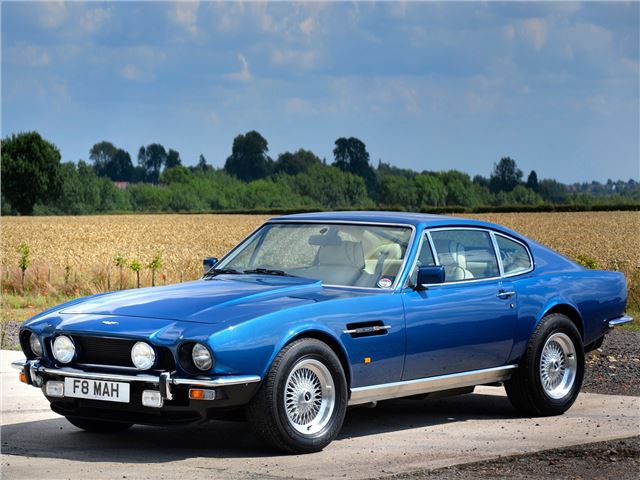 Brawny in Vantage form, with an amazing soundtrack; fabulous factory back-up - at a price
Thirst and profligacy
Introduction
The 1970s were a more challenging era for Aston Martin, but the confidence of its products belied this - with each passing year, they became faster. more luxurious and increasingly expensive. The baton was passed when David Brown sold the company in 1972, and as a consequence, the DBS was restyled and renamed the V8. It would end up being Aston Martin's staple product until 1990.
There were other changes, too. The engine's fuel injection was dropped in favour of four Weber carburettors, plus a bonnet bulge was added to give them space. In 1977, the range was extended with the arrival of the long-awaited V8 Vantage. The performance stakes at the top of the the market had been raised by the Italian supercar makers, Ferrari and Lamborghini, so Aston Martin answered them by upping the power from its 5.3-litre V8 to 432bhp. Performance was suitably improved - and the Vantage was capable of out-accelerating the Countach and Boxer to 100mph.
The Vantage was distinguished by its blanked-off radiator grille and bonnet scoop. 1978's Oscar India variant adopted a small boot spoiler and a smoother bonnet, the car continuing in this form until 1990.
The range was completed in June 1978 when the Volante convertible was launched. The open-topped V8 boasted a fully-lined power hood, and new burr walnut dash and door cappings. The Volante remained a US-only export until 1981. The Volante was then later launched in Vantage-spec - combining 400-plus horspower with the four-seat open topped-body. It proved a surprise hit, with the US market taking to the new variation extremely well.
Next: Specifications